Republicans Are Furious at Chris Christie, Yet Again
Holding a special election for Senate in October 2013 helps Christie's reelection chances, but could also aid Democrats in holding the seat.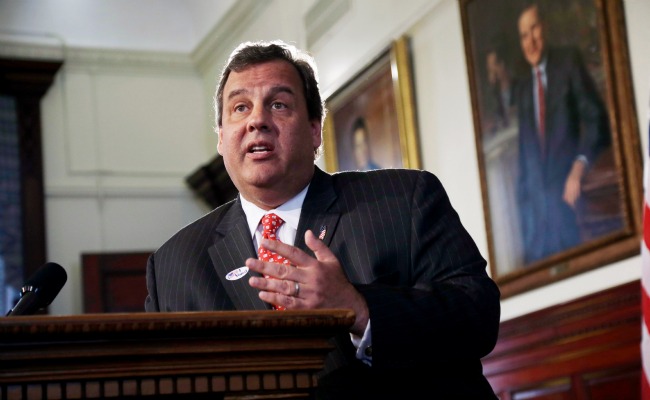 Associated Press
Republicans are fuming over New Jersey Gov. Chris Christie's decision to hold an early special election to fill the seat of the late Sen. Frank Lautenberg, with several Washington-based operatives suggesting he's putting his own interests ahead of the GOP's. The decision to hold a separate special election in October 2013 -- just two weeks before his own election -- would give any interested Republican candidates little time to announce, organize a campaign, and raise the necessary money to take on a top-tier Democrat, likely Newark Mayor Cory Booker.
Christie announced at a Tuesday press conference that the election to fill Lautenberg's seat will be held Oct. 16, just before his own gubernatorial election on Nov. 4. The primaries would be scheduled for Aug. 13. Christie acknowledged he was legally able to schedule a special election in November 2014, but he wanted New Jersey voters to elect their senator as soon as possible. Christie was less clear about whether he was legally allowed to schedule an election to coincide with his own, emphasizing that he didn't want to waste any time in seating the newly elected member. On several occasions, he repeated his decision had nothing to do with politics.
"There's no political purpose. The political purpose is to give the people a voice," Christie said. "The issues facing the United States Senate are too important not to have an elected representative making those decisions."
The governor's decision, along with growing GOP expectations that his appointee will be a placeholder, means that the GOP's chance at a pickup now looks like a long shot. But Christie protected his own interests by scheduling a separate 2013 election, ensuring that Booker wouldn't usher a surge of Democratic voters that could hurt Christie's November prospects.
That did little to mollify Republicans with a stake in retaking the Senate next year. While none wanted to be quoted publicly, all dripped with disdain for Christie's decision, calling it self-serving. And several pointed to the fact that holding an extra election one month earlier could cost the state about $25 million--a price tag that could dent his image as a fiscal hawk.
"I think this ends his 2016 chances. It's year after year with this guy," complained one senior Republican official.
In his press conference, Christie said the state will pick up the tab for the elections, but he doesn't know how much taxpayers will end up paying. "I don't know the price tag and quite frankly I don't care," Christie bluntly said.
Despite the governor's public denials, Christie allies were concerned that if a special election coincided with the gubernatorial election, Democratic candidate Barbara Buono could benefit. With Booker as the favored Democratic Senate nominee, less-reliable Democratic voters, particularly African-Americans, would be more likely to show up at the polls. Even with a comfortable lead in the race, that's not a risk Christie welcomed.
Christie told reporters he has a list of possible appointees in his head, but he did not lay out a timeline for when he'll name his temporary pick but suggested it would be soon. According to one Republican source familiar with Christie's thinking, the leading names are former Gov. Tom Kean Sr., state Sen. Tom Kean Jr., state Sen. Joe Kyrillos, and Lt. Gov. Kim Guadagno. If he opted for a Republican to hold the seat but not run for election, Kean Sr. would be the most logical choice.
On the Democratic side, Booker is likely to square off against Rep. Frank Pallone, who has banked more than $3 million in his House campaign in preparation for a Senate run.
"You all know me. I don't dawdle," Christie said. "The gun has been fired. It's time to go."
Mike Catalini contributed to this report.