Proof the IRS Didn't Target Just Conservatives
Almost one third of the tax-exemption applications selected for additional scrutiny by the IRS were from groups that were not conservative.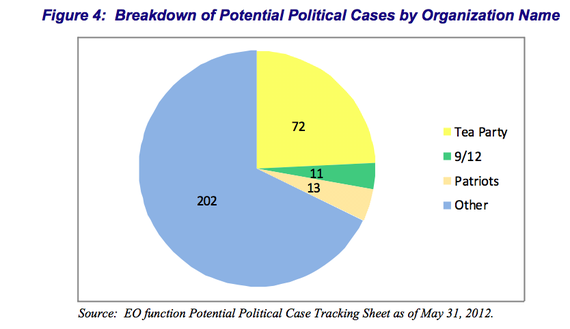 The Treasury report on tax exempt groups showed that only a third of targeted groups were Tea Party-class groups, but no explanation was given for the identity of the majority marked "other." (TIGTA)
Close to a third of the advocacy groups named by the Internal Revenue Service as recipients of special scrutiny during tax-exempt application reviews were liberal or neutral in political outlook, a leading nonpartisan tax newsletter reported after conducting an independent analysis of data released by the agency.
All told, around 470 groups were flagged as "potential political cases" between 2010 and 2012, including 298 whose experiences were analyzed in a Treasury Department inspector general's report. Because the IRS by law must not name groups that have not yet been approved or which were rejected, only a subset of their names was made public in May by the agency -- 176 cases.
Of these, "the majority of the groups selected for extra scrutiny probably matched the political criteria the IRS used and backed conservative causes, the Tea Party, or limited government generally," wrote Martin A. Sullivan in a June 3 piece in Tax Notes, a newsletter published by the Tax Analysts group. "But a substantial minority -- almost one third of the subset -- did not fit that description."
Non-conservative advocacy groups given special scrutiny by the IRS in or after 2010 included the Coffee Party USA, the alternative to the Tea Party movement that got a bunch of press in 2010, as well as such explicitly progressive groups as the Progressive Leadership Alliance of Nevada; Rebuild the Dream, founded by former Obama administration official Van Jones; and Progressives United Inc., which was founded by former Wisconsin senator Russ Feingold.
Also included in the special scrutiny were Progress Texas and Progress Missouri Inc.; Tie the Knot, which sells bow ties to raise money to promote same-sex marriage; and ProgressNow, which describes itself as "a year-round never-ending progressive campaign."
The targeting also rolled up centrist groups, such as the Across the Aisle Foundation -- the educational and cultural arm of No Labels, which worked to build momentum for an independent ticket for the presidency -- and politically neutral ones, such as The East Hampton Group for Good Government Inc., formed to encourage better leadership and management of the New York vacation town, and the League of Women Voters of Hawaii.
All of these groups were flagged by the IRS along with the Tea Party class of groups as "potential political cases" and were part of the 31 percent of groups given special scrutiny that were not clearly conservative.
Sullivan's Tax Notes piece lays out what we know about the cases that are public so far:
Because the IRS is prohibited by law from releasing information on applications either denied or not yet approved, we will probably never know the political persuasions of all 298 advocacy cases selected for extra scrutiny and of the additional 170 or so applications selected since then. We can, however, try to assess the political persuasion of the 176 approved organizations that the IRS identified on May 15....

As noted, 46 organizations on the May 15 IRS list had "Tea Party," "patriots," or "9/12" project in their name. Tax Analysts conducted Web searches of the other 130 organizations on the list to determine if the groups were conservative organizations. In 124 cases, we found what we believe is sufficient information to make a good faith determination whether a group was conservative....

[T]the results of the Tax Analysts review of these organizations are the following: 46 with "Tea Party," "patriots," or "9/12 project" in their name, 76 other conservative organizations, 48 nonconservative organizations, and six organizations about which we can make no determination....

Ultimately, to address the question whether the IRS's review of applicants for tax exempt status had a disparate impact on one side of the political spectrum or the other, we will need to know more about the overall pool of advocacy groups applying for tax exemption. For example, if there were a surge in the creation of potentially political conservative organizations in the last few years (that was disproportionate to the creation of nonconservative organizations), more conservative groups would be targeted than nonconservative groups even if there were no political bias among IRS officials. Looking at the makeup of exemption-approved groups tells us nothing about bias unless we know the makeup of the group from which they were selected.

A spokesman for the Treasury inspector general for tax administration (TIGTA), David Barnes, said he'd not heard anything about a list of progressive groups targeted by the IRS and referred me to page 8 of the inspector general's report for his office's understanding of the matter.
It stated: "approximately one-third of the applications identified for processing by the team of specialists included Tea Party, Patriots, or 9/12 in their names, while the remainder did not. According to the Director, Rulings and Agreements, the fact that the team of specialists worked applications that did not involve the Tea Party, Patriots, or 9/12 groups demonstrated that the IRS was not politically biased in its identification of applications for processing by the team of specialists."
The TIGTA decided that there was bias because "we determined during our reviews of statistical samples of I.R.C. § 501(c)(4) tax-exempt applications that all cases with Tea Party, Patriots, or 9/12 in their names were forwarded to the team of specialists" between May 2010 and May 2012 (emphasis added).
Though the Treasury inspectors found that one third of the groups given special scrutiny probably should not have been, they declined to say in their May report what the political leanings of theses improperly selected groups were: "We reviewed all 298 applications that had been identified as potential political cases as of May 31, 2012. In the majority of cases, we agreed that the applications submitted included indications of significant political campaign intervention. However, we did not identify any indications of significant political campaign intervention for 91 (31 percent) of the 296 applications that had complete documentation."
Most likely, these improperly selected cases were -- like the selected cases that the IRS has released data on so far -- a mixture of liberal, conservative, and neutral (civic pride, good government, etc.) in outlook.
More flawed than the selection process -- which flagged groups that should not have been given extra scrutiny as well many that appropriately received it but which were selected using improper criteria, according to the TIGTA report -- were the lengthy delays in processing applications and the excessive and intrusive questions asked of the selected groups. According to the report, 58 percent of inquiries asked of those groups were later deemed unnecessary.
***
Below, the list of 48 nonconservative groups identified by Tax Analysts in their inquiry.
Table 1. Nonconservative 'Centralized' Tax-Exempt Organizations
   Organization Name     Status              Mission or Description
   1. Across the         501(c)(3)           Educational arm of No
   Aisle Foundation                          Labels, a centrist
                                             policy advocacy group;
                                             encourages
                                             bipartisanship on
                                             Capitol Hill.
   2. ALICE (American    501(c)(3)           Provides a Web-based
   Legislative and                           public library of
   Issue Campaign                            progressive law on a
   Exchange)                                 wide range of issues in
                                             state and local policy
                                             ("a very partial
                                             antidote to ALEC
                                             [American Legislative
                                             Exchange Council], the
                                             corporate-backed
                                             group").
   3. Chattanooga        501(c)(3)           Helps individuals and
   Organized For                             organizations "to build
   Action                                    the power of everyday
                                             people from
                                             marginalized and
                                             oppressed communities
                                             to take control of the
                                             circumstances of their
                                             lives."
   4. Comeback           501(c)(3)           "[Promotes] fiscal
   America Initiative                        responsibility and
   Inc.                                      sustainability by
                                             engaging the public and
                                             assisting key
                                             policymakers on a
                                             nonpartisan basis in
                                             order to achieve
                                             solutions to U.S.
                                             fiscal imbalances."
                                             Former U.S. Comptroller
                                             General David Walker is
                                             founder.
   5. Corporate          501(c)(3)           A project of
   Accountability                            Philadelphia-based
   Project                                   ActionPA; "provides
                                             educational organizing
                                             resources for fighting
                                             corporate power."
   6. East Hampton       501(c)(3)           Promotes improved local
   Group for Good                            government in East
   Government Inc.                           Hampton, N.Y.
   7. Engage San         501(c)(3)           San Diego-based
   Diego                                     "regional network of
                                             organizations working
                                             in historically
                                             underrepresented and
                                             socially responsible
                                             communities."
   8. Intersections      501(c)(3)           A network of ministries
   Inc.                                      to empower young people
                                             in American Samoa
                                             "through programs that
                                             combine the arts and
                                             technology with the
                                             educational,
                                             vocational, and
                                             spiritual disciplines."
   9. Miami-Dade         501(c)(3)           "An independent,
   Taxpayers Alliance                        nonpartisan research
   Inc.                                      institute dedicated to
                                             better stewardship of
                                             Miami-Dade County's tax
                                             dollars."
   10. National Jobs     501(c)(3)           "Committed to building
   for All Coalition                         a new movement for full
                                             employment at livable
                                             wages." Affiliated with
                                             many liberal
                                             organizations.
   11. Northeast Ohio    501(c)(3)           "Enables and expands
   Voter Advocacy                            voter education and
   Inc.                                      registration in
                                             underrepresented areas
                                             of the City of
                                             Cleveland, Cuyahoga
                                             County, and other
                                             counties of northeast
                                             Ohio."
   12. Open Sky          501(c)(3)           Nebraska-based fiscal
   Policy Institute                          policy research group;
                                             generally opposes
                                             income tax cuts.
   13. Progress          501(c)(3)           "Multi-issue
   Missouri Education                        progressive advocacy
   Fund                                      organization" focused
                                             on state and local
                                             policy.
   14. Public Works:     501(c)(3)           Director previously
   The Center for the                        founded the Texas-based
   Public Sector                             Center for Public
                                             Policy Priorities, a
                                             nonprofit, nonpartisan
                                             organization committed
                                             to building the
                                             economic and social
                                             well-being of
                                             low-income Texans.
   15. Rebellious        501(c)(3)           Seeks to "unveil the
   Truths                                    curtain of dastardly
                                             deeds and the cobweb of
                                             lies entangling
                                             America."
   16. Restoration       501(c)(3)           Grass-roots
   Philadelphia Inc.                         organization made up of
                                             individuals, churches,
                                             and ministries
                                             committed to
                                             "mobilizing the Church
                                             of Philadelphia to
                                             fulfill its destiny and
                                             restoring the City of
                                             Brotherly Love, so that
                                             the vision of William
                                             Penn's Holy Experiment
                                             becomes a reality and
                                             the Glory of God is
                                             revealed all."
   17. Sarasota Tiger    501(c)(3)           Nonpartisan political
   Bay Club Inc.                             organization that hosts
                                             debates, forums, and
                                             speakers in central
                                             Florida.
   18. Center for        501(c)(3)           San Francisco-based
   Election Science                          group dedicated to
                                             "election-related
                                             scholarship."
   19. Center for        501(c)(3)           Conducts research and
   Health Care Policy                        analysis necessary for
                                             the creation of a
                                             single-payer healthcare
                                             system.
   20. Alliance for a    501(c)(4)           Multi-issue education
   Better Utah Inc.                          and advocacy
                                             organization promoting
                                             progressive ideas and
                                             causes.
   21. Campaign for      501(c)(4)           Advocates for greater
   Vermont Prosperity                        state government
   Inc.                                      transparency and
                                             accountability and a
                                             stronger economy with
                                             more and better-paying
                                             jobs while espousing a
                                             commitment to social
                                             responsibility and
                                             environmental
                                             stewardship.
   22. Coffee Party      501(c)(4)           Founded on the
   USA                                       underlying principle
                                             that the government "is
                                             not the enemy of the
                                             people." Seeks to
                                             remove corporate
                                             influence from
                                             politics.
   23. Committee for     501(c)(4)           Focuses on the roles
   a Fair Judiciary                          and responsibilities of
                                             senators in the
                                             judicial selection
                                             process and seeks to
                                             educate the public
                                             about how the process
                                             works and how it could
                                             work better.
   24. Freedom Club      501(c)(4)           Aims to guide members
                                             to financial, health,
                                             emotional, and
                                             spiritual freedoms ("to
                                             raise the life energy
                                             of Mother Earth and
                                             Mankind to new heights
                                             and welcome in the new
                                             era of Love, Prosperity
                                             and Cooperation").
   25. Delawareans       501(c)(4)           National coalition of
   for Social and                            community-based
   Economic Justice                          organizations composed
                                             of parents and students
                                             in low-income
                                             communities focused on
                                             unveiling a report on
                                             schools that are
                                             eligible for federal
                                             turnaround
                                             intervention.
   26. Grantville        501(c)(4)           Local government group
   Action Group                              in San Diego that
                                             opposes development.
   27. Homeless but      501(c)(4)           Registers voters at
   Not Powerless                             shelters, soup
                                             kitchens, parks, and
                                             jails.
   28. League of         501(c)(4)           State chapter of
   Women Voters of                           national organization
   Hawaii                                    to educate policymakers
                                             and the public on
                                             issues.
   29. Louisiana         501(c)(4)           Advances progressive
   Progress Action                           state policy solutions.
   Fund Inc.
   30. Middle Class      501(c)(4)           San Diego-based
   Taxpayers                                 organization that
   Association                               serves as a voice for
                                             those "not served by
                                             big business-funded
                                             taxpayer groups."
   31. Missourians       501(c)(4)           Group opposing
   for Fair Taxation                         reductions in income
                                             tax that are paid for
                                             through sales tax
                                             increases.
   32. New American      501(c)(4)           Coalition of CEOs,
   Economy Action                            start-up founders, and
   Fund                                      venture capitalists
                                             formed to press
                                             Congress to pass
                                             immigration reform that
                                             would encourage
                                             innovation and create
                                             jobs.
   33. New York Civic    501(c)(4)           Associated with
   Action Inc.                               left-leaning network
                                             action groups.
   34. Nicolas           501(c)(4)           Dedicated to the design
   Berggruen                                 and implementation of
   Institute                                 new ideas of good
                                             governance that can be
                                             brought to bear on the
                                             common challenges of
                                             globalization in the
                                             21st century.
   35. No on 22 --       501(c)(4)           Opposes California
   Citizens Against                          Proposition 22, which
   Taxpayer Giveaways                        would give money to
                                             redevelopment agencies
                                             at the expense of state
                                             core services such as
                                             public education.
                                             Sponsored by
                                             firefighters.
   36. Progressive       501(c)(4)           Brings diverse and
   Leadership                                potentially competing
   Alliance of Nevada                        organizations together
                                             into one cohesive force
                                             for social and
                                             environmental justice
                                             in Nevada.
   37. Progress          501(c)(4)           Promotes a stronger
   Missouri Inc.                             progressive movement in
                                             Missouri and advances
                                             in progressive public
                                             policy.
   38. Progress Texas    501(c)(4)           Organizes rapid
                                             response communications
                                             in opposition to
                                             conservative groups.
   39. Progressive       501(c)(4)           "We advocate for
   USA Inc.                                  sensible policy
                                             solutions, hold our
                                             nation's elected
                                             officials accountable
                                             for their actions and
                                             take head-on the flawed
                                             policies and hypocrisy
                                             of the radical right."
   40. Progressives      501(c)(4)           Opposes corporate
   United Inc.                               influence in the
                                             political system.
   41. Progress Now      501(c)(4)           Progressive campaign.
   42. Rebuild the       501(c)(4)           Supports pro-union
   Dream                                     demonstrations in
                                             Wisconsin.
   43. RVA Alliance      501(c)(4)           Affiliated with the
   Inc.                                      Alliance for
                                             Progressive Values.
   44. Texas Business    501(c)(4)           Promotes education with
   for Higher                                no apparent political
   Education                                 agenda.
   45. Tie the Knot      501(c)(4)           Sells bow ties to raise
                                             money to promote
                                             legalizing same-sex
                                             marriage.
   46. TN Fair Tax       501(c)(4)           Promotes the creation
                                             of a progressive
                                             Tennessee state tax
                                             structure that ensures
                                             adequate revenues.
   47. U.S. Common       501(c)(4)           Group's president is
   Action                                    affiliated with
                                             California Common
                                             Sense, a group
                                             dedicated to open
                                             government.
   48. U.S. Health       501(c)(4)           Promotes the right to
   Freedom Coalition                         access alternative
   Inc.                                      medical treatments such
                                             as naturopathy.