On Immigration, Rubio Is Good for the GOP, Cruz and Sessions Are a Drag
A new poll shows that the way senators talk about immigration reform doesn't just alter their standing -- it changes how Latinos look at their entire party.
The latest round of revelations from America's Voice and Latino Decisions polling shows that the way individual senators talk about immigration reform -- the number-one issue for Latinos in America, beating jobs by 20 percent -- has the the potential to help or hurt perceptions of the entire Republican Party.
"The results demonstrate that there is no 'distancing from the party' when it comes to the immigration reform bill and associated position-taking," Sylvia Manzano of Latino Decisions concluded in an analysis released Wednesday.
Latino registered voters were read quotes from four senators and asked how the statements affected their view of each senator -- or of his party (none of the respondents were asked both questions). The results tracked quite closely, showing that anything that creates a positive or negative personal impression on the question can create profound sentiment spillover from individual to group. "It is perfectly reasonable that Latino voters view elected officials as spokespeople for their party," Manzano wrote.
The polling covered statements on immigration reform previously made by Republican Senators Marco Rubio of Florida, Ted Cruz of Texas, and Jeff Sessions of Alabama. Also studied were the statements of Senator Robert Menendez, a Democrat from New Jersey; a similar correlation between party and personal evaluations were seen in his case.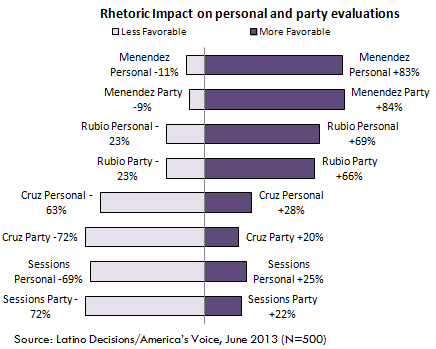 The poll also demonstrated, should anyone need further demonstration, how much positive good will Republicans could build though backing comprehensive immigration reform. More than half of respondents said they'd look on the GOP more favorably if "Republicans support immigration reform with a path to citizenship."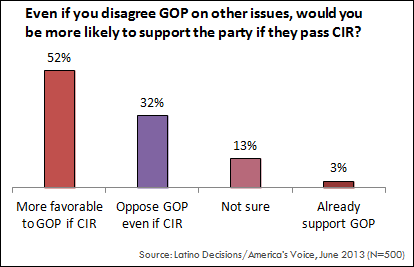 The Republican Party
needs to increase its margins with Latino voters
in the next presidential election to have a shot of winning.