Obama Goes to Africa, Finally
The president's trip has been long awaited by Chinese-courted Africans who had hoped for a stronger relationship with this White House.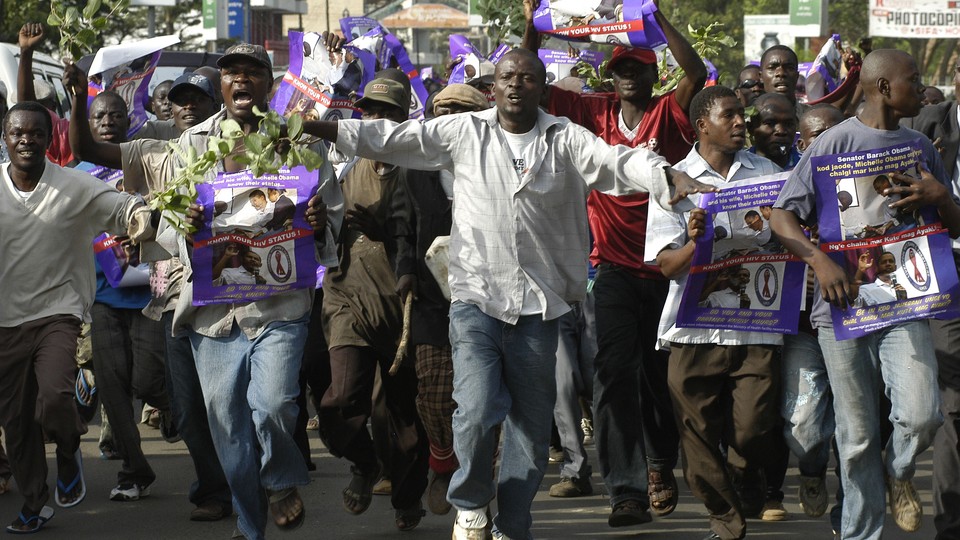 When President Obama makes his long-awaited trip to sub-Saharan Africa this week, he will be welcomed by crowds eager to show love for this son returning to his father's land. But as genuine as that affection may be, it will be trumped by the palpable disappointment Africans feel over his detachment and disengagement with their continent.
The president arrives in Senegal Wednesday night, beginning the second-longest foreign trip of his presidency, one that will take him from the infamous slavery debarkation point in West Africa to the economic powerhouse of South Africa.
It also will bring him to Tanzania in East Africa, where Chinese investment in mining has risen dramatically "" one of the many places across the continent where Beijing's role and influence can be both seen and felt.
Indeed, before returning to Washington, Obama aims to signal that the United States is not going to leave China, India, and Brazil unchallenged on trade and investment in Africa.
He also plans to hail burgeoning democratic movements, appeal to the high percentage of the population that is under 25, and, in unquestionably the saddest part of the trip, pay tribute to the legacy of Nelson Mandela as the South African leader nears death.
But, overshadowing the specifics of his itinerary is the African fascination with how long it has taken for the grandson of Onyango and Habiba Akumu Obama of Kenya, the son of Barack Hussein Obama Sr., to come to his ancestral home for a high-level visit. They know that he visited as a senator and they know that he made a 22-hour stopover in Ghana in 2009. But they expected much more. At the least, they expected as much White House attention from Obama as they had received from George W. Bush and Bill Clinton.
The White House says the president had hoped to pay more attention to a region with 1.3 billion potential customers for American goods, and a continent with bases that play a role in counterterrorism operations. But, administration officials say, he hasn't found time.
"Frankly, Africa is a place that we had not yet been able to devote significant presidential time and attention to," Deputy National Security Adviser Ben Rhodes said last week.
Rhodes spoke of "the importance of our commitment to this region" and said Obama's trip should be "a very important signal for the president to send that we take this region very seriously."
Africans need to be persuaded, after what many of them see as more than four years on the American diplomatic back burner.
"On the policy side, Africans have been largely disappointed," said Mwangi Kimenyi, the founding executive director of the Kenya Institute for Public Policy Research and Analysis, and now an Africa expert at the Brookings Institution.
Looking at all the high-level attention from China, Brazil, Turkey, and other competitors, he said, "They have a feeling that President Obama is still not in tune with the emerging continent."
Obama also suffers among Africans who compare him unfavorably to his two predecessors. "Most of the Africa-U.S. relationship today is defined by the Clinton and Bush programs," Kimenyi said, adding, "Africans still consider Clinton their president.... He is a hero, even today. I don't think President Obama is going to approach the level of President Clinton at all in terms of respect."
Jennifer Cooke, a veteran of the House Foreign Affairs Subcommittee on Africa who is now director of the Africa Program at the Center for Strategic and International Studies, said there was "euphoria' in Africa at Obama's election. In part, that was because of his African heritage. But it also was because they thought he would build on the momentum of Clinton and Bush.
But then, when Obama took office, she said, "There was a sense of stall." Africa, she said, "just seemed to fall away in terms of excitement, energy, and momentum."
Witney Schneidman, who was Clinton's deputy assistant secretary of State for African affairs, blamed the inattention on the economic crises that demanded Obama's time in the first term, as well as on the political realities that came with the "birther" controversy.
But with Obama staying away and rarely talking about Africa, the contrast with a more assertive China became acute. By Kimenyi's count, the Chinese president and vice president have visited 30 African countries in the last five years. President Xi Jinping has visited 17 African countries, while Obama as president has been to only one sub-Saharan country. (Adding Egypt to the Ghana visit, his count for the whole continent rises to two.)
"When I travel in Africa, I frequently hear, "˜Where are the Americans?'" said Schneidman. "China's there. Bill's there. Everybody's there." He said Africans hope "this trip begins to sort of reverse that" and that the programs Obama addresses during the trip "provide the underpinning for a deeper engagement."
No one expects this trip to mark the launch of any major initiatives, at least nothing on the same scale as what Clinton and Bush championed in their trips to Africa, said J. Stephen Morrison, who started the Africa Program at CSIS and now heads the Global Health Policy Center there.
"It's more a matter of stewardship and reengagement," he said, with Obama's main message this week being, "Yes, we care, and we're coming back."