No One Knows Who Ordered the IRS to Give Conservative Groups Extra Scrutiny
It's not even clear that all of the groups that were targeted are conservative.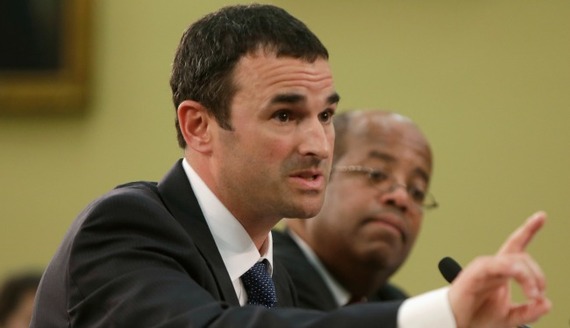 Reuters
The big revelation from Monday's House Appropriations subcommittee hearing on the Internal Revenue Service is that after more than half a year of investigation by the Treasury Department and multiple congressional hearings, we still don't know who handed down the order to give conservative groups applying for tax-exempt status special scrutiny. Oh -- and we also don't know that all the groups selected for special scrutiny were actually conservative groups.
The first revelations seems like a major investigative failure of the Treasury Inspector general for tax administration's audit, and the second seems like something the IG's report should have made clearer earlier.
Georgia Rep. Tom Graves, a Republican who joined the House only in 2010, pressed the afternoon's two witnesses on the question of the origin of the special scrutiny that has snowballed into a major scandal.
"Have either of you asked the individuals in Cincinnati who ordered this -- who ordered them to use this extra scrutiny to punish or penalize, postpone or deny? Has that question been asked of any employee?" Graves pressed.
"During our audit, congressman, we did pose that question and no one would acknowledge who, if anyone, provided that direction," replied Inspector General J. Russell George.
"So no one would acknowledge who gave the directive to do this?" Graves followed up.
"That is correct," George replied.
"Mr. Werfel, are you satisfied with this response?" Graves continued.
"No. We have to get to the bottom of that," said Danny Werfel, the acting commissioner of the IRS, now 12 days into his appointment in the role.
"We will uncover every fact," he vowed.
The other big revelation of the hearing was that it's not even clear if the majority of the groups targeted for special scrutiny and caught in the IRS's net were conservative ones.
Asked by one of the committee's Democrats if, in theory, liberal groups could have been in the majority, George asserted, "That is correct." Of the 296 groups selected for special scrutiny, 72 had "Tea Party" in their title, 13 had "Patriot", and 11 had some variant of "9/12," he said. Many of the 200 other groups rolled up in the controversy were "agnostic" or not clearly conservative.
New York Democratic Rep. Jose Serrano said that at least 48 of the targeted groups were not conservative ones.