John Kerry's Massachusetts Senate Seat Remains in Democratic Hands
Rep. Ed Markey comfortably defeats Republican Gabriel Gomez, a former Navy SEAL.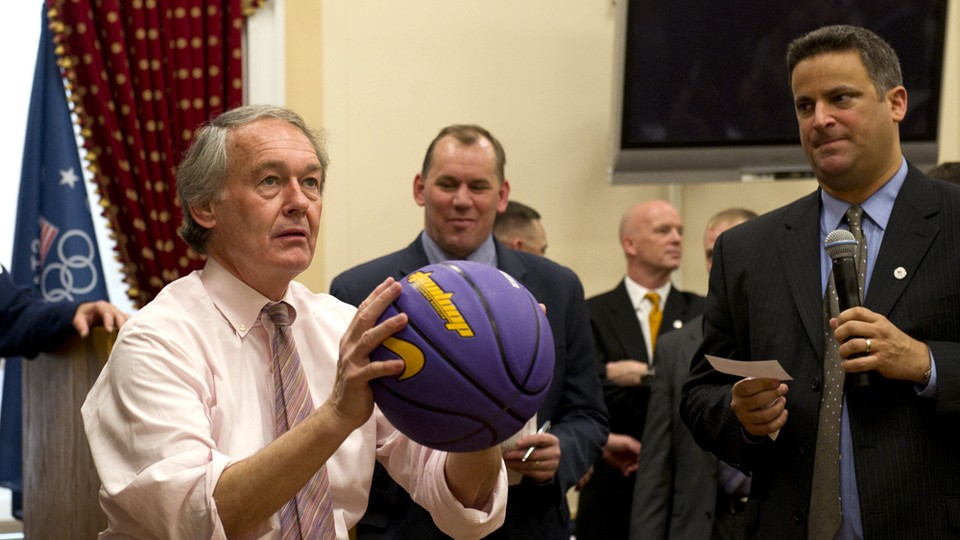 Democratic Rep. Ed Markey won the special election for Senate in Massachusetts on Tuesday, ensuring Democrats retain the seat vacated by former Sen. John Kerry and vaulting the 36-year House member into Congress's upper chamber.
With 78 percent of precincts reporting, Markey leads Republican Gabriel Gomez 54 to 46 percent. The AP called the race for Markey.
The Democratic congressman's victory was expected over the course of his two-month general election campaign in such a solidly-Democratic state, but his race against the politically inexperienced Gomez wasn't smooth. Republicans mocked Markey's nearly four-decade-long tenure in Washington, accusing him of representing everything wrong with a dysfunctional Congress, and labeled his ideas and platform stale. The younger Republican, a former Navy SEAL and son of Colombian immigrants, presented a challenging contrast for Markey, at least on paper.
That caught the attention of national Democrats, who were anxious about the prospect of another GOP upset in Massachusetts like the one former Sen. Scott Brown achieved in 2010. Liberal outside groups and the Democratic Senatorial Campaign Committee poured millions into TV ads. President Obama, former President Bill Clinton, and Vice President Joe Biden also campaigned in the state.
But Gomez, despite breaking from conservative orthodoxy on issues like gun violence and gay marriage, struggled to defend charges he would serve the national GOP's interest. In TV ads, Democrats pounded him on sensitive cultural topics like guns and abortion while also accusing him of wanting to cut funding from Medicare and Social Security.
And until the very end of the race, Gomez had received little support from national GOP donors and outside groups, most of whom were deeply skeptical he could win. One group, Americans for Progressive Action, began airing ads on his behalf in the campaign's final two weeks, but by then Gomez had already been heavily outspent.
Gomez's loss will leave Massachusetts Republicans wondering what would have happened if Brown had opted to pursue a campaign after Obama tapped Kerry late last year to serve as his secretary of State. At the time, the personally popular Brown was considered an early favorite over a then-unformed Democratic field.