Jane Harman: The Top-Secret Clearance System Is Like Something Out of the 19th Century
One way to prevent future Snowdens is to transform a broken and "ridiculous" screening process, said the former congresswoman.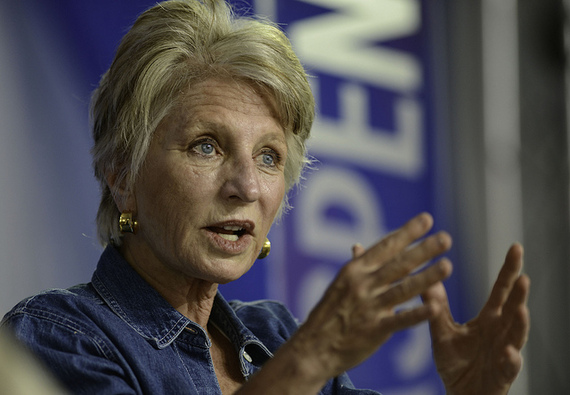 The Aspen Institute
There's been a lot of talk at the Aspen Ideas Festival about the fallout from the revelations of classified American National Security Agency programs by former contractor Edward Snowden, with speakers such as Booz Allen Hamilton's Mike McConnell, former Bush Treasury Secretary Henry Paulson and former Democratic Congresswoman Jane Harman highlighting the harm they say he has done to American security and efforts to seize the moral high ground in the ongoing fight against Chinese electronic economic espionage.
Harman, now the director, president, and CEO the Wilson Center in Washington, D.C., also had some tough words for the security clearance process that signed off on giving Snowden the authority to extract some of the United States's most closely held surveillance secrets.
"The clearance system that we have for secret and top secret clearances is broken," she said during a panel discussion on Friday. "It's a 19th century model -- it's ridiculously labor intensive, a lot of it isn't even online and updated and for a person in the kind of position he had ... [for] a systems administrator, where he was the boss supervising himself in a position where he had enormous access, there needs to be the two-man, the two-person rule."
The two-person rule simply means that when accessing sensitive information, two individuals must sign off on the maneuver. The NSA director has said he plans to implement the new security measures within his agency, according to The New York Times:
The director of the NSA, Gen. Keith B. Alexander, acknowledged the problem in a television interview on Sunday and said his agency would institute "a two-man rule" that would limit the ability of each of its 1,000 system administrators to gain unfettered access to the entire system. The rule, which would require a second check on each attempt to access sensitive information, is already in place in some intelligence agencies. It is a concept borrowed from the field of cryptography, where, in effect, two sets of keys are required to unlock a safe.
"Somebody else ought to be watching and there isn't a huge number of these folks," Harman continued. "It's about 1,000 and again that's been reported in the press and maybe those folks ought to all be federal employees and there ought to be enormous amounts of supervision over them so that this can't happen again."
You can see what's she's talking about by reading the clearance forms for national security positions (PDF), which the Office of Personnel Management has posted online.