Is It Time to Take Martin O'Malley Seriously?
The Maryland governor is determined to be part of the 2016 conversation. If Hillary Clinton lets him, that is.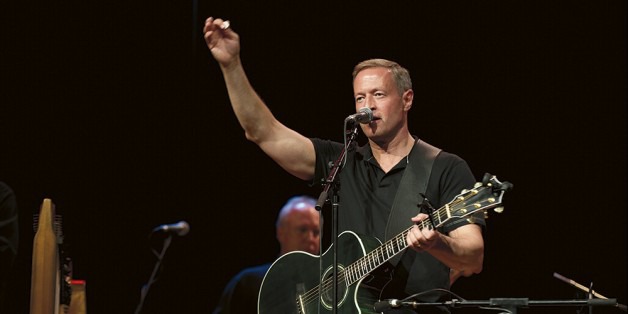 EASTON, Md. -- Outside the restored art deco theater, pickup trucks decked out with hand-painted protest messages such as "NØMALLEY" and "No more taxes" were circling the block. Inside, the man in black -- we're talking tight black shirt and jeans -- was on stage and in charge.
This was not the Martin O'Malley of the wonk world or the Sunday-show circuit. It was O'Malley the composer, lyricist, and singer, pennywhistle soloist, hushed Celtic storyteller, and jump-in-the-air, full-out guitar rocker. He teased his bandmates, bantered with the lighting crew, and repeatedly lost himself in the moment, moving smoothly from an Irish ballad to a Bruce Springsteen cover to a deadpan, dead-on rendition of Johnny Cash's "Ring of Fire." The group plays only a few times a year now and was rusty, but O'Malley owned the stage with the ease of someone who has been a leader for decades -- of a band, a city, a state, his fellow governors, and, maybe someday, his country.
People who have heard of O'Malley think they know who he is: a boring, soft-spoken, data-driven, unabashedly liberal, lifelong political junkie who has moved methodically up the career ladder to the Maryland governor's office and now is in the midst of what he tells National Journal is his "year of discernment" regarding a 2016 presidential bid. If he runs for president, the former Baltimore mayor would offer Democrats 15 years of executive experience during which he has built a stellar reputation as a manager.
There is, however, a new asterisk next to that résumé entry, in the form of a sordid prison scandal. If O'Malley were a character in a novel, it would be tragically inevitable that a Baltimore jail taken over by inmates and corrupt guards would raise questions about him at this particular moment. Because, even more than his fixation on Irish culture or his side gig as front man of O'Malley's March, his embrace of Baltimore is the most interesting, even admirable, thing about him.
He was a middle-class, suburban Washington kid who chose to build a political career in one of the grittiest, most troubled cities in America, with all the challenges and risks that entailed. He spent eight years on the Baltimore City Council and seven as mayor before moving to Annapolis to begin two terms as governor in January 2007. O'Malley has been closely identified with statistics-based governing in both of his executive positions: CitiStat to improve management and services in Baltimore; StateStat to do the same across Maryland; even BayStat to revive the Chesapeake Bay. Fusing passion with dispassion, he has deployed numbers to fight crime and pollution, to win approval for gambling casinos and gun restrictions, to pass tuition breaks for illegal immigrant students, and even to repeal the death penalty.
At the same time, over the past few years, he has steadily ascended in national politics -- as a key supporter of Hillary Rodham Clinton and later Barack Obama in 2008, as chairman of the Democratic Governors Association in 2011 and 2012, and as a prominent media spokesman for Obama and Democrats during the 2012 presidential campaign. He continues in a DGA leadership role as finance chairman, an ideal job for someone who might need to raise a lot of money for a presidential campaign in a year or two.
Clinton, 65, has frozen the field as she ponders her 2016 options. Awaiting her decision, halfway out of the wings, is a new generation of contenders topped by O'Malley, 50, and New York Gov. Andrew Cuomo, 55. Though he is not (yet) writing a book, O'Malley has taken many preparatory steps toward running and hasn't been coy about acknowledging his interest. He says the impact of a race on his family, "along with more important factors, like what's best for the country, are things that I'll be weighing" in the months ahead.
Whether O'Malley has the charisma and fundraising prowess to make a serious bid is unclear at this point. He does have some noteworthy assets. Maryland is at the top of numerous lists rating metrics such as education and innovation. O'Malley has been on many lists of rising stars over the past decade. In 2009, Governing magazine cited his data-based management style in naming him a public official of the year. This year, in its May/June issue, Washington Monthly called him "arguably the best manager in government today."
An independent education report released amid this spring's prison furor found that low-income students in Maryland had made more progress over the past eight years than those in any other state -- a reminder that O'Malley's record remains enviable in many respects. But the corruption charges brought by the FBI in April against 25 inmates and prison guards at the Baltimore City Detention Center, overseen by the state, are forcing O'Malley to answer difficult questions. They are also giving extra ammunition to conservatives who have based their critique so far on tax hikes, what they view as overregulation, and O'Malley's allegedly boundless, even ruthless, ambition.
"I've come to the conclusion that he cares about nothing but his own personal political ambitions. Not the welfare of the state, not the future. It's all about him," says Maryland Delegate Anthony O'Donnell, a Republican who was state House minority leader from 2007 until early this year.
O'Malley has heard it all before. "Generally, people in my experience have tended to overestimate my ambition and greatly underestimate my conviction," the governor said in one of two extended interviews for this article. "I do what I believe is best, given the facts before me. I make every decision as if I'm not running for office again."
So far, he hasn't stopped running -- or winning.
In Search of a Narrative
Presidential candidates often have dramatic narratives that make their candidacies seem larger than themselves. There was Bill Clinton, whose father died before he was born and who grew up with an alcoholic stepfather; Obama, another fatherless son, who also had to surmount his name, his race, and an exotic childhood in Hawaii and Indonesia; Hillary Clinton, emerging from a troubled marriage as a senator, a secretary of State, and the first viable female contender for the presidency; John McCain, who survived years as a prisoner of war in Vietnam.
O'Malley's story is not like any of those. He's a smart, good-looking, white guy who grew up with two parents, two older sisters, and three younger brothers outside Washington in the affluent Maryland suburbs of Bethesda and Rockville. His political pedigree goes back generations. His grandparents were active in Democratic politics in Indiana and Pittsburgh. His parents met doing work for the Democratic National Committee. His father, who died in 2006, was a lawyer whom O'Malley says was an "Atticus Finch-type figure" to his four sons, all of whom became lawyers. His mother has been a receptionist for Sen. Barbara Mikulski, Maryland's Democratic senior senator, for more than 25 years.
O'Malley attended the Jesuits' Gonzaga High School in a checkered neighborhood near the U.S. Capitol, and then Catholic University a couple of miles away. The choice of Gonzaga in a sense foreshadowed the turn his life took later when he attended the University of Maryland School of Law in Baltimore, then stayed in the city to work as an assistant state's attorney, marry a top state official's daughter, and run for a series of political offices.
Michael Enright, a Gonzaga classmate who became O'Malley's deputy mayor in Baltimore and chief of staff in Annapolis, described the pair's first conversation at age 14. They were at a bus stop in Washington, waiting to be carried back to the suburbs, and Martin was snacking on goldfish crackers. "Some homeless guy came up, muttering, kind of delusional, dove his hand into Martin's bag of goldfish, and started eating them," Enright said. "Going down to Gonzaga, that was what you signed up for. You saw urban life." The two teenagers started talking, and an enduring friendship was born.
By then, O'Malley was already an Irish history aficionado, a musician, and a budding politico. As a child, he followed election returns when his godfather ran for office, and he handed out leaflets for a family friend in another race. As a college student, he worked for Gary Hart's 1984 presidential campaign, including spending a few weeks in Iowa. As a law student, he ran the field operation for then-Rep. Mikulski's 1986 Senate campaign. It was a fateful job, in part because it afforded him his first glimpse of Katie Curran, his future wife.
He says she walked into the English Consul Democratic Club on the arm of her father, Lt. Gov. J. Joseph Curran Jr., who was running for attorney general. "I said to Barbara Mikulski, 'Who's that?'" O'Malley recalls. " 'Joe Curran's secret weapon, his beautiful daughter Katie,' " she replied.
The year 1990 was seminal for O'Malley in two ways. He married Katie, and he made his first run for office -- a primary challenge to state Sen. John Pica of Baltimore. O'Malley's brother Peter, seven years younger and a student at Catholic University, ran the campaign with help from Patrick, another brother, and Enright. They did their own opposition research. Peter O'Malley says he and Patrick combed Pica's voting records to discover that he had missed more votes than any other member of the state Senate. They also did their own polling, he says. Martin wrote the questions, and they all made the calls, using lists they bought to achieve a scientific result.
O'Malley spent less than $35,000 on the campaign and ended up losing by 44 votes, so close that his friends and family were elated. He says he realized belatedly, "I was the only dope on the campaign" who had expected to win. He was stung, but also encouraged. By the next year, he was working at a law firm by day and campaigning by night for a Baltimore City Council seat. He'd pick up his infant daughter Grace from Katie, who was taking an evening bar-review course, and go door-to-door as long as Grace would stand for it. He won the seat, and his course was set.
What was it about Baltimore that drew O'Malley? "There's probably a biography in the answer to that question," he responds. It started with what he calls his "immersion" into Mikulski's world of friends, family, and supporters. "I felt more at home in Baltimore after one year of law school and Barbara Mikulski's campaign than I ever felt in the Maryland suburbs of Washington," he says. "It is a city with a very unpretentious blue-collar work ethic .... I just found something about it very attractive when I moved there for law school, and wanted to stay."
Baltimore has much going for it: top-notch sports teams, cozy neighborhoods, a burgeoning restaurant scene, a renowned symphony and university, and one of the nation's largest ports. Still, 25 years ago, beset by drugs, crime, and racial tensions, it was an odd place for a white Democrat to start building a life in politics. O'Malley says Baltimore's problems were compelling to him. In his 20 months at the state's attorney's office, he handled more than 70 cases and saw a lot of pain and addiction. He was frustrated with the criminal-justice system and wanted to try to make things better "at a higher level."
It was a tough time for politicians. The Baltimore Sun captured a bit of the atmosphere in a July 1995 correction: "Another article Tuesday should have stated that an incident in which bottles and batteries were thrown at Councilmen Lawrence A. Bell III and Martin O'Malley occurred at the intersection of Park Heights and Belvedere avenues. The Sun regrets the error." The pair had been visiting an open-air drug market to protest shootings that were killing children, O'Malley says, and the dealers got angry when the TV vans and hoopla disrupted sales. The council district he represented was not among the worst off in the city, but "we had our pockets." He recalls going to the Pen Lucy neighborhood "one evening when, quite literally, the gutters were running with blood from a drive-by shooting, and there were bodies lying in the street."
The "Antidote" to The Wire
In 1999, O'Malley was planning to back NAACP President and former Rep. Kweisi Mfume for mayor. Mfume, however, decided not to run, leaving O'Malley with what he saw as three choices: support council President Lawrence Bell or former council member Carl Stokes, or run himself. He says he didn't think either of them would be a good mayor. So he went for it, the only white candidate of the three major contenders in a majority-black city, his campaign managed once again by his brother Peter.
O'Malley told his advisers he would run on a citywide anticrime platform and not tailor separate messages for whites and blacks, one of them recalled. Yet race suffused the campaign. O'Malley recalls one of his opponents' mailings that on the front featured Rodney King and the words, "Are you ready for zero tolerance?" On the back, a picture of O'Malley. "It was a rough-and-tumble summer," Enright says.
A key endorsement from the late state Delegate Howard "Pete" Rawlings (whose daughter, Stephanie Rawlings-Blake, is now mayor of Baltimore) helped O'Malley gain credibility in the African-American community. Larry Young, a former state legislator who hosts the No. 1 black radio show in Maryland, says he dismissed O'Malley's chances until a straw vote at his station's annual summer picnic. Of about 3,000 votes, O'Malley trailed the victor by only 20 votes. "Once I saw that, I said, this guy could win this thing."
When O'Malley took office, Baltimore had experienced more than 300 homicides a year for a decade, peaking at 353 in 1993. It was infamous for the open-air drug markets featured in The Corner, an HBO miniseries during O'Malley's first year as mayor. "There was a lot of hopelessness, and there was a lot of despair in Baltimore," he says. "There was a sense among some that there was nothing we could do about it, and that it was becoming increasingly out of control, and that's just the way it is, because it's Baltimore." Some people dealt with it, he says, by telling themselves it wasn't happening in their neighborhood or to anyone they knew.
O'Malley dealt with it by the numbers, instituting a CitiStat system across the government, adapted from New York City's famous CompStat system credited with reducing crime. As arrests soared in African-American neighborhoods, blacks who felt their communities were being targeted pushed back. "He struggled for the first part" of his first term, Young says, but gradually "settled in" and became more responsive to community concerns. Homicides and crime dropped substantially, yet the city was still among the most violent in the nation.
Enright recalls feeling overwhelmed by the enormity of the task before them. They were in their 30s, and a broken city had entrusted them to fix it. "At some point, I was very down about it all," Enright says. O'Malley snapped him out of it with a reminder that people had other options in the election and "they chose us, so let's get to it." Despite that pep talk, the pair experienced many harrowing days. "It really aged him," Katie O'Malley says of her husband.
O'Malley let it be widely known that he was considering a run for governor in 2002, which would have meant challenging Lt. Gov. Kathleen Kennedy Townsend. But he backed off after Mikulski, who was close to Sen. Edward Kennedy, told him she was going to endorse Townsend and that O'Malley's leadership was needed in Baltimore. He got two-thirds of the vote in a five-way Democratic mayoral primary in September 2003 and was overwhelmingly reelected.
For much of O'Malley's tenure as mayor, HBO was airing The Wire, a popular series about drugs, violence, cynical cops, and failing institutions in Baltimore. It featured the young, handsome, ambitious Mayor Tommy Carcetti (a composite of O'Malley and dozens of other politicians, creator David Simon insists). The program ended in 2008 but has lived on in the industry it fueled (Netflix's House of Cards and HBO's Veep are among the shows shot in Baltimore) and also in its capacity to rankle O'Malley. He has spent years fighting its depiction of the city and denying that he inspired Carcetti or the program. His retort on MSNBC in 2009 distilled how he views himself and his role in the city. "I am the antidote to The Wire," he said.
A Bitter Contest
O'Malley had long planned to challenge Republican Gov. Bob Ehrlich in 2006, and the pair warmed up with a couple of skirmishes over the Baltimore schools. In 2004, the system was in a financial crisis, and Ehrlich offered to bail it out in exchange for more state control. O'Malley emptied his rainy-day fund of $42 million -- and risked the city's bond rating -- to avoid that. The school system repaid the money on time, to his relief.
In 2006, at the request of state Superintendent Nancy Grasmick, Maryland's Board of Education voted to take over 11 failing Baltimore schools. The Democratic Legislature, however, delayed the takeover a year -- until after the gubernatorial election.
The General Assembly would usually be "on the side of the children" on an issue like that, says Republican state Sen. Joseph Getty, who served in the Ehrlich administration as a policy adviser. But the face-off came in the run-up to the election. "The Democrats were wary of the political implications," he says, so they blocked it, with O'Malley "at the head of the line." O'Malley counters that Ehrlich engineered a "base and crass political move" to try to embarrass him and "hurt whatever political prospects I might have had to unseat him." O'Malley ended up defeating Ehrlich with 53 percent of the vote after a bare-knuckle campaign. He did even better in a 2010 rematch, racking up 56 percent of the vote and a 14-point victory in the wake of the recession.
(Ehrlich, now a political columnist and a partner at a law firm, did not respond to several requests for an interview. Neither did Michael Steele, his lieutenant governor, who later became chairman of the Republican National Committee.)
Earlier this year, just as pundits were starting to assess O'Malley as a presidential prospect, he scored a burst of liberal achievements that state Republicans scorn as sops to voters in the 2016 Democratic primaries. The new laws will no doubt appeal to them. Yet polls show some of O'Malley's positions -- on immigration, gun control, and same-sex marriage -- get majority support nationwide. It should also be noted that O'Malley has been working toward some of those goals for several years, among them repeal of the death penalty, which Senate President and fellow Democrat Thomas V. "Mike" Miller opposed.
O'Malley's liberal social agenda belies a more mixed overall record. He reformed the state's pension system, for instance, a step that was highly unpopular with unions. And even before the Great Recession, when he was faced with a $1.7 billion structural deficit as he took office, the governor had to find ways to raise revenue and cut spending. During the economic downturn, advisers say, O'Malley relied entirely on cuts, which he phased in gradually. He eliminated 4,200 state jobs and $5.6 billion in spending during his first term. O'Malley also highlights income-tax cuts for 85 percent of workers, business tax cuts and credits, and an expansion of the Earned Income Tax Credit. But he has also raised many fees and taxes, including those on sales, cigarettes, transportation, and high earners, and national antitax groups are already taking note.
In keeping with his nerd-like persona, O'Malley often presents his social policies in dry terms. When he signed a repeal of the death penalty, the Archdiocese of Baltimore lit up the Basilica of the Assumption for a night in celebration, and The New York Times editorial board praised Maryland for banishing "an indefensible, archaic tool of vengeance." O'Malley simply said we have "a moral responsibility to stop doing the things that are wasteful, and that are expensive, and that do not work."
It's not that O'Malley lacks passion, or that he's only passionate about numbers. His hybrid style -- moral imperatives backed by provable assertions--was illuminated last month when he was asked about immigration reform at a State Department panel. "There is such a compelling business case," he said. "Set aside compassion, set aside justice, set aside fairness, if you must. And if you go only on the business case for immigration reform, the United States of America is losing money and jobs every day by not having fixed our archaic immigration policies. This is low-hanging fruit, if you will. It's not what other countries are doing to us. It's what we're not doing for ourselves, in recognizing the tremendous power and the economic imperative of immigration reform."
His questioner, onetime rival Townsend, reached over to pat his shoulder. "That was very eloquent, thank-you very much," she said emotionally.
It is not hard to imagine O'Malley sitting in a corner at a National Governors Association conference, immersed in Irish poetry or philosophy, telling other governors to go to dinner without him, as Democratic Sen. Tim Kaine, the former Virginia governor, says he once did. Ireland is a running theme throughout O'Malley's life, and is particularly evident onstage. "This harp has 32 strings, one for every county in Ireland," he told the audience at the Avalon Theatre last month, introducing a tribute to Irish immigrants. Amid the applause afterward, he said, "That song was written with my great-grandfather in mind. He came here some three generations ago. I keep a little sign on my desk that says 'No Irish Need Apply,' to remind us of the creative tension and energy in the world here."
In his real life, as a politician, O'Malley has been known to go overboard with the shtick. State Delegate Maggie McIntosh is among the good friends who habitually urge him to tone it down. She recalls groaning when O'Malley started a recent speech with thanks to the audience followed by "To quote an Irish poet ..." McIntosh says he then looked right at her, smiled, and halted. "Well, no."
Going It Alone
O'Malley's teasing is not limited to fellow Democrats. O'Donnell, the former House minority leader, says the governor had a curious practice of saying "meep, meep" every time he saw O'Donnell in 2007, when he had just defeated Ehrlich. "I was like, 'What is this?' " O'Donnell says. "He explained it to me later: 'I'm the roadrunner. You're the coyote. You'll never catch me.'" Was it meant in good humor or to rub in the election results? "A little of both."
There was also the time O'Donnell was, in his own words, "excoriating" O'Malley's "leftward lurch" on the floor. "I was ripping into the administration pretty good. I said that if anybody thinks Martin O'Malley isn't doing this to build his national left-wing credentials, you're wrong. Come talk to me later, and I'll set you straight." In short order, a staffer came to the floor to give him a note that said, "Mr. Minority Leader, I'd like to meet with you later. Martin O'Malley." O'Donnell thought he was being "punked," so he asked the page coordinator who had handed the note to her. "She said the governor did, himself." His take on O'Malley: "Somewhat of an odd duck."
O'Malley's relationship with Maryland Republicans is clearly easier for him than for them. The state is deep blue, Democrats control the Legislature, and despite some divisions within his party, O'Malley's need for Republican votes to pass his agenda has been slim to none. "He's ignored Republicans throughout his entire political career, starting back when he was running for mayor," says Nic Kipke, minority leader of the House of Delegates. "He's never needed to deal with Republicans, and he's not going to start now."
That's no formula for success with moderates and independents in a national election, which perhaps is why O'Malley tries to play up the relevance of Maryland Republicans and his relations with them. Some have been supportive on jobs and public safety, he says, and a few even voted for same-sex marriage. "We all need each other," he says. "There's a host of issues we work on together."
Nevertheless, O'Malley would be hard-pressed to run for president as a uniter, not a divider, as George W. Bush did based on his work with Democrats in Texas, or as Obama did after a lifetime of negotiating racial and cultural divides. Nor would he rely on data-based management as a selling point. "Better choices, better results," the theme of O'Malley's 2013 State of the State speech, backs up his view that voters are interested in outcomes, not process.
Maryland and its impressive string of top rankings give him a platform to run on results. As O'Malley put it in that speech, which came complete with footnotes documenting the sources of his statistics: "No other state can say at once ... that they are No. 1 in education five years in a row. No. 1 in holding down the cost of college tuition. No 1 in innovation and entrepreneurship. No. 1 in human-capital capacity. No. 1 in access to dental care for all children, regardless of income. No. 1 in Ph.D. scientists and researchers. No. 1 in research and development. No. 1 in businesses owned by women. No. 1 in median family income."
Readying a Run?
From a political standpoint, O'Malley has a head start on a national campaign. He already has the bodyguards, the workout routine, the flag pin, and the retail skills. He's made the foreign trips--nine as governor, including two to Israel, three to Ireland, and a trade mission to Paris this week--and he's building a cadre of experienced political advisers. He has given speeches and helped organize for fellow Democrats, and he activated Maryland residents to canvas and make phone calls for Obama in Virginia in 2008 and 2012. When his friend Kaine was chairman of the DNC, he wasn't shy about offering strategy tips. "He would often call me with advice either for the DNC, or sometimes he'd see things he thought the White House could be doing that could be productive. He knew me; he'd call me [and] say why don't you suggest this," Kaine says.
Cuomo reportedly has said privately that he won't run if Clinton does, and it's hard to imagine that O'Malley would, either, given his closeness to her and the strength she now shows in polls and among Washington insiders. Still, O'Malley has already visited the early primary states of Iowa, New Hampshire, and South Carolina, and in coming months he plans to help out gubernatorial candidates in Florida, Ohio, and Pennsylvania. He has formed a national political action committee to pay for travel and donations to other candidates, and has endorsed Newark Mayor Cory Booker in New Jersey's special Senate election this fall. His awkwardly named O' Say Can You See PAC will be an early test of whether O'Malley is competitive on the fund-raising front.
His proximity to Washington -- from Annapolis, it takes less time to get to D.C. than to Baltimore -- has helped him become a regular on Sunday shows, cable TV, and policy panels all over town. But, so far, he's well-known mostly inside the Beltway. He is at 1 percent support in some polls of the prospective Democratic field and isn't even included in others. That could change if Democrats outside the Beltway like what they see, and some of them already are receptive. South Carolina Democrats were impressed by his ideas and his evisceration of GOP Gov. Nikki Haley. "He looks sort of like Al Gore, but he has a lot more personality than Mr. Gore, and he's just as smart," says state Democratic Chairman Jaime Harrison.
O'Malley already appears to have the combat skills necessary for battle on TV. His funniest moment came last year in an appearance with Virginia Gov. Bob McDonnell on NBC's Meet the Press. O'Malley was in the studio and McDonnell was coping with a time delay from a remote location. At one point, host David Gregory disapprovingly noted Rep. Paul Ryan's charge that Obama had "robbed" Medicare and asked McDonnell, "Don't you think that criticism is over the top?" The seconds ticked by as McDonnell waited to hear the question, and O'Malley couldn't resist leaping into the void. He raised his hand like a sheepish student and said, laughing, "I do."
His worst moment came the weekend before last year's Democratic convention when he was asked on CBS whether the country was better off now than it was four years ago. "No," he began, and whatever he said after that didn't matter. He gave much better answers in appearances that followed, showing off a cutting partisan side that is quite a contrast with his cerebral delivery and national reputation as a deep thinker.
One recent example: At the Center for American Progress this spring, O'Malley gave a bland speech on how to help the middle class thrive. Then, asked whether his party bears responsibility for "caving" to GOP ideas, he sprung to life, attacking what he called the Republican "falsehoods" that "tax cuts create bridges. Tax cuts create jobs. Tax cuts create better moms and dads. Greed is the greatest good in the Republic." He finished with an offhand allusion to "the disastrous presidency of George Bush the younger."
Where O'Malley has had trouble is in scaling up for big audiences. His speech at the 2012 Democratic National convention began with a historical anecdote that was long, boring, and way too Maryland-centric for a national audience. O'Malley says it was foisted on him by convention planners who wanted a mellow start to prime time that night.
"A horrible, horrible national debut," says Todd Eberly, a political analyst and blogger at St. Mary's College. He adds, however, that O'Malley has been improving and says the governor's State of the State address this year was "the best he's ever given." Eberly interprets it as a launch speech for 2016 and jokes that Cuomo had better watch his back.
The prison-corruption scandal is a looming cloud, its details bound to create headlines when the case comes to trial in a year: An inmate gang leader who boasted -- legitimately, the FBI says -- that he ran the jail, smuggled in drugs and cell phones, and who fathered five children with four female prison guards. O'Malley says the state asked the FBI to investigate, and he characterizes the indictments as progress. Republicans, analysts and editorial boards, however, have chided O'Malley for not moving earlier to remedy problems known about for years, and also for his spin, or, as The Baltimore Sun put it, his "continued efforts to accentuate the positive."
By the time he runs for president -- if he runs -- O'Malley might be able to claim credit for taking steps to clean up the prison system, however belated. The episode will be irresistible fodder for Democrats and Republicans alike. But Brad Todd, a GOP consultant who has worked in Maryland, says the mess is not a mortal threat. "There are no career-killers anymore," he says. "Mark Sanford's in Congress." Todd adds that O'Malley's chief liability is his tax hikes.
If O'Malley does run and fails, that would be unusual. His life has had a notable lack of bad news. Even the political race he lost was fortunate in its way. He might have become a state senator and worked his way up to a leadership position in the Legislature, maybe run for the U.S. Senate. Instead, he gained invaluable experience running a city and a state. Luck has also played a role in the Democratic majorities that have helped O'Malley reach his goals, the nearby federal government that he says has been a "tremendous" factor in Maryland's economic vitality, and the short commute to Washington that has facilitated his rise as a national player.
"I've been very blessed," O'Malley agrees, and immediately mentions his family -- wife, Katie, a Baltimore City District Court judge; daughters Grace, 22, a Georgetown graduate headed for a Teach for America job in Baltimore; and Tara, 21, a rising senior at the College of Charleston; and sons William, 15, and Jack, 10. "But it's not been a life without obstacles and challenges, and without its moments of deep doubts," O'Malley says. "You don't volunteer to lead the most violent, abandoned, and addicted city in America without taking on, in a very personal way, all the suffering of your city."
So often it comes back to the impossible, intractable "Charm City" that has been the bane of his state and career, and was also the making of him -- the reason Larry Young, the radio host, says O'Malley would stack up well in a Democratic field as "somebody that's got guts. Somebody who's an overcomer, not a quitter."
A few years ago, O'Malley announced he was quitting his Celtic band, but he didn't let it go entirely. He still performs a few times a year, in bars, at Democratic functions, and last month on the Eastern Shore of the Chesapeake Bay. That side of the "ditch" is psychologically light years from Annapolis and Washington. When he gets to the other side of the Bay Bridge, O'Malley told the audience, "scales of stress" fall from his shoulders.
Even though it was off-season in a conservative part of Maryland, the historic theater was jammed with a near-sellout crowd of O'Malley enthusiasts. Perhaps that's because of the way the Avalon advertised it on Facebook: "He could be president one day ... !"