Immigration Reform, or How the GOP Can Screw Up Its 2016
Immigration reform is the single most important issue for Latino voters. Republicans who oppose it are having trouble accepting that reality.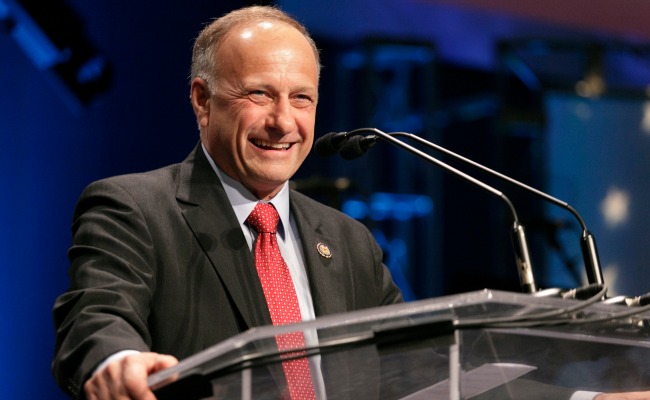 This is how the Republican Party can cancel out any progress against Democrats it is making with the Summer of Scandal and guarantee itself a loss in 2016 and a smaller advantage in 2014 than it might otherwise have had.
House Republicans walking away from comprehensive immigration reform. Tying a path to citizenship to continued second-class standing on access to health insurance. Voting to resume deporting undocumented immigrants brought here as children, a year after President Obama issued an executive order instructing the Department of Homeland Security to use discretion and make such deportations a low priority.
Don't take it from me -- take it from the Republican National Committee, which in March issued an autopsy of Mitt Romney's loss and the party's 2012 failure to gain seats in the House or Senate.
"If Hispanic Americans perceive that a GOP nominee or candidate does not want them in the United States ... they will not pay attention to our next sentence," the "Growth and Opportunity Project" report, the result of months of study, asserted. "It does not matter what we say about education, jobs or the economy; if Hispanics think we do not want them here, they will close their ears to our policies."
The establishment Republicans called for the party to back immigration reform as the way to start winning again. "Among the steps Republicans take in the Hispanic community and beyond, we must embrace and champion comprehensive immigration reform," it said. "If we do not, our Party's appeal will continue to shrink to its core constituencies only.... Hispanic voters tell us our Party's position on immigration has become a litmus test, measuring whether we are meeting them with a welcome mat or a closed door."
Or listen to the College Republican National Committee, which just issued a report on retooling the "Grand Old Party for a Brand New Generation."
"The issue of the Republican Party's challenges with the youth vote and the party's challenges with non-white voters are inseparable," the report said. "The immigration debate may set up a 'gateway issue.' For voters who are undecided but have a connection to communities affected by immigration policy, the issue can certainly turn voters away."
Support for the exact sort of measures House Republicans rejected today would be key, the young Republicans wrote:
On the issue of laws that "would allow illegal immigrants brought to the U.S. as children to gain legal resident status if they join the military or go to college," three out of four (75.3%) young adults agreed in an October 2012 poll conducted by CIRCLE. And young voters for the most part knew how the candidates in the election stood on that issue; in that same survey, 63% of respondents said that Barack Obama was the candidate who supported "allowing many illegal or undocumented immigrants who were brought to the United States as children to remain in the country," while only 3% said that was Mitt Romney's position.
Or listen to Karl Rove, who on Thursday warned in the Wall Street Journal, "Immigration reform is now a gateway issue: Many Hispanics won't be open to Republicans until it is resolved, which could take the rest of the year. But there is little doubt next week's Senate deliberations will shape for some time to come the Hispanic community's perceptions of the GOP."
There were boos in the House gallery when the measure to undo Obama's executive order halting deportation of young undocumented immigrants, known as DREAMers after the still unpassed DREAM Act that would provide them with a pathway to citizenship, passed on a highly partisan vote of 224-201.
While reform advocates remain optimistic about prospects for passage of the Senate Gang of Eight comprehensive immigration-reform bill, what will happen in the House remains unclear.
"We always predicted this would be a roller coaster ride with some dark moments and some strong challenges and some bad days. What makes me optimistic are the fundamentals," said Frank Sharry, executive director of America's Voice Education Fund. Speaking on a call organized to discuss new polling from his group and Latino Decisions, he noted, "The challenge that we're up against is resistance within the Republican Party and the institutional legitimacy of Congress -- can it function?...This is going to be a remarkable moment of truth for the Republican Party; they literally are facing an existential moment of truth."
"Do I think the Senate immigration bill can pass the Senate by the end of June by a 2-to-1 margin? Yes," Sharry said.
According the America's Voice/Latino Decisions poll released Thursday, immigration is the number one issue Latino/Hispanic voters care about, surpassing jobs and the economy by 20 percentage points (55 percent to 35 percent). Seventy-eight percent of respondents said it was very or extremely important that Congress address immigration reform this year; 81 percent backed an approach that focused on border security and a pathway to citizenship at the same time -- while only 13 percent backed a border-first approach.
Immigration was an incredibly personal issue for the Latinos surveyed: Sixty-seven percent said they personally knew someone who was undocumented, and for 51 percent that person was a friend or family member.
Should reform fail, 39 percent said they'd be more likely to blame Republicans, 9 percent said Democrats and 48 percent both parties equally. But respondents were also quite enthusiastic about Republicans and Democrats who take a leadership role in passing a reform that includes a pathway to citizenship, with 45 saying they'd be more likely to support a Republican and 63 percent saying they'd be more likely to support a Democrat who led on such a reform.
The 2016 presidential primary chatter is still (thankfully) at a low level, but names are being bandied about -- Marco Rubio, Chris Christie, Rand Paul -- and ambitions assessed. But failure to pass immigration reform and increase Latino support for a national Republican candidate above the less than 30 percent Mitt Romney won last cycle could doom any one of them.
"As the electorate overall diversifies, the Republican Party is not going to be able to win another national presidential election if they are not in the high 30s or 40s" with Latino voters, said Matt Barreto, a co-founder of Latino Decisions and professor at the University of Washington. "I don't think it is possible," he said. "They absolutely need make inroads."