How to Get Arrested on Moral Monday: A North Carolina Minister's Protest
Every Monday for weeks, crowds have descended on the state legislature in Raleigh to demonstrate against a raft of new conservative policies.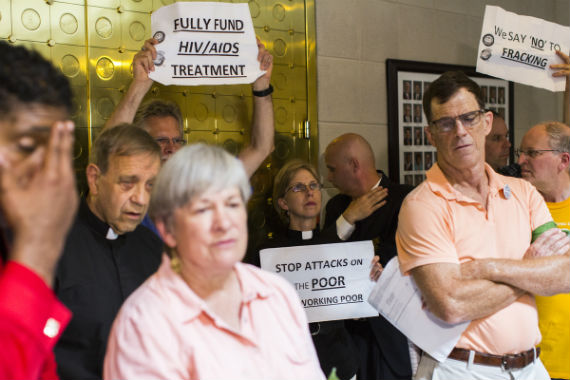 RALEIGH, N.C. -- For the past seven Mondays, protestors have entered the North Carolina State Legislative Building in downtown Raleigh to voice their concerns about bills introduced by the state's Republican majority. The organized effort, named "Moral Monday," has drawn thousands of people from across North Carolina each week to the building's outdoor Halifax Mall, where they beat on snare drums, wave slogan-filled signs, sing gospel spirituals, and listen to the Rev. William Barber, president of the North Carolina NAACP, preach about what he describes as injustices proposed by Republican legislative leaders and supported by first-term Republican Governor Pat McCrory.
Barber and other clergy members have led the civil-disobedience demonstrations since April 29, which has drawn comparisons to the clergy-led protests of the civil rights era. The N.C. Council of Churches has provided its support each week by issuing press releases, opinions, and even calls for faith leaders to show up in mass to participate. More than 480 protestors have been arrested since the first demonstration, including Duke Divinity School and Law School professors and those donning their clerical collars.
On Monday, June 17, General Assembly police arrested 84 people who wished to show their disagreement with the state government's plans to -- among other things -- cut unemployment benefits, slash Medicaid assistance, shift taxes toward middle- and lower-income taxpayers, and repeal environmental measures. One of those participating in the non-violent civil disobedience was the Rev. Tuck Taylor, a Duke Divinity School graduate and ordained elder in the North Carolina Conference of the United Methodist Church. I followed Taylor, the mother of four children and stepmother of two others, from the time she learned "how" to disobey civilly at Christian Faith Baptist Church to the point of her arrest inside the N.C. State Legislative Building.
***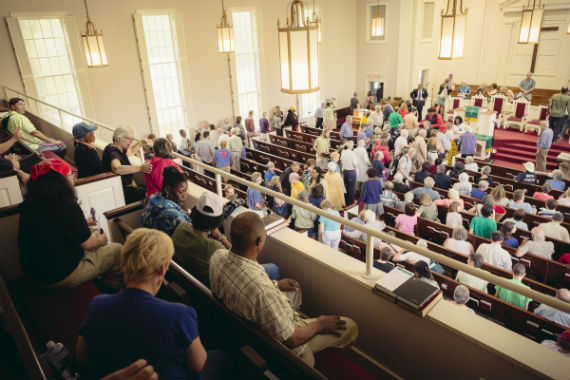 Monday, June 17, 2013
3:15 p.m.
Each Monday, the NAACP asks people who plan to be arrested to attend a "briefing and information session" at 3:00 p.m. at a local church. Previous locations include Pullen Memorial Baptist Church, known for its role in civil rights demonstrations related to race and sexual orientation during the past few decades, and Martin Street Baptist Church, a historically African-American congregation in southeast Raleigh. Today's session occurs at Christian Faith Baptist Church, another parish in the southeast part of town. Driving from downtown, I realize I've never been in this area despite living in the city for the better part of a decade. Its residents are predominately black, and among other buildings, I pass the Alpha Theta Omega Chapter of the Alpha Kappa Alpha Sorority.
3:25 p.m. All of Christian Faith's parking spaces are full, so I park on the street about a block away from the church's sign declaring, "God is Good ... All the Time." The sanctuary is standing-room only, and a volunteer ushers me into the lobby, behind closed doors, because "members of the media aren't allowed in during the legal part of the session."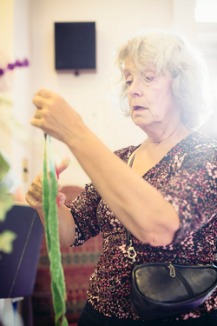 3:47 p.m. "We are shredding the emperor's new clothes," a volunteer says as she cuts a large piece of cheap green fabric into long strips at a side table in the lobby. A green armband signals to the attending police officers that while you don't want to be arrested, you wish to practice civil disobedience.
A rotund man throws open the double doors to the sanctuary. "We need 40 blue ones!" he shouts. The blue fabric armbands are for people who plan to support those wearing the green ones. Some of the "blues" have been arrested previously, or they don't feel comfortable going to jail.
"What are you tearing up?" a new protestor, having just walked into the church, asks the women ripping fabric.
"Armbands, so the police know who to arrest."
"Oh. I thought you were mad at someone!" he responds.
"I am! George Wallace McCrory," she says, likening the governor's recent claim that the protests are the work of people outside of North Carolina to the "outside agitators" language the Alabama governor used 50 years ago.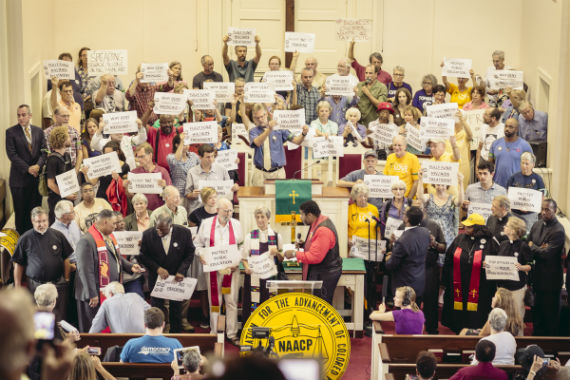 4:09 p.m. Barber gathers everyone who plans to be arrested to the front of the sanctuary for photographs and to provide a backdrop as he delivers his message to the press. "All doctors in the front," he says, referring to the medical professionals present to protest the repeal of healthcare measures. Taylor and her husband stand immediately to Barber's left at the podium.
As the press conference begins, Geeta Kapur, an adjunct professor at Campbell University School of Law, asks me for whom I work because she "hasn't seen me here before." I tell her I'm covering the protests for The Atlantic, and she doesn't relent. I finally show her my North Carolina State Bar card, proving I'm a licensed attorney.
"OK. I trust you wouldn't lie to me," Kapur says. "I'm just making sure we don't have any spies."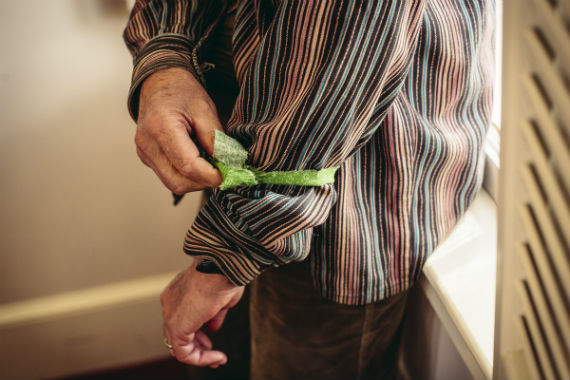 4:38 p.m. Barber concludes his press conference by shouting, "Forward together!" and attendees respond, "Not one step back!" After three rounds of the chant, the crowd mingles for a few minutes, and people begin departing for the grass and humidity of Halifax Mall.
Taylor and her husband, both wearing green armbands, chat with two women with clerical collars and blue armbands.
"Ask them if you can be cuffed in front. It's much more comfortable," one of the two women advises Taylor. "And you'll get frisked in the Capitol before you go to jail," she adds, meaning to say the Legislative Building.
Taylor turns to me. "We're going to grab a bite to eat, and we'll see you there."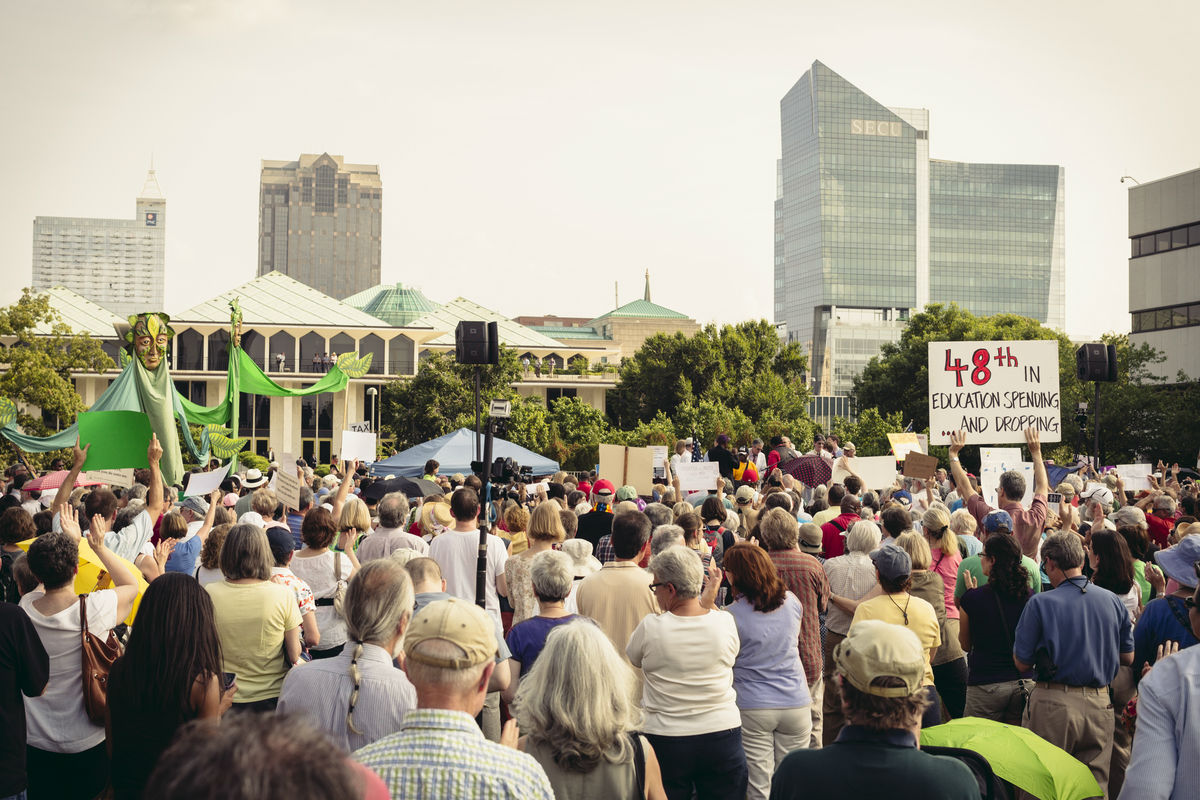 5:25 p.m. I park on the street a few blocks away from Halifax Mall. Had I not known what was going on, I may have thought I had stumbled upon a cross between a Motown concert and a Chinese New Year celebration. Amidst the diverse crowd of a soccer mom in a "Carolina Law" T-shirt with a stroller in tow, a Duck Dynasty character look-a-like with a chest-length beard that covers the top of his overalls, and clergy members in every shape, size, and color. Sam Cooke is on the loudspeakers:
I was born by the river in a little tent.

Oh and just like the river I've been running ever since.

It's been a long, a long time coming.

But I know a change gonna come.

Oh yes, it will.
Large masks on wooden poles with flowing fabric stand stagnant in the breezeless air as Barber preaches to the crowd. "We're long distance runners and not sprinters," he bellows.
5:30 p.m. Today isn't Taylor's first "Moral Monday." She went to a previous one as an observer, but on this afternoon, she "wanted to do more than preach it." I ask her if there was a tipping point that made her decide to get arrested. "I've just been praying and discerning," she says calmly.
After a year on family leave, she begins two new jobs in a few weeks. She has joint appointments at Black Creek United Methodist Church in Black Creek and St. John A.M.E. Zion Church in nearby Wilson, where she lives with her husband and children. Neither the parishes nor her conference's bishop know she plans to participate in civil disobedience today. "But they will soon," she says.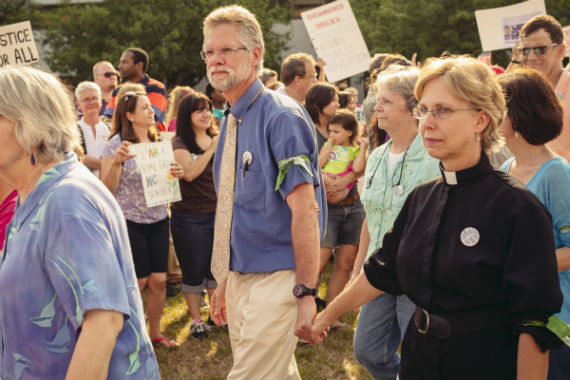 5:45 p.m. Barber calls for clergy members to start lining up at the back of the crowd in front of him, and Taylor and her husband make their way from beside the stage toward the other end of Halifax Mall.
"I'm most concerned with the issues facing Medicaid expansion and unemployment cuts," Taylor says, adding that she's also worried about education funding. "I still have two children in public schools."
I ask her how she feels about getting arrested. It's her first time. "I was quite anxious at first," she admits. She hopes she'll have support from her bishop and two future parishes. "But I don't know. I don't know."
"Biblically, there are no unworthy. There are no unclean people -- only unclean systems," Taylor adds. "I feel strongly we have to stand up."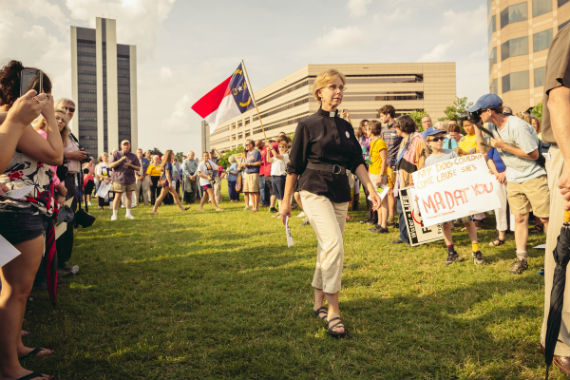 5:53 p.m. "We need all of the people observing to part and to make a walkway for those exercising their right to civil disobedience," Barber says. "We want them to line up two-by-two in the back because we're going to have them walk all over these bills."
Soon after his two Old Testament allusions, Barber heads to the back of the crowd to join those with green armbands.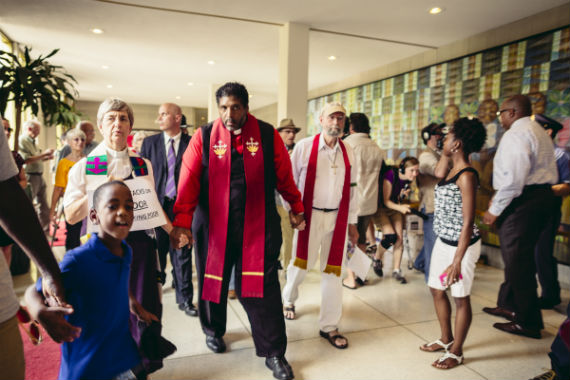 6 p.m. "Y'all ready? Come on," he says in almost a whisper, and leads the demonstrators down the human aisle toward the Legislative Building.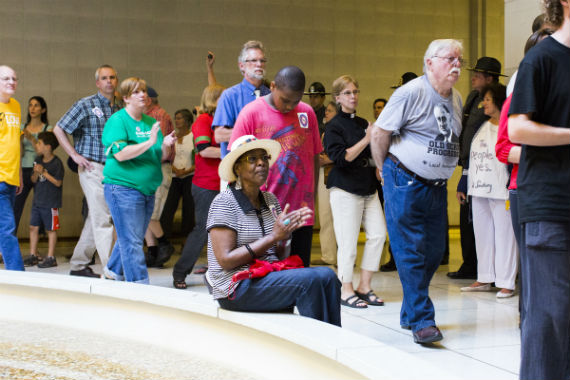 6:10 p.m. A handful of state legislators, mostly African-American, shake the hands of observers and demonstrators as they make their way into the building. Those who are just watching and providing support head to the third floor. Taylor and her fellow protestors form a circle around the second-floor gallery.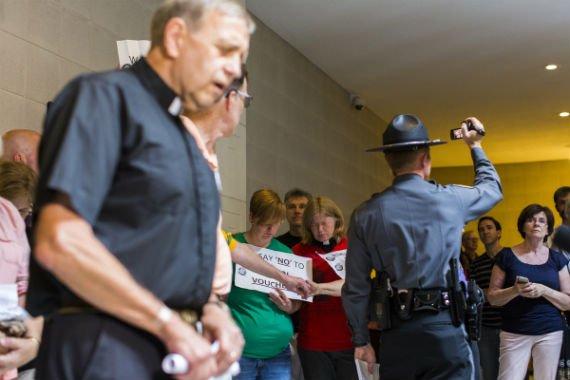 6:27 p.m. A faith leader from Asheville delivers a prayer, emphasizing, "Blessed are the peacemakers." General Assembly and Raleigh police officers stand by with pre-tied plastic zip-ties.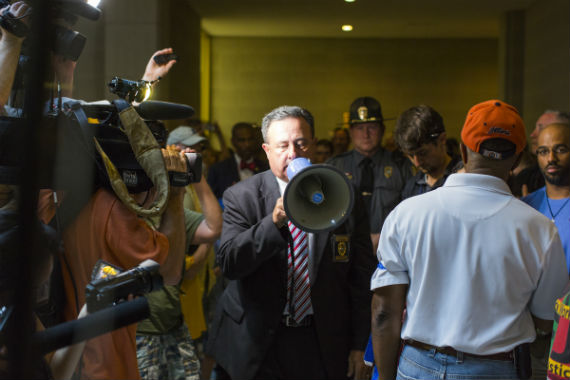 6:38 p.m. "You have two minutes to leave, or you will be arrested," General Assembly Police Chief Jeff Weaver says into a bullhorn. He circles the demonstrators, and I'm told by General Assembly legislative staff to get on the other side of a leather-cushioned bench-cum-barrier unless I want to be arrested. This is the last time I'm able to see Taylor.
6:40 p.m. Law-enforcement officers begin to handcuff demonstrators as they sing, "This Little Light of Mine."
6:50 p.m. I ask a General Assembly legislative staff member where the police park the buses to transport the demonstrators to jail: "I don't know because they change the location every week. They don't want people crowding around them."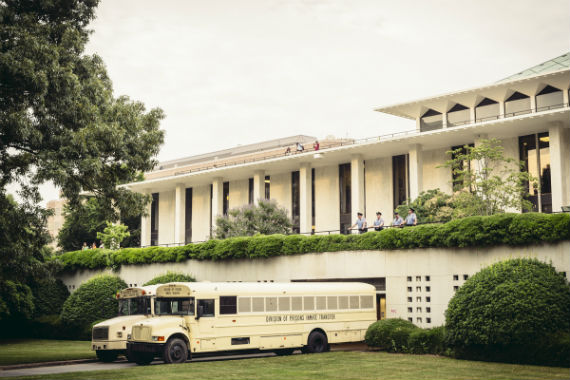 7 p.m. I find the two tan-colored school buses fairly easily with a quick walk around the building's street-level balcony. They're backed into the parking garage underneath the building, and yellow police tape prevents anyone from getting close -- above the buses on the balcony and in front of the buses on the ground.
The crowd has moved from inside the Legislative Building and outside on Halifax Mall to a sidewalk across the street from the buses. The chanting continues, "We will remember next November!"
7:22 p.m. The crowd becomes tired and less enthusiastic as they wait for the buses to depart, and the chants become too long for them to respond. "Ain't no power like the power of the people 'cause the power of the people don't stop," is too much for the onlookers.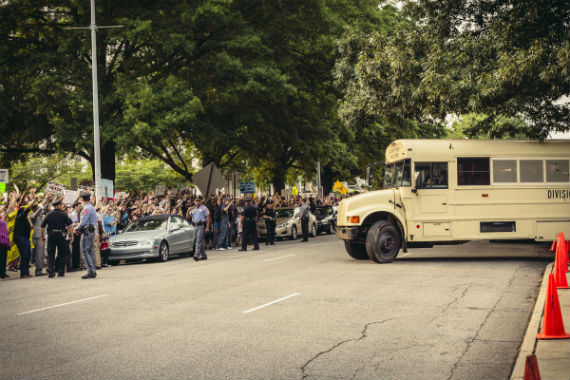 7:29 p.m. The first of two buses leaves the Legislative Building to transport arrested demonstrators to Wake County Detention Center, about four miles away, for processing.
***
Tuesday, June 18, 2013
12:21 p.m. Taylor replies to an email about her time in jail last evening and her reflections the morning after her civil disobedience experience. She writes:
I can't say that there were any real surprises, just the education of realizing how uncomfortable handcuffs are, and how vulnerable you feel when you don't have the use of your arms or hands, and how out of control of the situation you are at that point. Though the officers were all respectful, not knowing what the procedures were exactly or how long it would take was disconcerting. And I had absolutely no reason to be concerned or afraid. I can only imagine what a terrifying experience the whole arrest process is for those who are alone and already scared.
Taylor says she returned home in Wilson, a 45-minute drive from downtown Raleigh, around 11 p.m., after law enforcement officers released her. "My children were not at home when we arrived, but we texted and spoke on the phone," she says. "They were very interested in the arrest process: [D]id they handcuff you? Did you have to ride in a patrol car? Were they nice?" And after all of the questioning, "They were proud."
She was also proud, and said she had no regrets. "I'm proud to be counted among the many North Carolinians who are standing up to bear witness to the immorality of the actions of our legislature and the systems of injustice that push people towards poverty and death," she wrote.
And does Taylor still have two jobs waiting for her in a few weeks? She hopes so. She has yet to hear from her bishop, but she said the Raleigh district superintendent, the Rev. Jon Strother, emailed her Tuesday morning: "Good for you for expressing your concerns."