Hey, Reporters, Republicans Have Some Tips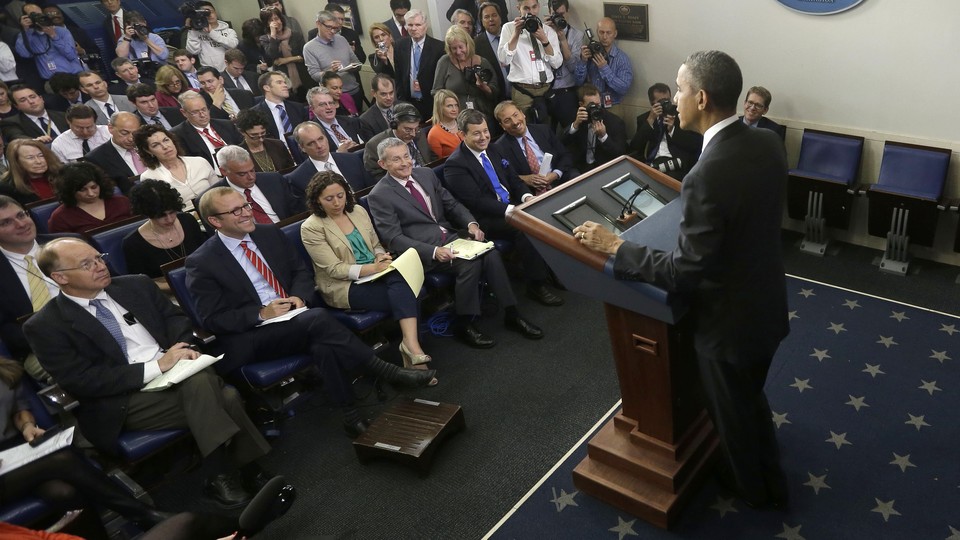 Stumped about what questions you should ask White House press secretary Jay Carney at the next briefing? Fear not, D.C. media. Even though it may be your job to come up with questions, major Republican groups have some suggestions for you.
It hasn't become a common practice quite yet, but before some major press conferences with Democratic officials — from President Obama to Carney to House Minority Leader Nancy Pelosi — the Republican National Committee and other GOP groups have sent suggested questions for reporters to ask during press briefings.
On Thursday, an hour before Pelosi took the stage for her weekly briefing, National Republican Congressional Committee spokeswoman Andrea Bozek sent an e-mail around to reporters with "questions for Pelosi."
Here's a sample: "If their true strategy is to 'Own ObamaCare,' why can't they name the members that will host these town-hall events?" Bozek was referring to reports that Democrats want their 2014 strategy to include selling the president's health care plan by having top officials (including the president) speak at congressional districts across the country. So that question is an obvious "Gotcha!" because, let's be real, no one remembers representatives' names.
Before Carney's daily briefing on Monday, RNC spokeswoman Kirsten Kukowski sent around an op-ed from Chairman Reince Priebus regarding the scandal that's rocked the IRS over targeting of conservative groups, with the subject line "Q's for Carney."
"Where does the buck stop in the Obama administration? Will anyone take responsibility for the IRS scandal? When will we hear the whole truth? And will the president ever admit to creating a culture of hostility toward conservative groups?" Priebus is quoted saying.
A few weeks ago, when Obama stood behind the podium for a May 13 presser with British Prime Minister David Cameron, Kukowski once again sent around a note to national reporters, "A few questions for Obama "¦"
Her questions included:
"Why Won't The State Department Explain Which Members Of Its 'Leadership' Wanted The Benghazi Talking Points Revised?
"Why Did The White House And Former Secretary Clinton Spend Months Offering Misleading Statements On The Benghazi Talking Points?
"When Will President Obama Apologize For The IRS Targeting Conservative Groups?
"If There's Nothing 'Improper About Obama's HHS Secretary Soliciting Donations To Promote ObamaCare, Why Not Say Which Companies Were Asked To Give?"
Of course, in the heat of the Benghazi scandal, reporters pressed the president with difficult questions, though apparently not using the RNC's wording as a crutch.
National Republican groups might be on the verge of starting a new strategy with the press: Doing their jobs for them.