Here We Go Again: GOP Rep Says Rate of Pregnancy From Rape Is 'Very Low'
Was Arizona's Trent Franks not paying attention when Todd Akin made similar comments last year and paid the price?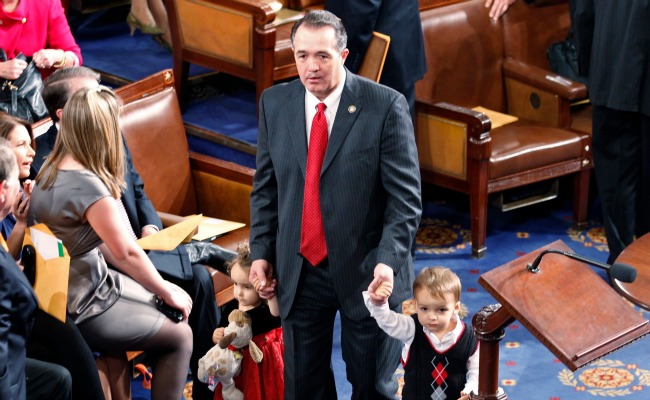 Reuters
Updated, 2:40 p.m.
Where was Trent Franks last summer and fall? Did he miss how this turns out? The Arizona Republican House member has reopened the contentious issue of rape and pregnancy with comments in a Judiciary Committee hearing Wednesday. The Washington Post reports:
"Before, when my friends on the left side of the aisle here tried to make rape and incest the subject -- because, you know, the incidence of rape resulting in pregnancy are very low," Franks said.*

Franks continued: "But when you make that exception, there's usually a requirement to report the rape within 48 hours. And in this case that's impossible because this is in the sixth month of gestation. And that's what completely negates and vitiates the purpose of such an amendment."
Democrats on the committee were understandably taken aback. It was comments like these from then-GOP Rep. Todd Akin that infamously sank his 2012 campaign for U.S. Senate in Missouri. "First of all, from what I understand from doctors [pregnancy from rape] is really rare," Akin said. "If it's a legitimate rape, the female body has ways to try to shut that whole thing down." When Richard Mourdock, a Republican candidate for Senate in Indiana, said that any conception that did occur was God's will, his campaign also cratered.
So what is Franks thinking? His comments are political malpractice, but moreover, there's simply no evidence that rape is less likely to result in conception that consensual intercourse, as my colleague Garance Franke-Ruta reported when Akin made his remarks.
Franks has long been one of Congress's more adamant anti-abortion lawmakers. His comments on Wednesday came while the committee was discussing a bill that would ban all abortions after 20 weeks. Democrats on the committee were lobbying for an exception in cases of rape or incest. Last May, Franks led a charge for an earlier version of the same bill that would have applied solely to the District of Columbia, which earned the rage of Delegate Eleanor Holmes Norton, D.C.'s non-voting member of the House; the measure failed. He also got in hot water in 2010 for saying abortion had done more harm to African-American communities than slavery.
Unlike Akin and Mourdock, Franks doesn't face reelection for another year and a half. But here's a prediction: He's not going to win this argument, either.
Update: A few writers are coming to Franks' defense. One unlikely defender is the liberal writer Jonathan Chait argues that Franks was making an absolute statement: not that rape produces fewer pregnancies than consensual sex, simply that it produces few pregnancies:
Is that claim, which is different than Akin's, true? Well, there are about 30,000 pregnancies from rape a year. I'd say that's a lot. I suppose that if you're comparing it to the total number of abortions, a figure that's 20 to 30 times larger, you could argue it isn't so many.
This strikes me as a plausible though hardly obvious interpretation of Franks' comments. You can read Franks' comments above and interpret them yourself.