GOP Congressman: Terrorism Partly Excuses Putin's Lawbreaking
Dana Rohrabacher takes the mindset of the War on Terrorism to its logical conclusion.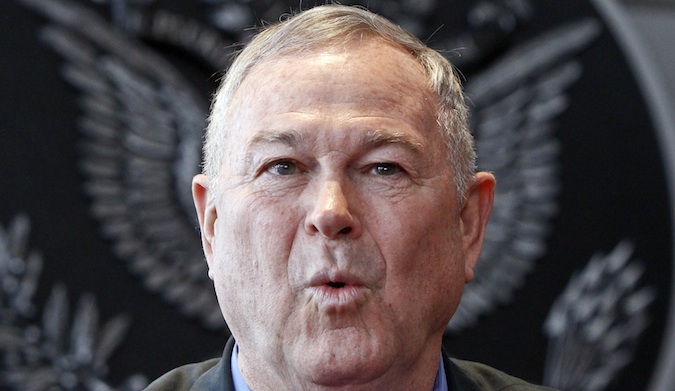 Reuters
Rep. Dana Rohrabacher, a California Republican, recently traveled to Russia as part of a six-member Congressional delegation, where he said something that illustrates how much terrorism has changed his core values and affected his perception of government officials who are brazenly abusing their authority.
In this case, the government official isn't George W. Bush or Barack Obama. It's Vladimir Putin. For those unversed in Putin's authoritarian tendencies, a tiny bit of context. Human Rights Watch recently released a report on the Russian leader's abuses since he returned to the presidency last year. "Authorities have introduced a series of restrictive laws, begun a nationwide campaign of invasive inspections of nongovernmental organizations, harassed, intimidated, and in a number of cases imprisoned political activists, and sought to cast government critics as clandestine enemies," the organization notes in its summary. If you read the whole report, you'll understand why another human rights organization, Amnesty International, has described Putin's campaign of political intimidation as "deliberately reminiscent of the Cold War."
Ramzan Kadyrov, the strongman who rules Chechnya, is every bit as brutal as he tries to repress its separatist insurgency. As the Associated Press notes, "The Kremlin has given Kadyrov lavish funding and political carte blanche to fight terrorism since he came to power in 2005. Activists accuse him and his feared security forces of staggering abuses, including torture, kidnappings and murder."
Rep. Steven Cohen, a Tennessee Democrat, wouldn't visit Chechnya at all because of the human-rights abuses of the folks in charge. And that brings us back to Rohrabacher, as quoted by the AP:
Rohrabacher, who chairs the U.S. Foreign Affairs' Subcommittee on Europe, Eurasia and Emerging Threats, said the United States should be more understanding of the threats facing Kadyrov and Putin. "If you are in the middle of an insurrection with Chechnya, and hundreds of people are being killed and there are terrorist actions taking place and kids are being blown up in schools, yeah, guess what, there are people who overstep the bounds of legality," he said.

While the rule of law is important, Rohrabacher added, "We shouldn't be describing people who are under this type of threat, we shouldn't be describing them as if they are Adolf Hitler or they're back to the old Communism days."

Seth Mandel of Commentary explains part of what's wrong with Rohrabacher's comment. "The brutality employed by Putin and Kadyrov in the Caucasus is not a case of random 'people who overstep the bounds of legality' in the fog of war," he writes. "It is a strategy of mass violence employed by the state that goes beyond any semblance of the laws of war. And what about the harassment of aid workers and the murder of journalists?" That Rohrabacher is willing to overlook or minimize these transgressions because Russia has been attacked by terrorists is troubling.
Like the vast majority of his colleagues, Rohrabacher has long been willing to overlook the lawless actions of American presidents because they were trying to fight terrorism. If that mindset now has him defending Putin and Kadyrov, who knows what extremity he'll countenance here. Having managed to get Commentary, the Washington Post editorial board, and yours truly on the same side of a controversy in the War on Terrorism, he should renounce his statement.