Dems Hijack GOP's Frederick Douglass Party to Stump for D.C. Statehood
Fittingly, since his statue was a gift of the District of Columbia.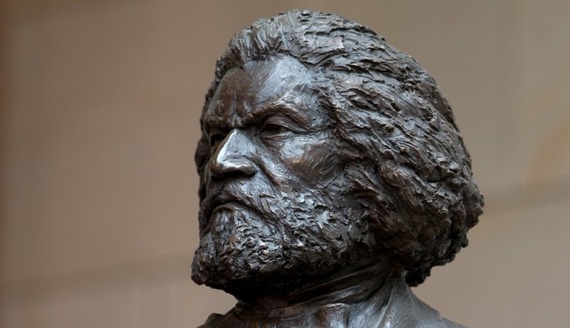 Associated Press
It should not, perhaps, have been much of a surprise that Democratic leaders seized on the dedication of the statue of one-time D.C. resident Frederick Douglass at the United States Capitol as a chance to speak up for D.C. statehood and home rule.

The ceremony was on Juneteenth, a holiday marking the day the Emancipation Proclamation went into effect in Texas that's celebrated in Washington, D.C., and 42 states as the formal end of slavery. It marked the legacy of a man who was a great opponent of that peculiar institution and friend and adviser to President Lincoln -- and also, less famously, the D.C. recorder of deeds and a resident of Anacostia. The statue itself was a gift from the District of Columbia.

The remarks on D.C. statehood gave a surprisingly local flavor to a ceremony honoring the historic contributions to America of the former slave, legendary orator, abolitionist, memoirist, and early feminist. Douglass was the first African American nominated as a vice-presidential contender, on the Equal Rights Party Ticket, and the first to receive a vote to be president, during Republican Party convention balloting in 1888. That -- along with his ties to Lincoln -- has made him a favorite historical figure in a contemporary Republican Party that struggles to reach African Americans at the ballot box and has elected few to national office since Reconstruction.
House Speaker John Boehner's office built an elaborate website devoted to the statue ceremony, and the speaker himself appeared slightly verklempt during his introductory remarks dedicating the statue of "one of the greatest Americans who ever lived."

But the vice president, Senate majority leader, and House minority leader all spoke on behalf of D.C.'s legislative autonomy and statehood during the ceremony in the Capitol Visitor Center's Emancipation Hall, taking the conversation in a direction less welcome to Republicans, who have opposed D.C. statehood. 

"Over a century ago,
Douglass
asked a good question. He said, what have the people of the District done that they should be excluded from the privileges of the ballot box?" Vice President Biden observed. "Many District representatives and residents, like
Representative [Eleanor Holmes] Norton
, can trace their families back to former slaves, who entered this District seeking freedom and helped build the city."
"We agree with -- the president and I -- with Senator Norton -- with Representative Norton and
Frederick
Douglass
and support home rule, budget autonomy, and the vote for the people of the District of Columbia."
Harry Reid took things a step further than Biden and reiterated his long-standing call for D.C. statehood. "It is right and fitting that
Frederick
Douglass
-- this extraordinary man, this unflinching voice for freedom, this unyielding advocate for justice -- should be honored with an enduring monument. And it is just and proper that more than 600,000 American citizens who reside in the District of Columbia should finally have a statue representing them here in the United States Capitol," he said.
"Washington, D.C., residents pay taxes, just like residents of Nevada, California, or any other state. Washington, D.C., residents have fought and died in every American war, just like residents of Ohio, Kentucky, or any other state. And Washington, D.C., residents deserve the same right to self-government and Congressional representation as residents of any other state.
"The District deserves statehood. And Congress should act to grant it."
It seemed a fitting tribute to a man who spent his life as an advocate for freedom and voting rights.
Douglass's is the fourth bust or statue of an African American in the Capitol. Martin Luther King's visage arrived in 1986, but was not followed by Sojourner Truth until 2009. A statue of Rosa Parks arrived earlier this year.