Congress Needs More Flinty, Diligent Old Veterans Like John Dingell
The longest-serving member ever is -- with colleagues like Bob Dole and Alan Simpson -- the antidote to Darrell Issa and Michele Bachmann.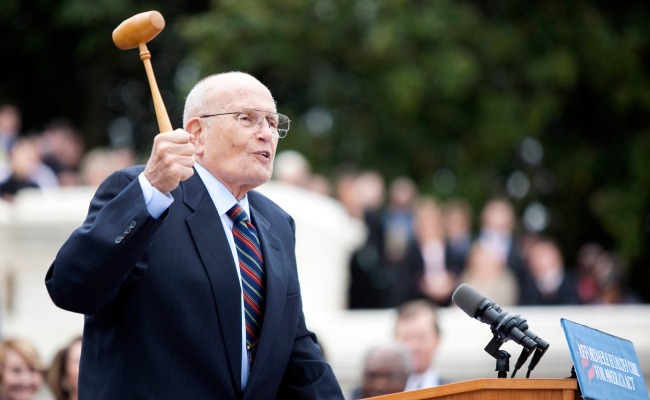 A truly notable event occurs Friday, when Rep. John Dingell reaches the remarkable milestone of becoming the longest-serving member of Congress ever. I have known John Dingell for decades. I have faced the Michigan Democrat's wrath, when Tom Mann and I had the temerity to propose committee reform in the 1980s that would have taken precious jurisdiction from his Commerce Committee; I have experienced his warmth and kindness, including way back when I was a young and inconsequential junior academic. I sat with him on an airplane when he saw me in a walking cast just before I was traveling to China. A couple of days later, he came by my office, unprompted, and presented me with a hand-carved shillelagh from his grandfather.
More important, I have watched a master craftsman, a true legislator, whose handiwork is evident in landmark legislation from voting rights to environmental law to health policy. Dingell is a quintessential man of the House who cares about the institution and how it operates.
When Democrats lost their majority in 1994, reporters asked me if I thought Dingell would retire since he was no longer in the majority. I got the same question in subsequent Congresses and after Dingell lost his chairmanship in late 2008 to Henry Waxman. Each time I gave the same answer: no. Of course, Dingell loves being in the majority, and he reveled in having the gavel. But after 1994, he managed to operate quite well in the minority, in part because he had assiduously worked to build partnerships with Republicans on his committee, especially his ranking counterparts, and he was able to operate and influence policy in areas large and small even without the gavel. To be sure, it is much harder now, despite his friendly relations with his state colleague Fred Upton; not much happens in policy in the House, and with few exceptions, Republican chairmen who work with Democrats are not likely to be chairmen for very long. But so long as his mind is clear -- and it is crystal clear -- I expect Dingell to continue to grace the House with his presence.
All of us who care about the institutions of government and want them to operate as they were intended treasure people like Dingell. I also treasure people who used to serve, such as Alan Simpson, who spent long hours working as cochairman of the Continuity of Government Commission, a thankless task, and who has spent even more countless hours on the Simpson-Bowles deficit-reduction plan. No matter his age, he just does not turn down a request to do public service. And Bob Dole, who cares about the Senate and governance, and about the state of his own party, and does not mince words. And the late Frank Lautenberg, who grew immensely as a legislator across his two stints in the Senate; who, after Bob Torricelli left the chamber, did not have an enemy in the body; and who as a problem-solver made his own major imprint on the lives and health of millions of Americans.
When I look at too many others, such as Michele Bachmann, whose legislative record on her retirement will be negligible, and Darrell Issa, who seems intent on throwing away every opportunity to be a diligent and fair-minded overseer of government by continuing to throw reckless accusations based on his "gut" before proving them, it makes me treasure the Dingells, Simpsons, Doles, and Lautenbergs even more.