Chris Christie Really Has No Good Options to Fill Lautenberg's Seat
The New Jersey governor faces the prospect of either helping a Democrat win the Senate seat or else hurting his own reelection chances.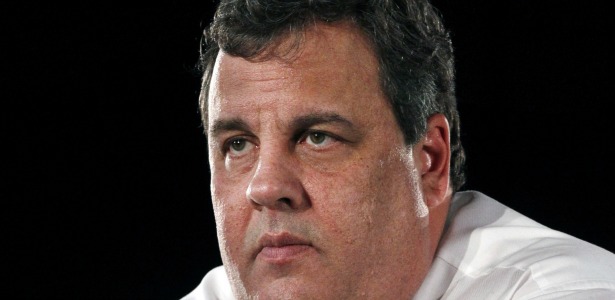 Associated Press
Facing a weak gubernatorial opponent and sporting enviable approval ratings, New Jersey Gov. Chris Christie looked like he was heading into his election year on cruise control. He's been seeking to blunt his hard-edged reputation with carefully crafted appearances with President Obama on hurricane recovery, and occasional jibes at conservative Republicans in Congress.
But with Sen. Frank Lautenberg's death on Monday, Christie now faces a difficult decision that could shape his future political trajectory. Does he solidify his bipartisan credentials by picking a caretaker Republican to fill the seat, probably giving Newark Mayor Cory Booker a glide path to the Senate? Or does he pick a major fight with Democrats, which could bolster any 2016 presidential aspirations but complicate his own reelection prospects?
Christie's calculus will be closely watched in the weeks ahead. His first big decision will be whether he wants to aggressively contest the seat and insert himself into messy Washington politics, or appoint a placeholder who would burnish his image and not jeopardize any well-earned political capital. Christie allies are concerned that if a special election is held to coincide with his gubernatorial campaign, his Democratic opponent, Barbara Buono, could benefit significantly. Assuming Booker is the Democratic nominee for the special election, he could help boost turnout among African-Americans and lower-intensity Democratic voters and make the governor's race interesting. Even with a comfortable lead in the polls, that's not a risk Christie would welcome.
"Cory Booker attracts the voters Barbara Buono was unable to. It creates an entirely different turnout dynamic," said one New Jersey Republican familiar with Christie's thinking.
It's unclear when or whether a special election would be held to fill Lautenberg's seat in the Senate. State law outlines a process under which Christie would be required to select a placeholder for Lautenberg's vacancy, and then be tasked with scheduling a special election to be held in 2013. But Republicans, both from Washington and in Christie's orbit, are arguing that the law leaves open a possibility the governor could delay the special election until November 2014. That would allow the pick to develop seniority, bank campaign money, and deny Democrats the ability to rally voters in the off-year governor's race. The Philadelphia Inquirer reported that multiple party officials anticipate a court fight if Christie pushes the election back to 2014.
Either way, Christie's selection would give a strong signal for how aggressively he intends to contest the Senate race. If his appointee chose to run, the pick would be akin to Christie's gubernatorial running mate because in a 2013 special election, they'd be together on the same GOP ticket. Their success would be an important test of Christie's clout, and whether his popularity can translate to his allies. It would also be a major risk, given that it would take a near-perfect storm for a Republican to win in reliably Democratic New Jersey
"There's a whole 2016 narrative here. Let's say he goes all in and picks a Republican in 2013, campaigns together as a ticket, gets that person elected, then in 2014, is able to get that person reelected. Jeez, that would tell me that he is a player who can move mountains. This is not easy to do in New Jersey," said one well-connected New Jersey Republican strategist. "If he invests and he wins, that would put him in the front-runner spot for 2016. The question is how invested will Chris Christie go."
But Christie also has a lot to lose if he backs down from a political fight -- by picking a placeholder or even a Democrat. If he went that route, helping his sometimes-ally Booker, congressional Republicans will be upset, viewing it as one of several recent party snubs that has lost him favor with the GOP base. It would send a signal that he's not a team player, fueling criticism that first percolated from his warm embrace of President Obama in the preelection wake of Hurricane Sandy. His early image as a confrontational conservative could be replaced by one backing down from partisan fights, other than his own.
The stakes are high on all sides. Republicans need to win six seats to take back a Senate majority in 2014, and are looking at a favorable landscape. New Jersey was never part of their political calculus--the state hasn't elected a Republican senator since Clifford Case in 1972 -- but if Christie picked a strong candidate and threw his support behind the nominee, the dynamic could change.
Still, the Republican bench in the state is thin. The most frequent names bandied about are Lt. Gov. Kim Guadagno; state Sens. Tom Kean Jr., Mike Doherty, and Joe Kyrillos; and biotechnology executive John Crowley. The elected officials will all have to leave their positions to run. Crowley, whose work successfully finding a medical treatment for his children's neuromuscular disorder was made into a movie, has considered previous runs for the Senate before passing. He would be able to self-finance a campaign.
If Christie opted to look for a placeholder selection, former Gov. Tom Kean would be a possible option, along with longtime Christie adviser and close friend Bill Palatucci. Palatucci would be a controversial pick, however, given his business ties to a troubled system of halfway houses in the state.
On the Democratic side, all eyes are on Booker, who has been preparing for the Senate campaign for months. While he starts out as the odds-on favorite, he was facing the likelihood of a primary against Rep. Frank Pallone, who banked more than $3.7 million in his House campaign account at the end of March. A 2013 special election wouldn't necessarily be good news for Booker, either, since the nominee would be chosen by a small group of party officials, not Democratic voters. Booker alienated many of them by jumping in the race early before Lautenberg announced his retirement.
Alex Roarty contributed