An Obamacare PR Launch Gets a Correction
The Social Security Administration set one recipient's teeth on edge when it emailed him the wrong link to learn about the new insurance marketplace.
An entrepreneur who left a major corporation -- and the security of its health insurance -- and now runs his own small business writes in with a view that needs to be kept in mind as the Obamacare exchanges get started: how any little thing that goes wrong in the launch will be seen as a tell about the eventual quality of the overall program. The business owner in question is hoping to switch over to insurance obtained through the Affordable Care Act exchanges in January, after they are up and running and his COBRA runs out.
Mainly, though, he was just displeased to find that the exchanges that he supports and hopes to use, created by the president he voted for, could not achieve the first most basic task of product launch without sending out an erroneous link. He writes:
I think we need a single payer system but if the SSA can't send out an email link correctly, how exactly are they supposed to run healthcare? At minimum this was bad optics and fodder for their critics. (I received this message this morning and again now w/ corrected links. I replaced my email address in copy below w/ generic one.)

The corrected email is below.

The first version was worded identically -- correction excepted -- but the link wrapped around www.HealthCare.gov took those who clicked through to
this SSA page
: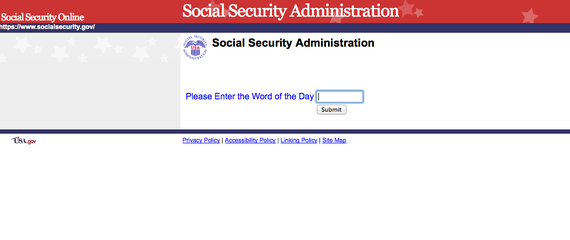 According to the source code, someone made a very basic error in processing the original link, probably just cutting and pasting the wrong thing in the wrong place.

<

div

>
</

div

><

div

><

font

 

face

="Calibri, sans-serif" 

size

="3"><

u

>
<

b

>Affordable H</

b

></

u

><

u

><

b

>ealth</

b

></

u

><

u

><

b

> Care</

b

>
</

u

></

font

></

div

><

font

 

color

=#550055><

div

><

font

 

face

="
Calibri, sans-serif" 

size

="3">
Need health insurance or know someone who does?  Thanks to 
the Affordable Care Act, more Americans now qualify to get 
coverage that fits their needs and budgets.  Visit the 
Health Insurance Marketplace at 
<

a

 

rel

="nofollow" 

href

="http://links.govdelivery.com/track?
type=click

&amp;

enid=ZWFzPTEmbWFpbGluZ2lkPTIwMTMwNjI0LjIwMzI
yNjYxJm1lc3NhZ2VpZD1NREItUFJELUJVTC0yMDEzMDYyNC4yMDMyMjY2MS
ZkYXRhYmFzZWlkPTEwMDEmc2VyaWFsPTE3NjM4ODg0JmVtYWlsaWQ9c2ViY
XN0aWFucnV0YUB5YWhvby5jb20mdXNlcmlkPXNlYmFzdGlhbnJ1dGFAeWFo
b28uY29tJmZsPSZleHRyYT1NdWx0aXZhcmlhdGVJZD0mJiY=

&amp;

&amp;




&amp;

100

&amp;

&amp;

&amp;

https://remac.ssa.gov/owa/redir.aspx
?C=liuQ_xndX0e7mxsDajUy6mjPLiqYRNBIdItYse-tu9LLUYmj5P2CCduP
ABCkCs_X3c-9V3X9nB8.

&amp;

URL=http%3a%2f%2fwww.HealthCare.
gov" 

target

="_blank"><

i

><

strong

>www.HealthCare.gov</

strong

>
</

i

></

a

> or call <

b

>1-800-318-2596</

b

> to get more 
information.  

Again -- this is a common form of error. But with expectations and nerves about joining the new exchanges running as high as they are right now, every little thing counts. And is being counted.
Here's the correct page --
and link
.