Americans Want Immigrants with Skills, Just Not High-Tech Skills
United Technologies/National Journal Congressional Connection Poll finds support for more agriculture workers, but not much else.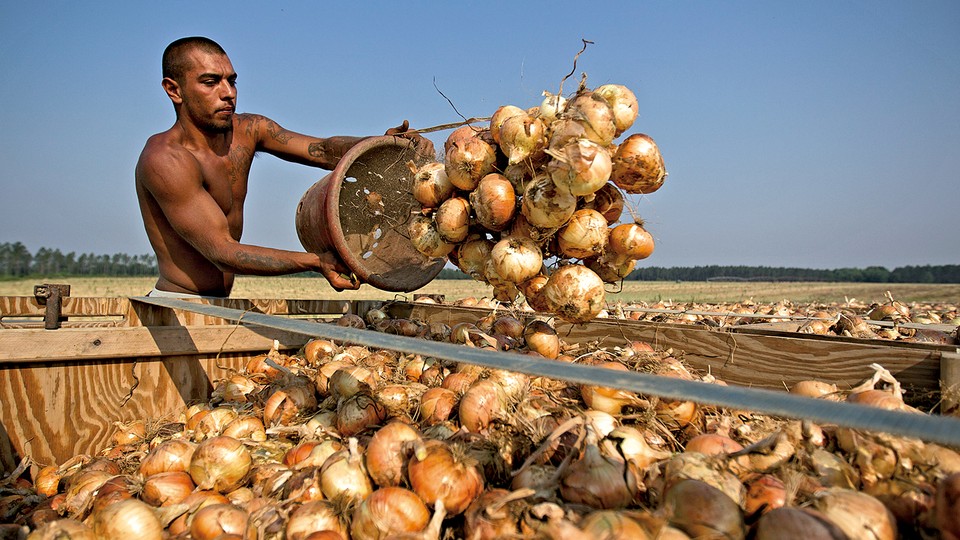 Immigration-reform proponents are already navigating conflicting interests in the Senate. Now they must also contend with conflicting messages from the American people.
A sizable plurality of Americans want the U.S. immigration system to favor immigrants with needed job skills, but they do not support increasing the number of guest workers for some of the industries most hungry for new employees, according to the latest United Technologies/National Journal Congressional Connection Poll.
Of the total respondents, 48 percent said the United States should give a higher priority to people who have job skills that are in demand, while 33 percent said priority should go to people coming to the country to unite with family members. The remainder was undecided.
Those views echo the rhetoric of many of the immigration-reform leaders, especially Republicans, who have emphasized the economic case for reform as they try to build broader conservative support for a bill.
One "Gang of Eight" member, Sen. Lindsey Graham, R-S.C., memorably told the Associated Press in March that the American immigration system was an instrument to boost the economy, not "a family court."
Democrats were more likely than Republicans and independents to support prioritizing family visas -- 39 percent to 33 percent and 27 percent, respectively -- reflecting worries on the Left that the humanitarian element of reform efforts often gets lost.
Nearly two-thirds of permanent visas issued by the government in 2012 were family-based, according to Department of Homeland Security statistics analyzed by the Brookings Institution, while family members also made up more than a quarter of temporary worker visas last year. That's more than the number of spots given to high-skilled guest workers.
The poll showed the focus on job skills held constant across race and party lines: Whites favored prioritizing job seekers over uniting families by 48 to 32 percent, almost identical to nonwhites' 49-34 spread. Meanwhile, 46 percent of Republicans and 47 percent of Democrats agreed that the immigration system should be skills-focused, as did 52 percent of independents.
The United Technologies/National Journal Congressional Connection Poll was conducted by Princeton Survey Research Associates International from June 13 to 16. It surveyed 1,004 adults by landline and cell phone and has a margin of error of plus-or-minus 3.6 percentage points.
While Americans seem to want the immigration system to bring in more skilled workers, they seem less clear on what kind of work is needed. When asked about allowing more guest workers for three important economic sectors, survey respondents were the most positive -- but still lukewarm at best -- about adding more guest workers in the agricultural industry. Forty-four percent said Congress should allow more guest workers in agriculture, while 43 percent said there should be fewer.
Meanwhile, about twice as many people said the U.S. needs fewer guest construction workers (61 percent), while 30 percent said the country needs more guest construction workers.
Another sector that fared poorly was high-tech, with only 34 percent of respondents saying they favored more guest workers for high-tech industries and 55 percent saying they favored fewer.
Expanding the visa program for high-tech workers has played a major role in the latest round of immigration-reform efforts, helping spur the creation of Mark Zuckerberg's Silicon Valley-funded, pro-reform FWD.us group.
"I think people realize that immigrants are picking our crops and putting food on our tables," Ali Noorani, the executive director of the National Immigration Forum, said of the higher approval for importing more agriculture workers. "I think that resonates more clearly in people's minds." At the same time, Noorani continued, considering the personal impact of immigration reform "" especially during a time of extended economic weakness "" can spook people when the conversation turns to specific jobs. "At the end of the day, people say, "˜What is this going to mean for me?' And there are not a whole lot of public policy issues like that," Noorani said.
Self-interest was not always an overriding force in the poll, though. Among whites, college degree-holders were uniformly more likely than non-college graduates to support allowing more guest workers — even into high-skilled industries where guest workers could compete with them for jobs. Forty-four percent of white respondents with bachelor's degrees said Congress should write legislation allowing for more guest workers in high-tech industries, while only 25 percent of those who didn't finish college agreed.
That tracks with college-educated whites' feelings about immigration in general: While nearly a third of noncollege whites said immigrants now living in the U.S. illegally should not be allowed to stay, just 20 percent of white college graduates said the same.
College-educated whites were also more favorable toward allowing more guest workers in the agricultural and construction industries: 50 percent said more agricultural workers should be allowed, versus 39 percent of whites without college degrees; and 30 percent of white college graduates favored allowing more guest construction workers, compared with 22 percent of non-college graduates.