Why Mexico Will Always Play Second Fiddle
Like all presidents, Barack Obama says he wants a better relationship with his neighbors to the south. Then events get in the way.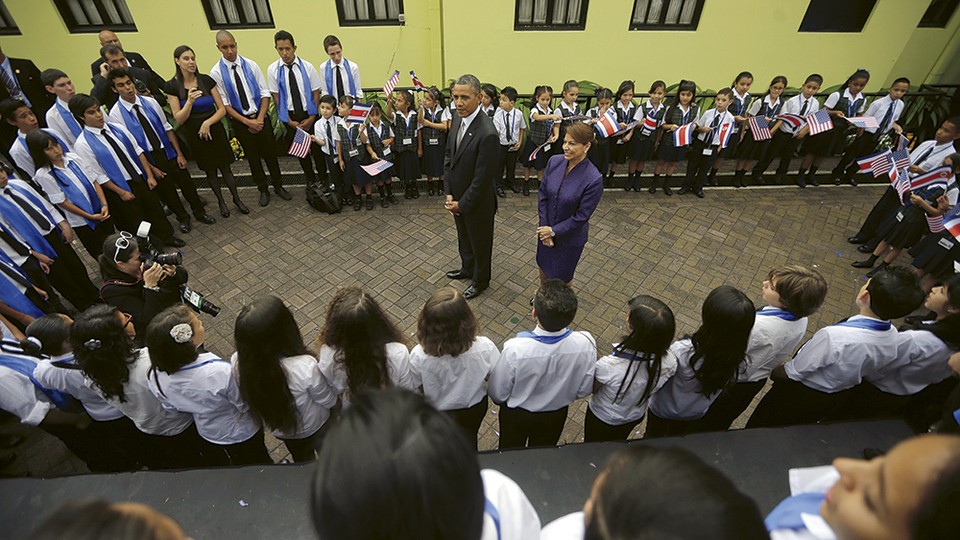 President George W. Bush was the picture of confidence as he sat in the Roosevelt Room talking to a small group of reporters about the upcoming visit of Mexican President Vicente Fox. Sipping on a Diet Coke and loudly crunching ice on this September day in 2001, Bush proclaimed the start of a new era in U.S. relations with its neighbor to the south. "The United States has no more important relationship in the world than the one we have with Mexico," he declared firmly.
Seven days later, terrorists struck in New York City and Washington, and that relationship suddenly didn't seem quite as important as the alliances with countries ready to send troops to support American aims. U.S.-Mexico was shoved unceremoniously into the background. And Fox, who did not back the U.S. at the United Nations when Bush wanted to go to war with Iraq, found he could no longer get his phone calls returned by the White House.
It was a dramatic reminder that events — more than even presidents — set agendas. And it is a lesson with some relevance to President Obama, who traveled to Mexico last week and repeated some of the now-expected promises to elevate U.S.-Mexican relations in the foreign policy hierarchy. No one doubts the president's sincerity. He understands the growing importance of trade with Mexico and with the Central American countries, whose leaders he met with last week in Costa Rica. In fact, a main purpose of the trip was to shift attention from the issues of drug cartels, crime, and violence that dominated earlier hemispheric summits. That repositioning came even amid indications that newly elected Mexican President Enrique Peña Nieto is reconsidering some security cooperation with the United States.
But, given the many challenges facing Obama both domestically and abroad, there is definitely some doubt on both sides of the border about his ability to keep the spotlight where he wants it.
"This is a big, complicated country," says Lee Hamilton, the 17-term congressman, longtime chairman of the House Foreign Affairs Committee, and now director of the Center on Congress at the University of Indiana. "The president is the single most important voice in setting the agenda. But he certainly does not control the agenda. He has to react to events, and events often dominate the agenda."
Just as Bush was unhappy that he had to shelve his high hopes for Mexico in 2001, all presidents are frustrated by their lack of control. "It's the old problem of the in-box," Hamilton told National Journal. "The in-box swamps the policymaker again and again so that they can't get to their broader vision." That reality has been brought home to Obama in recent days. He did not run for office as a foreign policy president. He wants to be talking about jobs and the economy, agenda items that took him to Austin, Texas, this week. But he has spent more time recently on questions about the terrorist attack in Benghazi, Israeli attacks on Damascus, chemical weapons in Syria, threats in North Korea, and gun regulations at home.
Few of these topics dominated the presidential campaign last year when Obama was outlining his priorities. In more than 75,000 words spoken in the three presidential debates and one vice presidential debate, only one question was about guns. And "Mexico" and "Korea" were uttered only once each, both times by Mitt Romney. Obama never mentioned either country — although, of course, both candidates offered immigration plans and competing strategies on border enforcement.
Now reelected, Obama is determined to force Mexico onto the foreign policy agenda — and not as a border or immigration issue. In part, that is because he sees Mexico as a crucial part of his top priority of creating more American jobs. With that in mind, Obama scheduled the visit to Mexico City and San Jose, Costa Rica, as the first foreign trip of his second term. "It really is an effort to elevate what we're doing in the Americas," said Ricardo Zuniga, the president's new top Latin America adviser on the National Security Council. But Zuniga realizes that Hamilton is correct: Latin America is waiting to see if Obama delivers. "Mexicans have deeply resented that we go down there and we give speeches about how important the relationship is, and then it falls off the calendar completely," Hamilton said. "It creates a kind of anger on the part of many countries. What is true of Mexico is true of Latin America in general. Latin Americans feel greatly neglected."
Zuniga is experienced enough in the region to recognize that anger, and to know of the long trail of broken promises. "It's a fair point," he said, acknowledging that U.S. security interests elsewhere often trump a president's engagement with Latin America, just as they did after 9/11. "One of the reasons why you constantly hear that the Americas don't receive the attention that other parts of the world receive is because there are other issues going on in the world that are directed at our national security."
But Zuniga said that this time will be different because U.S. jobs are more reliant today on Mexico and other southern neighbors. "Mexico, economically, is even more important to the United States than it was at the time of 9/11. Our economies now are integrated. There is shared production. There is shared work at the international level that wasn't even taking place then."
It is also true that Latin America is no longer so completely at the mercy of decisions made in Washington and consumers north of the border. When the recession struck in 2008, Latin American countries rebounded more robustly than the United States because they took advantage of a Chinese market that wasn't accessible when earlier U.S. presidents were taking them for granted. For this president, that is yet another factor he cannot control. Even so, and despite the record of broken promises, Obama is determined to deliver that new era of U.S.-Mexican relations that Bush proclaimed in 2001. A new generation of leaders across the hemisphere will be watching expectantly.