Why Did the FBI Kill an Unarmed Man and Clam Up?
Law enforcement can't get its story straight in the worrisome case of Ibragim Todashev.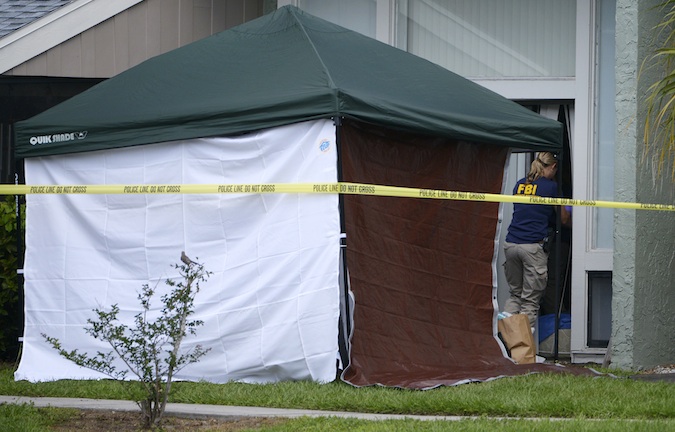 Reuters
What led an FBI agent, or some other law enforcement official, to shoot and kill an unarmed man in Orlando, Florida? The man, Ibragim Todashev, was being questioned about the Boston bombing, as well as an unsolved 2011 triple murder that he may or may not have confessed to committing. Does that sound sketchy? Don't blame me. Once he died, law enforcement started releasing anonymous, conflicting explanations so dubious that they warrant an inquiry all by themselves.
Did the dead man have a knife? A gun? A sword? None of those? Let's run through a timeline of what we've been told, and then assess all the information that the FBI hasn't released about the killing.
May 22, 2013
Ibragim Todashev is shot in the early morning hours. At least three law enforcement personnel, including at least one FBI agent, were reportedly present. Later that day, The New York Times quotes "officials" from either the Massachusetts State Police or the FBI. They say that after two hours of questioning in his apartment, Todashev "exploded and leapt at" an FBI agent. A second "law enforcement official" told the Times that "the shooting occurred after Mr. Todashev had admitted his role in the killings" -- the 2011 triple murder -- "and had also implicated Mr. Tsarnaev. The official said he had begun writing out a statement when he asked to take a break."
The quote from the second official:
They got him to confess to the homicides, and they say, 'Let's write it down,' and he starts writing it down. He goes to get a cigarette or something and then he goes off the deep end. I don't know what triggered him, and he goes after the agent.

The same day, the Orlando Sentinel reports, "Federal officials said he lunged at the agent with a knife during questioning, and the agent opened fire."
The Associated Press also reported that "law enforcement officials say a man was shot while he was being questioned in the Boston Marathon bombing case after he lunged at an FBI agent with a knife," adding, "The FBI initially said the agent fired the fatal shot, but later in the day the bureau left open the question of who was responsible." And Dave Couvertier, "a special agent and spokesman for the FBI's Tampa field office," told Yahoo News that an FBI team would be dispatched from D.C. to investigate the shooting, and that the FBI agent "sustained non-life-threatening injuries."
The FBI also put out a statement on May 22:
The FBI is currently reviewing a shooting incident involving an FBI special agent. Based on preliminary information, the incident occurred in Orlando, Florida during the early morning hours of May 22, 2013. The agent, two Massachusetts State Police troopers, and other law enforcement personnel were interviewing an individual in connection with the Boston Marathon bombing investigation when a violent confrontation was initiated by the individual. During the confrontation, the individual was killed and the agent sustained non-life threatening injuries. As this incident is under review, we have no further details at this time.
A friend of the dead man, Khusen Taramov, told a TV station, "They were talking to us, both of us, right? And they said they need him for a little more, for a couple more hours, and I left, and they told me they're going to bring him back. They never brought him back."
That brings us to the last story of that day, time-stamped after 8pm by the Associated Press, which reported: "Three law enforcement officials, speaking on condition of anonymity, said Todashev had lunged at the FBI agent with a knife. However, two of those officials said later in the day it was no longer clear what had happened. The third official had not received any new information."
May 23
The Orlando Sentinel reports that "an FBI review team from Washington was in Orlando on Thursday investigating the death of Ibragim Todashev," and that they'd be questioning "witnesses who were at the Orlando condo when the shooting occurred early Wednesday morning, including two Massachusetts State Police troopers and other law-enforcement officials."
The story ads that "the FBI agent who fired the lethal shot, who has not been publicly identified, is from the agency's Boston division," and "an autopsy was expected to be completed Thursday, but the report will not be made public for several weeks -- if not months -- because the case is under criminal investigation." The FBI team investigating the killing is reported to be 13 agents strong.
May 24
The dead man's father, Abdul-Baki Todashev, speaks from Chechnya:
My son was in full cooperation with the F.B.I. but they just murdered him after an almost 8-hour-long questioning. Before this trouble I thought America was a free democratic country, where unlike in Russia, laws worked. I was deeply mistaken--now I think Russia is a golden place compared to the United States. My attitude for America flipped 180 degrees in one minute.

May 25
Citing "officials briefed on the investigation," The Boston Globe reports that the dead man "was shot in the kitchen of his apartment after overturning a table and attacking the agent with a blade," adding, "two law enforcement officials said that the Boston FBI agent felt he was in grave danger when Todashev attacked him and that he fired in self-defense." The "regional medical examiner" who had the body wouldn't reveal how many times Todashev was shot, saying "we can't release any information on that case." That same friend, Khusen Taramov, is quoted saying that the dead man had a serious knee injury and that "agents had kept tight control over him at prior interviews."
May 29
Remember that knife? Forget about it. "FBI sources say Ibragim Todashev, a friend of accused Boston Marathon bomber Tamarlen Tsarnaev, was unarmed when he was shot and killed by an FBI agent during questioning at an Orlando apartment last week," says an Orlando television station.