What Jay Carney Could Have Said About Benghazi and Those IRS Probes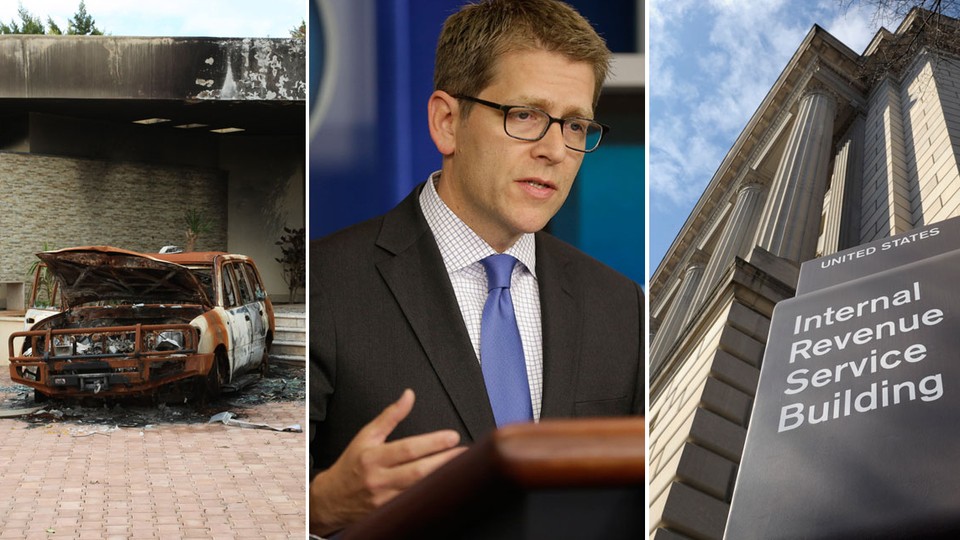 This was supposed to be a health care Friday at the White House, a day to talk about the progress made in implementing the Affordable Care Act and to link it to Mother's Day. The main event would be in the East Room as the president talked about his signature domestic accomplishment, building on a special session earlier in the day for some reporters and Press Secretary Jay Carney's regular briefing scheduled for 12:30.
But the march of news did not cooperate, not on a day when Internal Revenue Service officials in Ohio admitted they had directed special scrutiny to conservative groups and Jay Carney had the unenviable task of holding the first White House briefing after the damaging testimony earlier in the week about Benghazi, Libya.
It is never a good week for a president when twice in seven days the political opposition is trying to liken your administration to that of Richard M. Nixon and invoking memories of the Watergate scandal "" even if the comparisons are silly and reflective of an ignorance of all that was Watergate. Mix in talk of cover-up in Benghazi and political use of the IRS and you bring up those bad memories of what happens when an administration tries to use the levers of power to politically protect the president.
So perhaps it was not surprising when, at 11:27 a.m., the 12:30 briefing was moved without explanation to 1:45. At 2:21 p.m., it was moved again to 3:15. High-level press aides remained out of public view as reporters milled about the briefing room and the president's health care event fast-approached. Reporters, not wanting to miss potential fireworks at the briefing, mostly ignored the call to go to the East Room. After the briefing was moved again, a press office announcement offered the "final final call" for the event. Again, there were few takers.
The careful Mother's Day choreographing of the health care event seemed but a distant memory. When the president did take the stage, only MSNBC provided coverage. The other cable networks kept their cameras trained elsewhere.
But the cameras were back on when Carney took to the podium. For 58 minutes, the pressure was relentless. The only breaks from questions about Benghazi or the IRS, was one lone question about health care and a query from a British reporter about the upcoming visit of Prime Minister David Cameron. Carney, though, stood his ground, patiently deflecting what seemed to be the same questions over and over, repeating his own talking points and, seemingly in sadness, lamenting the accusations leveled by Republicans.
Clearly, he was under fire. When one reporter promised to ask a question to settle the issue "once and for all," Carney permitted himself his only laugh of the briefing, dryly asking, "You promise? Once and for all?' When another reporter read him comments by Speaker John Boehner, R-Ohio, in which he clearly was trying to link Obama to Nixon through the latest story on the IRS, he seemed to want to go beyond his own talking points. "There's so much I could say about that," he started before immediately veering back onto safe ground, repeating the administration's "concern" and call for an investigation. The reported action, he said again, was "inappropriate."
What he could have done is offer a little education as to what Nixon had done and how that differed from what is known so far about what happened in 2012. Nixon ordered the IRS to audit the members of his famed "enemies list;" he ordered audits of Democrats in Congress; he ordered audits of those who had given money to Democratic nominee George McGovern. Beyond that, he tried several times to fire Donald C. Alexander, the IRS commissioner who refused to follow many of those orders. Alexander further angered Nixon by shutting down the Special Service Staff of the IRS, which had been in charge of investigating those who criticized Nixon.
Carney didn't offer that lesson. Instead, he ended his briefing just short of an hour, with most of his thick briefing book untouched. No questions about the economic points the president made in Texas the day before; only one question on the health care announcement the White House had hoped would be prominently featured in the day's newscasts. Perhaps never has Carney so eagerly ended his briefing by looking ahead to next week, a week when the president will be meeting with two prime ministers and talking, again, about jobs.