Weiner vs. Quinn: New York City's TMI Primary
The battle for City Hall will test how much New Yorkers can tolerate knowing about their political leaders.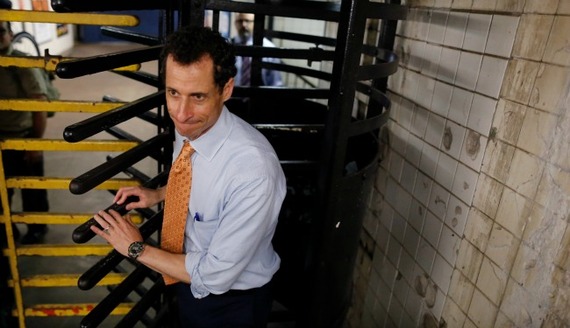 Reuters
New Yorkers -- they all have such interesting lives. This year, some of those lives are going to be on extraordinary display in the political arena.
Between newly announced mayoral candidate Anthony Weiner's extra-marital sexting and the impending June 11 release of City Council Speaker Christine Quinn's memoir revealing her battles with bulimia and alcoholism, the Big Apple is about to be plunged into a race for high office in which unusually frank personal revelations are the new normal.
Call it the TMI primary. Just consider some of the stories so far about the Democratic candidates for mayor:
* "Bill de Blasio proud of his marriage with former lesbian," the New York Daily News announced last year.
* "Weiner: Women may come forward with more e-mails, photos," noted the Washington Post this week.
* "Council Speaker Recounts Her Struggles With Bulimia and Alcoholism," reported the New York Times in mid-May.
Before all is said and done, people who live in the five boroughs are going to know a lot more than they might ever have wanted to about the men and women who would grace Gracie Mansion and the front pages of the city's papers for the next four years.
"The jokes kind of write themselves," when it comes to Weiner, as he once noted. He's all in. Up for the job. "Weiner to seek erection." And so on. Heh heh heh.
It gets old. But his in public self-flagellation in advance of his run, Weiner has opened up about his marriage and his own psychology to an extent nearly unheard of in successful political candidates. The 8,000-word April New York Times magazine profile of Weiner and his wife Huma Abedin involved so much intimate confession that author Jonathan Van Meter wrote he felt like Weiner's analyst: "I startled myself that day when, after two hours of listening while he unburdened himself, I heard these words come out of my mouth: 'Maybe we should stop there for now.' Never has an interview felt so much like a therapy session."
Quinn, for her part, has been trying to cast aside her image as a tough-talking political animal who would blithely threaten of opponents, "I'm going to cut his balls off." In June, she appears in Vogue magazine along with a lengthy excerpt from her forthcoming book With Patience and Fortitude: A Memoir. The passage talks about the gay marriage fight in New York state from a very personal perspective, and how it ultimately led not just to statewide social change but her wedding to her partner Kim Catullo.
Pictured wearing extremely high nude patent leather heels and a blue dress -- Vogue is a fashion magazine, you're supposed to notice -- Quinn talks about wedding dress shopping, how she abandoned her first choice Vera Wang gown after discovering that Khloe Kardashian had worn the same style, and hating her upper arms.
New York magazine's verdict: "Endearing, relatable, or just plain crazy? Probably some combination of the three, but her candor is certainly charming."
Less prominent candidates have contributed to the TMI feel, as well. New Yorkers last December were treated to a round of revelations that Public Advocate Bill de Blasio's wife in the 1970s wrote a piece for Essence magazine entitled "I am a lesbian," which she was as a young woman. (Not that there's anything wrong with that.)
Anyone wondering whether Weiner can mount a comeback need only consider the cultural context of the competition, and the city at large. New York, after all, is the metropolis that recently gave its police officers a stern talking to about not arresting topless women. Mayor Giuliani had an affair and filed for divorce while in office. Mayor Bloomberg, for his part, has gotten the city used to the idea of a mayor with a girlfriend rather than a wife.
Jill Lawrence argues in National Journal that Weiner will have trouble making a comeback in New York because the city, unlike Mark Sanford's district in South Carolina, lacks an evangelical population receptive to redemption narratives. Maybe. More likely Sanford succeeded in his comeback bid because he was more in tune politically with the conservative and traditionally Republican district he ran in -- and also a more experienced political candidate and debater than his opponent.
I suspect similar dynamics will be afoot in New York, making Weiner's skills as a politician and the credibility of his platform rather than his history of scandal and 2011 resignation from office the most important questions considered by voters. With 15 percent support, he's instantly the number two in the race, according to the latest Quinnipiac University poll. That's a pretty good starting point considering how long Quinn, at 25 percent in the multi-candidate field, has been seen as the heir apparent to City Hall.
Quinn's support has been slipping. There are a lot of New Yorkers dissatisfied with her candidacy, and with their options for the post-Bloomberg era more generally. Weiner's past is going to be less important than whether he can make an affirmative case for his candidacy that appeals to New Yorkers. To do that, he might need to get a little less personal.