There's No Such Thing as a Generic Woman Presidential Candidate
In real life, every specific woman will have to fight her own tough battle.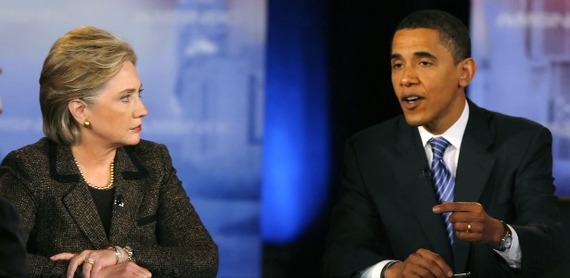 Reuters
Yesterday, EMILY's List, the venerable group dedicated to electing pro-choice Democratic women, held a briefing to release data on how generic women candidates might fare and to urge pollsters to poll more women candidates than just Hillary Clinton as they consider potential 2016 presidential candidates.
"Battleground voters are ready for a woman president, and the country is, too," the group announced in presenting their data, which you can read in full here, and launching a new effort to elect a woman to the position of Madam President. "Almost unanimously (90%), voters in the battleground states would consider voting for a qualified woman candidate from their party. Their readiness goes deeper than this though -- 86% believe that America is ready to elect a woman president, and 72% believe that it is likely that America will elect a woman president in the next presidential election, including 86% of Democratic primary voters."
Such polling is nominally useful as a measure of how far voters have come in accepting women in the political arena.
"While voters believe that it is harder for a woman to be elected president than it is for a man, 75% also believe that a woman president would be a good thing for this country," the group found. "On nearly every issue tested, a female president is perceived to be as capable or more capable than a male president."
But what does that really mean? There is no such thing as a generic female president, any more than there is a generic male president -- all there is in real life are a bunch of specific women who might each run for president. And a group of real-life women who already have run for president, each of whom has been found wanting in her own way.
The issue for women who might run for president is not how they poll in theory before they run for office, but how they wear during the course of a campaign. Think Sarah Palin, popular outsider governor of Alaska, versus Sarah Palin, highly polarizing vice-presidential selection and drag on the McCain ticket. Or Hillary Clinton, popular and respected United States senator, versus Hillary Clinton, polarizing presidential candidate with high negatives who was only "likable enough" and too hawkish for the Democratic base.
Clinton, according to a new poll from Quinnipiac University, "has a huge lead over other potential 2016 candidates for the Democratic presidential nomination" with support from 65 percent of Democratic voters, compared to 13 percent for Joe Biden. Peter A. Brown, assistant director of the Quinnipiac University Polling Institute, described Clinton as having a "rock-solid hold on the hearts of Democratic voters at this point."
But the "at this point" is the key part of his sentence. Clinton ran on inevitability in 2007 and 2008. It didn't work. And already there are rumblings that, should she run, many of those on the left who are unhappy with the Obama Administration would coalesce against her in a primary contest, casting her run as a kind of bid for an Obama third term. Meanwhile, on the right, dissatisfactions with the handling of the Benghazi attack would grow into an ever sharper cudgel. That's not to say Clinton couldn't rise above and weather both forms of opposition -- not to mention the inevitable return of the Clinton derangement syndrome that pops up in public life whenever one of them contends for office -- but it's worth recalling that when it comes to women in public life, there are only individual women, each of whom is sure to draw fire in her own unique way. And that no matter what people think about women in general, they will have some very specific and biting thoughts on the particular women who might eventually contend for the top spot in the American government.