The Real Benghazi Scandal
Congressional investigators are pointing fingers in the wrong direction if they want to save more U.S. lives.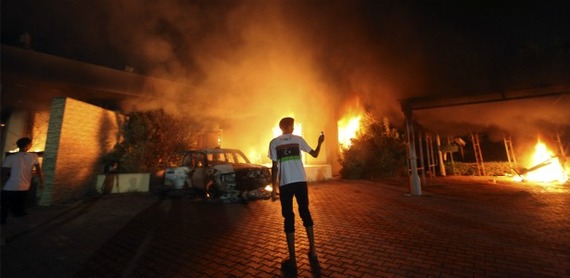 Reuters
In a tense press briefing in the White House East Room on Monday, President Obama cleared his throat before addressing the subject on everyone's mind: last fall's attack on an American facility in Benghazi, Libya. Obama led with the basics: "Americans died in Benghazi.... Clearly, they were not in a position where they were adequately protected."
Questioning how to change that truth is worth America's time. As a former State Department official who worked with Ambassador Chris Stevens in the months before his murder in Benghazi, I feel that inquiry's urgency. But the congressional hearings that have dominated the last week of headlines -- with more promised by House Republicans -- are not that inquiry. Congress could have focused on three time periods during their investigation: before, during, and after the attack. In all but exclusively focusing on what Administration officials said after Stevens's death, Congress isn't just wasting America's time -- it's squandering a chance to save lives in the future.
This focus on the aftermath continues to yield few meaningful lessons. Last week's major story was that Hillary Clinton's Deputy Cheryl Mills -- to whom I reported and whom I know to be an individual of integrity -- called an American diplomat in Libya days after the attack, while a congressional delegation was visiting the country. The call apparently touched on concerns that Representative Jason Chaffetz, a leader of the Beghazi hearings, was denying State department legal and support staff access to his meetings with American officials in Libya. The diplomat testified that there was "clearly no direct criticism" in the call, but it has been painted by House Republicans as an attempt to intimidate him. I have worked at conflict zone Embassies during visits from congressional Delegations, which can be intrusive and fraught. The presence of numerous officials -- sometimes including legal advisors -- is not unusual. Cheryl Mills calling for an update would be similarly unsurprising. But even if one were to accept the most fanciful Republican characterization of events -- that, as a Clinton loyalist, she was displeased with the potential for political exploitation -- the story is at worst one of an official being protective of her department.
The hearing also brought back to the headlines a set of talking points used by U.S. Ambassador to the United Nations Susan Rice on talk shows less than a week after the attack. The infamous talking points omitted a then-unverified suggestion that organized terrorist elements were involved. Their significance, even to the question of administration transparency, is limited: within three days of Rice's interviews, President Obama's top officials were explicitly describing Benghazi as a terrorist attack, to Congress and to the public. The White House quickly shared its entire archive of emails related to the taking points with congressional intelligence committees. On Wednesday of this week, it released the same emails to the public. The chain of custody of the talking points -- which were edited by CIA and State Department officials, with the White House performing its standard role mediating those edits -- is on full display for anyone interested. The larger point is this: the details Susan Rice mentioned in that first round of interviews changed nothing. No lives were lost, and none stood to be saved, by her talk-show appearance.
More appropriate is the attention that has been paid to the decisions made during the September 11, 2012 attack. That night, military and civilian officials in Africa and Washington responded to a difficult, violent, and rapidly changing situation, struggling to save lives. But here too, the focus has been on the wrong factors. It is easy to second-guess tactical calls made in the heat of the moment -- particularly for those with a political axe to grind -- but far more important and helpful to ask whether that night's decision-makers were equipped to confront their moment of crisis, and what can be done to ensure they are in the future.
Which brings me to the third timeframe, virtually unaddressed during the circus of the recent Benghazi hearings. The conditions under which that night's decisions were made were set in stone in Washington, long before militants arrived at the compound.
Security at the Benghazi compound was, according to the independent panel commissioned to investigate the attack, "grossly inadequate." There were no Marine guards. Security was provided through a little-known British firm called Blue Mountain Group, which hired about 20 untrained, inexperienced Libyan men. "I've never held a gun in my life," one said. At the time of the attack, they were armed only with batons and flashlights. The cost of the security contract for Benghazi -- $783,284 -- amounts to little more than a rounding error. The diplomatic security agent in charge of Libya was repeatedly denied additional security support he requested from Washington in the months preceding the attack.
The State Department bureaucrat responsible for denying those requests, who has since resigned, has claimed that resource limitations played no direct role in her decision. But many others have described a dynamic familiar to those of us who have worked at high-risk American missions: constraints on both resources and how those resources available can be deployed have created a culture of uneven security. The independent investigators' report noted that the State Department "struggle[s] to obtain the resources necessary to carry out its work..." and that its managers have come to "favor restricting the use of resources as a general orientation."
Hillary Clinton waged a losing fight with Congress for embassy security resources over the course of the first Obama administration. Some of the ringleaders of last week's hearing were among the prominent opponents to that spending, with Representative Chaffetz and Representative Darrell Issa joining to cut nearly half a billion dollars from the State Department security accounts that cover armored vehicles, security systems, and guards. In Fiscal Year 2011, House Republicans cut $128 million from the Obama Administration's requests for embassy security funding; in 2012, they cut another $331 million. Issa once personally voted to cut almost 300 diplomatic security positions. In 2011, after one of many fruitless trips to the Hill to beg House Republicans for resources, an exhausted, prophetic Hillary Clinton warned that cuts to embassy spending "will be detrimental to America's national security." Democrats, like Senator Barbara Boxer in a heated speech this week, have been quick to paint opposition to security funding as exclusively Republican. The truth is, it is a bipartisan failure, repeated through years of both Republican and Democratic control of Congress. In 2010, Democrats cut $142 million from the Administration's requests for State Department funding.
That history of nickel-and-diming is one contributing factor to a security culture that relies increasingly on outside contractors willing to provide solutions on the cheap. Longer-term investment in the American government's own civilian security personnel, meanwhile, has been sidelined. At the time of the Benghazi attack, about 900 Diplomatic Security Agents were responsible for guarding 275 American missions around the world.
A lack of resources is only part of the picture, however. Equally significant is where these resources can be applied. Informal, and especially secret, outposts often fall through the cracks. The facility in Benghazi was classified as a temporary facility despite the full-time presence of American staff. Because of this, it was technically denied access to traditional streams of funding for overseas buildings. A general culture of overlooking such informal outposts also explains why the lead diplomatic security agent for Libya, Eric Nordstrom, was denied his requests for additional support. "It's not the hardships," Nordstrom testified last October. "It's not the gunfire. It's not the threats. It's dealing and fighting against the people, programs and personnel who are supposed to be supporting me."
Four of the Washington bureaucrats responsible for denying that support were removed from their posts in the aftermath of the attack. But the rigid restrictions on informal and covert outposts receiving traditional resources persist, as does the deeper Washington culture of providing them short shrift.
America is served far worse by the endless recitation of calls made and talking points issued than it would be by a hard look at the members of Congress that failed to provide resources, and the bureaucratic hurdles that kept the resources that were available from being deployed. The breathless search for a cover-up has only buried those real -- and potentially deadly -- problems.