The IRS's Bizarre Parsing of the Word 'Targeted'
How the IRS could deny something that seems plainly true.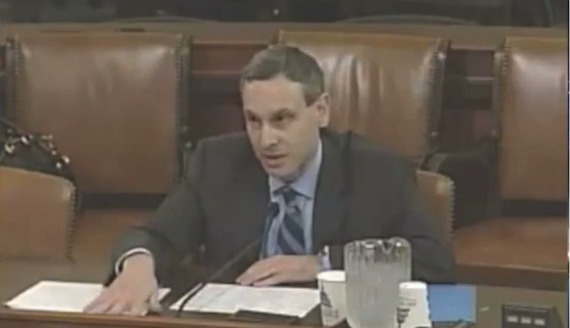 In March 22, 2012, then-IRS Commissioner Douglas Shulman testified before a House Ways & Means subcommittee that there was no targeting of Tea Party groups for special scrutiny by the agency.
"We've seen some recent press allegations that the IRS is targeting certain Tea Party groups across the country -- requesting owners' documents requests, delaying approval for tax-exempt status and that kind of thing," Rep. Charles Boustany of Louisiana observed during the Q&A portion of the hearing. "Can you elaborate on what's going on with that? Can you give us assurances that the IRS is not targeting particular groups based on political leanings?"
Shulman's answer is worth considering at length, because it helps explain what otherwise seems a mystifying denial. It's all about the culture of the IRS and what its more general approach to people is. His reply:
Thanks for bringing this up because I think there's been a lot of press about this and a lot of moving information, so I appreciate the opportunity to clarify. First, let me start by saying, yes, I can give you assurances. As you know, we pride ourselves on being a non-political, non-partisan organization. I am the only -- me and our chief counsel -- are the only presidential appointees, and I have a five-year term that runs through presidential elections, just so we will have none of that kind of political intervention in things that we do.


For 501 (c)(4) organizations, which is what's been in the press, organizations do not need to apply for tax exemption. Organizations can actually hold themselves out as 501 (c)(4) organizations and then file a 990 with us.


The organizations that have been in the press are all ones that are in the application process.


First of all, I think it's very important to emphasize that all of these organizations came in voluntarily.


They did not need to engage the IRS in a back-and-forth.


They could have held themselves out, filed a 990, and if we had seen an issue, we would have engaged but otherwise we wouldn't....

And so what's been happening has been the normal back-and-forth that happens with the IRS. None of the alleged taxpayers and obviously I can't talk about individual taxpayers and I'm not involved in these -- are in an examination process.


They're in an application process which they moved into voluntarily.


There is absolutely no targeting.
In short, according to the IRS, if you're minding your own business and the agency decides to go after you or your group about your taxes -- for an examination or an audit -- you've been targeted. But if you apply for your group to be a tax-exempt one and your application gets sat on for more than a year or you receive a flurry of excessive and/or illegal information requests, that's not targeting. That's what former acting IRS commissioner Steve Miller, speaking at a new Ways & Means hearing, on Friday called "horrible customer service."
To a layperson, the semantic parsing over whether the Tea Party-type groups were targeted or not seems astonishing. Republican Rep. Tom Reed, a self-described "country lawyer from upstate New York," said the burgeoning scandal should be called "IRS Targeting-gate."
But if you look closely at Shulman's answer, it's clear that from an inside-the-agency perspective, it's hard to conceive of the tiny part of the massive national organization that involves review of voluntary requests for evaluation performing a targeted intervention, since the IRS does not require the groups to file such requests, and did not ask them to do it.
Such a way of defining targeting doesn't make any sense from a lay perspective -- but Shulman's more than year-old answer reveals a lot about the IRS perspective on the world and the agency's general level of power.