The Group Behind the Draft Palin Movement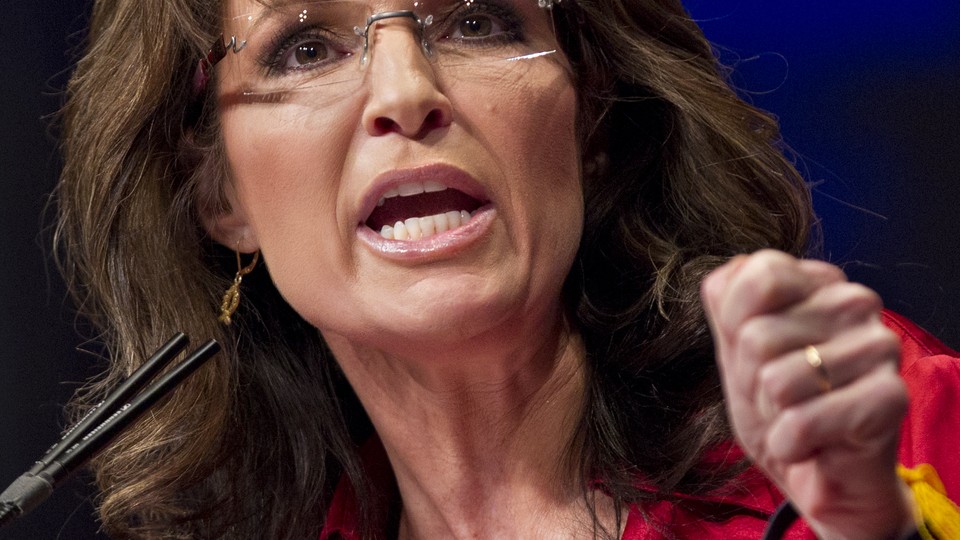 The Tea Party Leadership Fund wants Sarah Palin to run for Senate in Alaska. And if it raises a little money for itself in the meantime? Well, that would be just fine.
There haven't been hints that the former Alaska governor will be running for office anytime soon. The Los Angeles Times took all of six paragraphs to pour cold water on its own speculative "Palin for Senate?" story Tuesday. Palin's popularity has fallen since her star turn as a GOP vice presidential nominee and tea-party hero, though stories featuring her are still surefire click bait for news websites. Palin also has enough juice to prompt use of her name for fundraising purposes.
The Tea Party Leadership Fund's Todd Cefaratti sent e-mail to the group's list last week asking recipients to sign a petition urging Palin to oppose Sen. Mark Begich, D-Alaska, in 2014. "By signing our petition, you can make a bold statement that you're tired of the wishy-washy sellout establishment and ready to put a real leader in the Senate chamber," Cefaratti wrote. If a recipient submits a petition signature, including an e-mail address, the next page urges a different "bold statement that you're tired of the wishy-washy sellout establishment": a contribution to "ensure that we have the resources necessary" to back Palin up.
Niger Innis, the group's senior strategist, said the effort was better understood as a petition drive, with the fundraising appeal just tacked on the end.
"We run a variety of initiatives," Innis said. "Nothing is free, so when we do a petition drive, we would ask them, if you support this, can you support us with resources? It's not a mandate, it's just giving ourselves the opportunity to support initiatives, in this case an effort to convince Sarah Palin to drop her hat in." Innis said the member response to the drive had been "phenomenal."
Even if Palin was interested, though, it's not clear how much the Tea Party Leadership Fund would actually help her. According to Federal Election Commission filings, the group contributed $52,000 to 38 Republican congressional candidates in 2012, and it spent about $154,000 on independent expenditures, almost all going toward online video and e-mail attacks against President Obama. But most of the $1.2 million the PAC raised from donors went toward funding itself.
Over $545,000 went to a Minnesota-based vendor called Strategic Fundraising, for "net donor identification, contact, solicitation," and follow-up costs, according to the FEC. Another $135,000 went to Campaign Solutions in Alexandria, Va., for fundraising, list rental, and Web services. Overall, the Tea Party Leadership Fund spent a little over $951,000 in 2012.
The PAC's treasurer, D.C.-based attorney Dan Backer, said that many outside PACs have to "engage in a better model of good stewardship" of donors' money and that burn rates for such "non-connected" groups are often too high — around 70 percent of the money that gets raised, in many cases. "Unfortunately, fundraising is expensive," Backer said. He added that FEC reports aren't descriptive enough to explain everything this group does. Backer's firm, DB Capitol Strategies, received $10,500 in payments from the Tea Party Leadership Fund in 2012 and collected another $27,000 in legal fees in the first three months of 2013.
Backer said the move to draft Palin is genuine and that the group is spending to convince her to get in the race.
"We just commissioned a poll in Alaska with funds we raised," Backer said. He hopes the results will push back against the prevailing wisdom that Palin has grown too unpopular to seek office. Palin is far from the first long shot that the Tea Party Leadership Fund has publicized this year: Backer said the group spent between $60,000 and $80,000, much of it outside Illinois, trying to rustle up interest in Republican Paul McKinley's bid to succeed Democratic Rep. Jesse Jackson Jr. in Chicago's South Side earlier this year. McKinley won 22 percent of the vote in the special election against Democrat Robin Kelly. Backer said that was more support than any Republican had won in that district since Richard Nixon's landslide presidential reelection in 1972.