The Culture War Isn't Remotely Over
The country has made great recent strides in gay rights, but LGBT advocacy groups remain as essential as ever.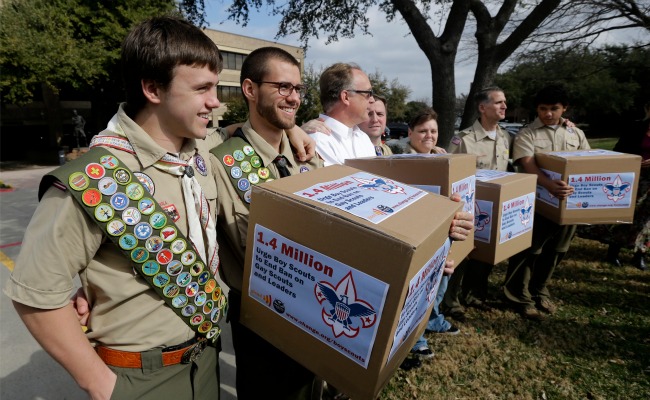 Recent strides in gay rights have led some observers to conclude that the LGBT community has "won" the culture war and that full equality for all LGBT people has either arrived -- or at least is just around the corner -- and thus that organizations advocating for LGBT equality should shut down. James Kirchick made such an argument in The Atlantic just last week.
Critics like Kirchick must have somehow never heard (or simply ignored) the story of Jennifer Tyrrell, a working-class mother of four living in rural Ohio. Tyrrell's 7-year-old son, like many young boys do, asked to join the Boy Scouts of America. When other parents were too busy to serve as den leaders, Tyrrell stepped up. She was soon living a life of merit badges and butterfly knots, serving food at the local soup kitchen and working on a conservation project with her scouts. One year ago, she received a letter saying she would no longer be able to serve as a den leader. She was angry, sad, and shocked.
Together with her partner Alicia Burns, she then had to find a way to explain to her son and their three other children that the Boy Scouts kicks out gay moms like her when they try to participate in their children's lives. Not because they're bad den leaders, but simply because they're gay.
Marriage equality in 11 states, the end of "Don't Ask, Don't Tell," and more gay male characters on TV are all milestones for the LGBT community, but for moms like Jennifer Tyrrell and so many other Americans in the LGBT community, the so-called culture war is far from over.
On Tuesday, news broke that a gay couple was attacked near Madison Square Garden in New York by four men emerging from a Knicks playoff game. Nick Porto, who was left with a broken nose after the four men attacked him and his partner, said, "I've never had a feeling like this before in the city. I didn't know that it's not over, that this sort of stuff still happens. They called us faggots ... I was so naive to think that things were better here."
Last week, a transgender woman who was murdered in Cleveland was described by the highest-circulation newspaper in Ohio as an "oddly dressed" criminal. Her body was referred to as "it." Never once did the newspaper refer to Ce Ce as female, despite AP style instructing media to do so.
There is work still to do when gay people can be fired in 29 states, transgender Americans face disproportionate rates of violence and dehumanizing media coverage, and there are still doubts that comprehensive immigration reform would protect all immigrants equally. One gay male athlete from a major league and one gay male boxer have come out -- and these two, out of thousands of professional athletes, lead some to suggest that we've "won" the culture war?
Now is not the time to declare victory but to push harder than ever.
It's true that LGBT people have made great strides in the past few years. Our positive movement on marriage equality is unprecedented. But there's still just a slight majority of Americans who agree with the freedom to marry for gay and lesbian couples. We might never get to 100 percent, but we definitely want more than half of our neighbors to welcome our families. We have the wind at our backs and momentum on our side, but momentum and wind alone can only carry change so far.
Twenty-eight years after GLAAD began as an organization fighting anti-gay defamation in the media, we continue making change by working through the media to share the stories that are the catalysts for change. Together with Tyrrell, GLAAD embarked on campaign to end the ban on gay scouts and scout leaders in the Boy Scouts. The advocacy efforts have included countless scouts speaking out, elected officials and celebrities calling for an end to the ban, and corporate sponsors cutting their funding of the BSA until the ban ends. Millions also got to meet a beautiful Ohio family headed by two moms. Jennifer Tyrrell was named to Parenting's "Best Parents of 2012," and for the first time in its 100-year history, the Boy Scouts of America will vote on whether or not to end their ban at the end of May.
But even today, anti-LGBT activists, who continue to wrongfully state that gay people are unfit to be parents, have a platform in the media to spread their lies. We have a long way to go before groups like the National Organization for Marriage are no longer routinely invited to provide "balance" on national cable news programs. As the LGBT media-advocacy organization, GLAAD combats their misinformation, because our opponents have not stopped -- and they won't. Anti-gay leaders have built their careers on making life harder for LGBT people. Ask them if they think the culture war is over.
At a recent conference, Human Rights Campaign President Chad Griffin said it best: "Now is not the time to kick back; our opponents aren't going away. Now is the time to double down and work harder than ever."
Just because we're currently winning some battles doesn't mean the culture war is over. One only need look at the battle for the basic right to vote raging today. The Voting Rights Act was signed in 1965, and we're still fighting attempts to disenfranchise voters. Last election the transgender community was one of the targets. We must remain vigilant or hard-won gains will be lost.
Jennifer Tyrrell is just one of countless people with whom GLAAD has worked to share stories that bring attention to broader LGBT issues such as immigration reform, hate crimes, marriage equality, transgender visibility, and anti-gay bullying. GLAAD has more work to do to tell the stories of LGBT people of color, transgender youth, undocumented LGBT people, and people who've lost their jobs simply for being LGBT.
The experience of the culture is different if you are a person who lives in one of the dozens of states that doesn't recognize LGBT families; or if you are a young athlete; or a homeless gender non-conforming youth; or a transgender person denied basic healthcare; or a bullied LGBT teenager contemplating suicide. We have a long way to go before the media landscape reveals the true diversity of our community and tells our stories fairly and accurately.