Republican Senator From New Hampshire Caught in Crossfire of Gun-Control Debate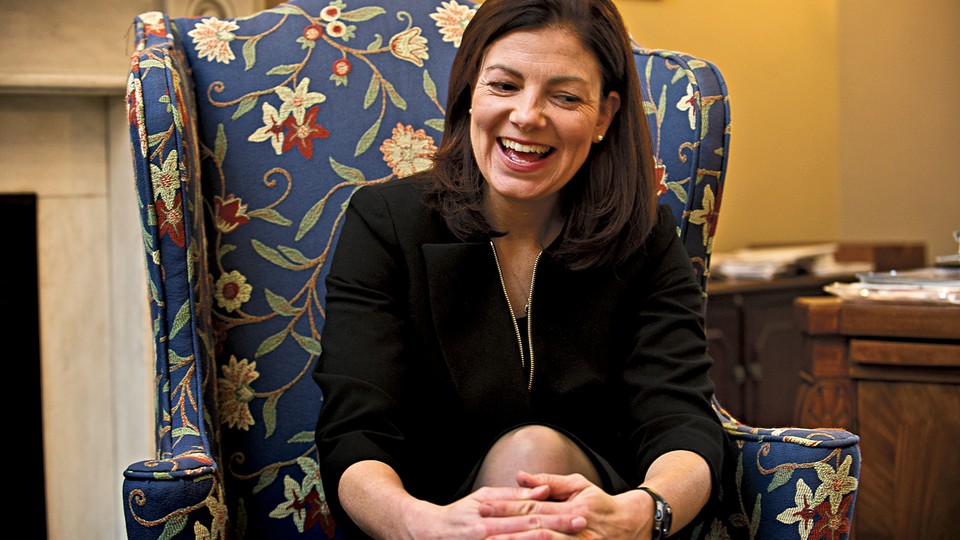 The gun debate that ripped through Washington this year has relocated, at least temporarily, to Sen. Kelly Ayotte's backyard.
No fewer than four well-moneyed groups — including Mayors Against Illegal Guns and the National Rifle Association — have invested hundreds of thousands of dollars in TV and radio ads targeting the junior Republican senator from New Hampshire, either praising or criticizing her vote last month against compromise legislation to expand gun-sale background checks, the "Manchin-Toomey" bill. More personally for Ayotte, angry protesters have confronted her at town halls — including the daughter of a woman murdered during the Sandy Hook Elementary School shootings.
The efforts aren't directed randomly. If gun legislation resurfaces in the Senate, Ayotte is among a handful of lawmakers pegged by Washington insiders as the most likely to flip. Many were already surprised that a blue-state senator voted against the broadly popular measure initially, the only Republican in the Northeast do so (Sen. Susan Collins of Maine supported it, and Sen. Pat Toomey of Pennsylvania crafted the compromise itself).
But Ayotte's decision wasn't shocking, say Republican confidants and New Hampshire political analysts. It revealed, they say, a politician intent on maintaining credibility with conservatives, confident her background as a prosecutor can convince independent-minded Granite State voters who aren't as fervently supportive of gun-control measures as the media believe. If another gun vote surfaces in the Senate later this year, few should be caught off guard if she opposes it yet again.
"People are expressing shock she would cast her vote being a New England Republican," said Dante Scala, a political science professor at the University of New Hampshire. "But really the moment she stepped on stage, she was clear she wouldn't be a Susan Collins or an Olympia Snowe Republican. People who express shock just weren't paying attention," he said. Snowe, like Collins a moderate from Maine, retired at the end of the last Congress.
If Ayotte faces backlash, it would seem most likely to come from her left flank. She represents a state President Obama won comfortably twice, and will have to run for reelection during a presidential contest in 2016. She'll immediately enter that cycle as one of the Democratic Party's top targets.
But the politics on Ayotte's right flank aren't necessarily simple, either. She was first elected in 2010, collecting 60 percent of the vote amid that year's conservative wave. Her far more difficult race came in that year's primary, where she defeated a candidate popular with conservative activists by barely a percentage point (fewer than 2,000 votes).
Her appeal to Republicans was rooted partly in her unabashed support of gun rights, her supporters say. Changing that image, they say, would contradict the kind of reputation she's built since entering politics. "Some people didn't realize the depth of her commitment to the Second Amendment," said Tom Rath, a longtime Republican consultant in New Hampshire. "They certainly do now."
Ayotte doesn't cast her position as a fundamentalist opposition to any background checks. She does back some changes to background checks, such as ensuring that the current system has more up-to-date mental health information. The Manchin-Toomey bill, she said, would fail to fix an already-broken system.
"Her votes were based solely on her strong desire to keep guns out of the hands of criminals and the mentally ill while protecting the constitutional rights of law-abiding Americans, and any suggestion to the contrary is ridiculous and wrong," spokesman Jeff Grappone said.
That explanation hasn't stopped groups like the Michael Bloomberg-backed Mayors Against Illegal Guns from furiously accusing her of blocking gun-control measures. But Ayotte has credibility when she makes her case to voters in her state. She served as head of the state attorney general's homicide division before becoming attorney general in 2004 — a background, she tells voters, that means she has seen gun violence more up close and personal than any other senator.
That argument might not convince independent and liberal voters, but her supporters argue it makes her look thoughtful and independent.
"I think she is very well positioned politically to defend herself as being a strong law enforcement person," said former Republican Sen. Judd Gregg, whom Ayotte succeeded in the Senate. "The people of New Hampshire will give her a lot of running room if she does what she thinks is right and defends it well."
---
Stacy Kaper contributed contributed to this article