Reality Check: Bachmann Retirement All About Politics
The controversial lawmaker faced a tough reelection in a solidly Republican district.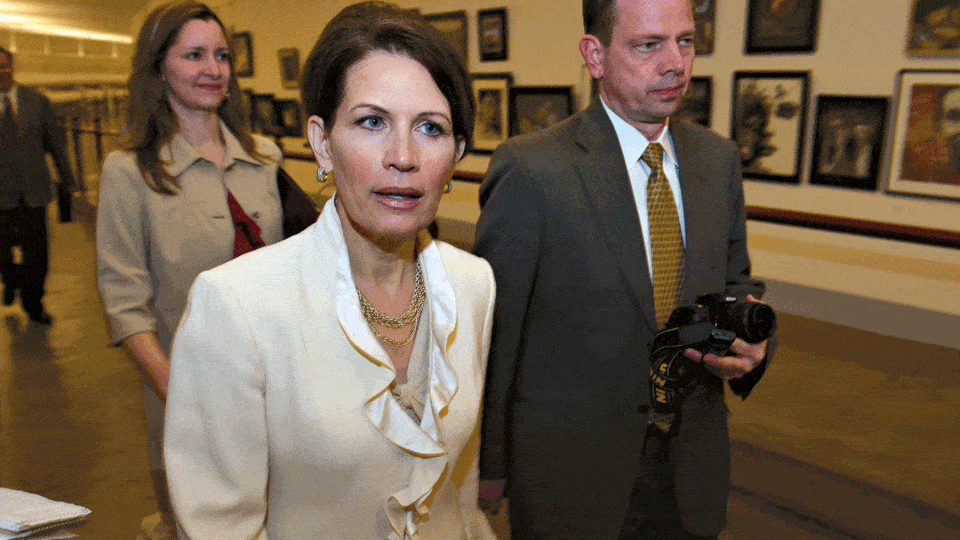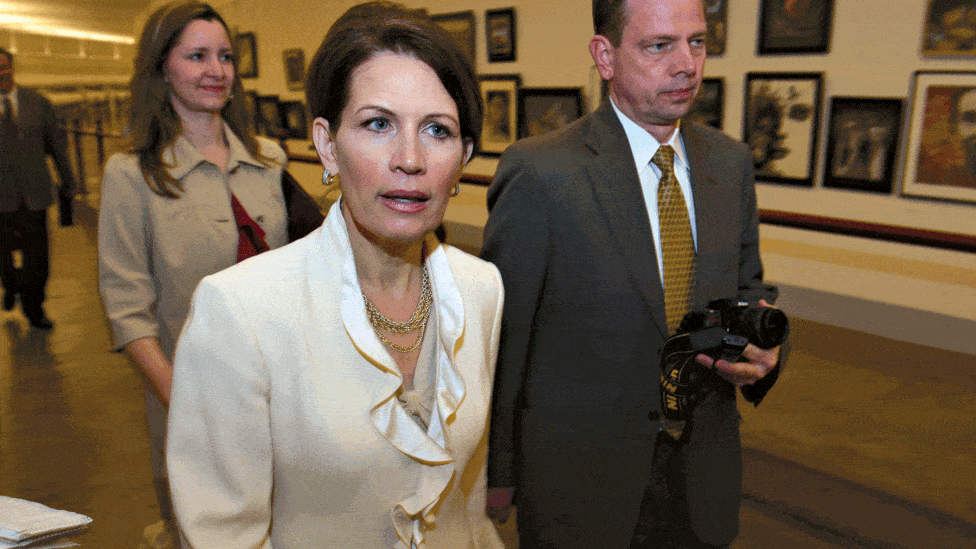 Rep. Michele Bachmann's surprise announcement Wednesday that she would be retiring from Congress included an explicit disclaimer that politics didn't affect her decision. "My decision was not in any way influenced by any concerns about my being reelected to Congress," she said in a nine-minute videotaped announcement.
But ask any Minnesota strategist and they will tell you that her political standing was tenuous.
Bachmann faces a slew of investigations into alleged wrongdoing during her presidential campaign, including those conducted by the Federal Election Commission and the FBI. She also had to contend with lingering resentment over a presidential campaign that critics said led to her losing touch with her district, and the perception that she sounded extreme while failing to achieve substantive victories in Congress.
Combined, they're the kind of personal problems that would cause Republicans to worry about holding a solidly Republican seat (the most Republican district in the state, according to the Cook Political Report.) Officials at the Democratic Congressional Campaign Committee and House Majority PAC, which last year spent $1.5 million opposing Bachmann, named her as a top target.
Last year, the longtime tea-party star barely won reelection against Democrat Jim Graves, squeaking past him by fewer than 5,000 votes. Graves was preparing for a rematch in 2014.
As one national Republican bluntly put it, "The only reason this race was competitive was because of Michele Bachmann."
Until Wednesday, the conservative darling campaigned like a candidate who knew her reelection was far from assured. She began airing TV ads in her district weeks ago, an especially early date for an election 18 months away and a sure sign her candidacy needed a boost. And according to local Republicans, Bachmann returned home to her district more often this year. Just a day before her announcement, she was present at the ceremonial start of construction of a bridge connecting Minnesota and Wisconsin. The growing presence back home contrasted with her diminishing national profile.
Bachmann was rebuilding a reputation that had suffered among her constituents last year, following a presidential campaign in which she spent far more time in Iowa than Minnesota.
"A hallmark of her time in office before she ran for president was that she was extremely hard-working, very accessible, known for having top-notch constituent service," said Ben Golnik, a GOP strategist based in St. Paul. "Her being away — it made it challenging because that was not the Michele Bachmann people had grown to appreciate."
She would be far from the first lawmaker to find that a presidential campaign weakened her politically back home: In recent years, politicians ranging from former Rep. Dennis Kucinich, D-Ohio, to former Sen. Christopher Dodd, D-Conn., have found themselves facing trouble back home after quixotic presidential runs.
Efforts to reconnect with her constituents weren't always easy. During an early April press conference in the state Capitol — ostensibly held to discuss Medicaid reimbursement rates in Minnesota — Bachmann was swarmed by reporters asking questions about the myriad investigations into allegations that she illegally paid a staffer on her presidential campaign. The press scrum was so intense that her aides attempted to physically shield their boss from reporters, according to Minneapolis Star Tribune photos.
The investigations focused on whether the Bachmann campaign paid her state chairman in Iowa, state Sen. Kent Sorenson, under the table in exchange for his support. Sorenson is also accused of stealing an e-mail list of a Christian home-school group and giving it to the Bachmann campaign. Sorenson and Bachmann each deny any wrongdoing.
The charges were likely to mar Bachmann's reelection campaign. "It takes mental and physical energy dealing with that, whether the accusation are right or not," Golnik said.
Bachmann's often incendiary rhetoric also put her out of step with even her conservative district. While she has been a consistently outspoken social conservative throughout her career, the state's center on such issues has shifted.
"Look at what we just did with gay marriage," said Sarah Janecek, the Republican founder of the Politics in Minnesota publication. "The social issues are shifting, so the dyed-in-the-wool conservative isn't necessarily that appealing anymore."
The 6th District might yet be competitive next year. Republican delegates will offer a nonbinding endorsement to a Republican at a convention before the primary, a process that could lead to another deeply conservative nominee for the general election. And Graves could benefit from having already run a closely watched congressional race last year.
But he won't run against Bachmann. In the end, the tea-party lawmaker might have decided this was one race she couldn't win.