President Obama: Mourner-in-Chief
The president's most memorable speeches have come in the wake of tragedy.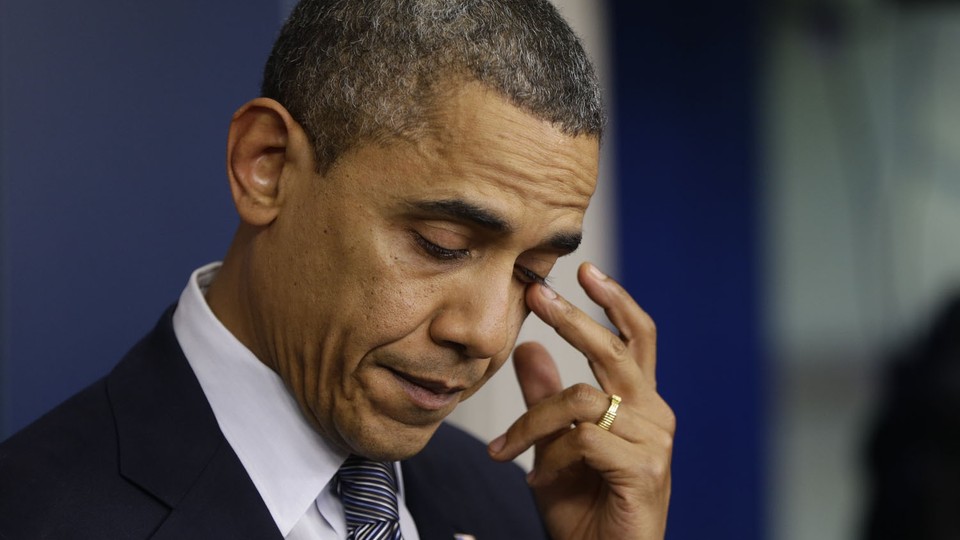 The storm that ripped through Oklahoma, leaving death and destruction in its wake, all but guaranteed that once the situation stabilizes and the rebuilding begins, Air Force One will carry President Obama to the scene. There, he will tour the devastation, meet with survivors, huddle with local officials and pledge federal aid in the recovery.
It is a routine all too familiar to this president, whose time in office has been marked by an unusual number of deadly natural disasters and far too many funerals and memorial services after several mass shootings and one terrorist bombing. Starting with his trip to Beckley, West Virginia, April 25, 2010, to deliver the eulogy for 29 miners killed in a coal mine explosion, the president has made such somber treks far more often than he would like. He has viewed storm damage in Alabama, Louisiana, Mississippi, Missouri, New Jersey and New York. He has gone to communities shaken by gun violence in Arizona, Texas, Colorado and Connecticut. And, most recently, he has prayed with the victims and survivors of the bomb attack in Massachusetts and industrial explosion in Texas.
No travel plans have yet been announced for Oklahoma. But this delay is also part of the familiar pattern. "In situations like this," explained White House Press Secretary Jay Carney, "we always make decisions, in the first instance, based on the president's insistence that his travel does not interfere with recovery efforts, (and) does not drain resources from those efforts."
When he does get there, the script is well known, changing little for any modern president. The aerial view of the devastation from helicopter. The walking tour with local officials. The meetings with survivors trying to rescue remnants of their previous lives. The words of comfort for those still alive. The prayers for those who perished.
That script changes for visits to those communities rocked by shootings, and criminal attacks. There, he must give voice to the nation's outrage and pledge to bring the perpetrators to justice and to search for ways to prevent similar crimes from being committed.
But in all cases, whether the deaths and destruction result from acts of God or the misdeeds of man, the nation expects its president to provide comfort and solace and to serve as the mourner-in-chief. They also hope that his words will somehow help them make sense of the event that has so disrupted their lives.
Perhaps the most important thing a president can offer the afflicted in such settings is the notion that they are not alone, that they are a part of a national family. That is why every one of these speeches given by Obama "" and by his predecessors -- has contained a variation of what he told the people of Joplin, Missouri, after their community was almost wiped out by a tornado in 2011. "We are here for you," he said then. And, no doubt aware we are in a cynical era where many Americans fear the follow-up will be missing, he always adds, "We're going to stay by you."
Historian Stephen Hess, who worked in both the Eisenhower and Nixon White Houses, calls this "a bring-us-together moment." It is one, he noted to National Journal, that easily fits some presidents but is more of a challenge to others. "Both Reagan and Clinton were marvelously suited for it," he said. He could easily have added George W. Bush, who stumbled after Hurricane Katrina but rallied the nation after the attacks of Sept. 11, 2001. Bush's remarks on Sept. 14thprovided the needed solace, just as Reagan did after the Challenger space shuttle disaster and Clinton did after the bombing of the federal building in Oklahoma City. And perhaps the most memorable photograph of Clinton's first year in office showed him tenderly hugging a sobbing woman in Des Moines after what Iowans still call the "Great Flood of 1993."
That picture took a tragedy so sweeping it was hard to grasp and brought it down to the level of one woman standing in line for water for her family. It was not unlike what Abraham Lincoln tried to do when he publicly mourned the dead of the Civil War. "There has not been a poor drummer-boy in all this war that has fallen for whom the great heart of Lincoln would not have bled," wrote Henry Ward Beecher. "There has not been one private soldier, without note or name, slain among thousands... for whom the president would not have wept."
It was not known if Obama, famed for his stoicism and professorial detachment, would take to such "feel your pain" moments as easily as Clinton did in Iowa. And his early attempts were hardly reminiscent of Reagan or Clinton. But Hess points to last December when the president reacted so emotionally to the Newtown shootings. "I think Newtown made a substantial difference in how the country now views Obama the comforter," he said. "He was feeling that tragedy as a father. Few people will ever be presidents. But most will be parents. His emotions were even more startling because this was not the way he is usually perceived."
Such speeches have effectively rescued two presidents from the political doldrums. Clinton was suffering the blues after his party's big defeat in the 1994 elections, to the point where he had to plaintively insist he was still "relevant." But then came Oklahoma City and a speech that dramatically showed that presidents are, indeed, relevant, especially in times of disaster. A similar thing happened for Obama with the shootings in Arizona coming so soon after his 'shellacking" in the 2010 elections.
No matter how well he performs as mourner-in-chief in Oklahoma, though, he should not expect much of a political respite from the current controversies roiling his administration. It did achieve the near-impossible of moving the controversies out of the first question at Carney's daily briefing Tuesday. But there will be no slowing in the pace of congressional investigations and no ebb in the questions demanding answers from the White House.
And the reality is that there is a different standard for judging presidents after natural disasters than after shootings or bombings. Speeches are fine and play an important role in consoling victims and survivors. But, as Hess noted, "Tornadoes and hurricanes have more to do with how quickly government responds." At a time when critics are questioning his administration's competency, the Oklahoma tornadoes will test that competency in meeting the needs of communities struggling to rebuild and looking to Washington for aid.