Obama's Struggles Hampering Democratic Recruitment
It's tough to persuade red-state Democrats to run in a challenging political environment.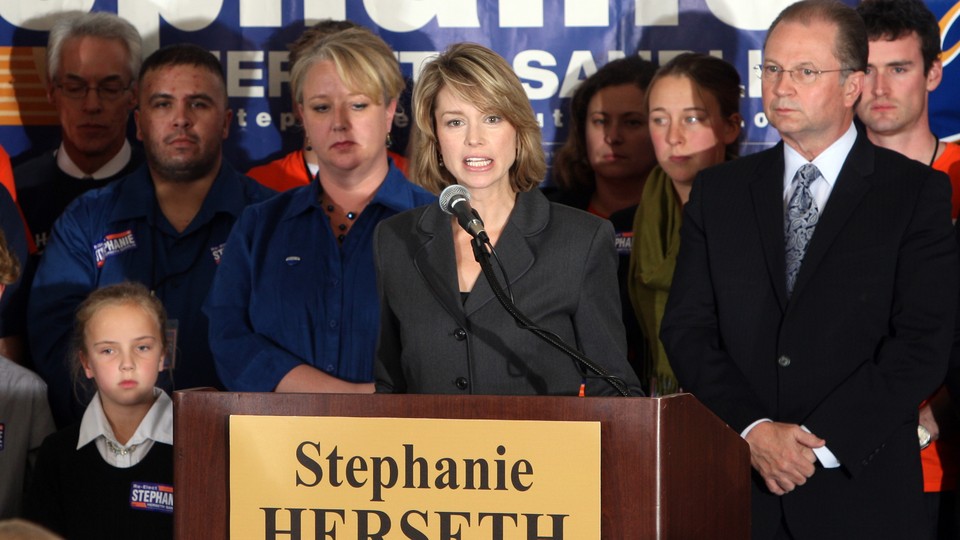 Imagine you're a red-state Democrat contemplating a run for Senate. Here's what you've seen during the opening months of President Obama's second term: A still-tepid economic recovery, a culturally polarizing agenda on immigration and guns, and fears of the health care law's possibly haphazard implementation.
The White House's uneven start to the second term shows little sign of improving. Questions about what administration and State Department officials knew about the origins of last year's deadly attack on a consulate in Benghazi have hounded them since last week's congressional hearing. The explosive revelation Friday that the IRS targeted conservative nonprofit groups seems certain to put Obama officials on the defensive for the foreseeable future.
And Monday, the Associated Press reported that the Justice Department secretly obtained two months of telephone records from its reporters and editors--in what AP's top executive called a "massive and unprecedented intrusion." Each controversy might ultimately prove a dud at the ballot box next year, but they're hardly the kind of headlines that encourage candidates to jump into a challenging Senate race.
All this doesn't add up to a welcoming environment for Democrats next year--at least not when the party is already contending with defending seven Senate seats in states Mitt Romney carried, facing a midterm cycle inherently favorable for Republicans. And it could help explain why some of the party's top recruits in the country's GOP-heavy quarters have, at least so far, opted against campaigns.
The latest evidence came Monday, when former Rep. Stephanie Herseth Sandlin, the Democrats' top target in the open-seat race in South Dakota, announced she would not seek the party's nomination. Her decision came one week after another top Democratic recruit, Rep. John Barrow of Georgia, decided to run for reelection in the House. And in Kentucky, the party is still scrambling to find a candidate to compete against Senate Minority Leader Mitch McConnell, a man whom Senate Democratic officials have labeled the GOP's most vulnerable incumbent.
Recruitment is still in its early stages, and Republicans have a long way to go with their own recruitment. And Democratic Senate candidates have proven they're able to win states where Obama is unpopular, pointing to victories last year in Montana and North Dakota. But their efforts were aided by a strong overall environment for the party, one that red-state Democrats can't count on in 2014.
"It certainly gives Democrats looking to run in Republican states pause about taking on very difficult challenge," said Glen Bolger, a Republican pollster. "It's hard enough when you're running uphill. But when the wind is in your face, it makes it even more difficult."
"The only impetus Democratic candidates have to run is coming from [Democratic Senatorial Campaign Committee]," added Brad Dayspring, spokesman for the National Republican Senatorial Committee. "Because they can say, "˜We have the magic bullet because we have been able to do this before.' But that's based on the 2012 election."
Last year, Democrats attracted top-shelf Senate contenders to run in red states, such as former state Attorney General Heidi Heitkamp in North Dakota and then-Rep. Joe Donnelly in Indiana. They both entered the races without knowing how the political environment would shape up. In 2011, the economic recovery stalled and a debt-ceiling standoff in Congress resulted in a first-ever downgrade of the country's credit rating. Obama's approval rating dipped to 40 percent among all Americans, according to Gallup.
Republicans argue the circumstances of 2012 are different now, because the composition of the electorate in off-year elections is inherently more favorable to them.
The party's red-state recruitment is looking better in two other races. Attorney Nick Preservati, whose family has deep ties to the coal industry, could launch a campaign for the open seat of retiring Sen. Jay Rockefeller in West Virginia. And many Democrats expect former Montana Gov. Brian Schweitzer to run for the open seat vacated by Sen. Max Baucus in Montana. Both seats are currently represented by retiring Democratic incumbents. Democrats still also have plenty of time to recruit strong candidates in Georgia, Kentucky, and South Dakota.
Republicans, for their part, have had early recruiting failures of their own. In Iowa and Michigan, strong Republicans have already passed on campaigns. In each state, Democrats have already coalesced around experienced congressmen--Bruce Braley in Iowa and Gary Peters in Michigan.
Against battleground-state senators, such as Jeanne Shaheen of New Hampshire, Mark Warner of Virginia, and Mark Udall of Colorado, Republicans have also failed to attract the kind of Republican challengers who would put the races in play. Just today, Rep. Erik Paulsen declined to run against Sen. Al Franken, D-Minn. If Obama was struggling so badly, one would expect more Republican candidates to emerge in these types of seats.
"Democrats already have major recruitment successes in Iowa and Michigan, while up and down the map Republicans are struggling to find top-tier candidates who can avoid messy primaries and appeal to mainstream voters in a general election," said DSCC spokesman Justin Barasky. "National Republicans simply cannot win the majority if they are only fighting it out in red states and to date they have failed to expand the map in any way."