Obama's Outrage Focused on Republicans More Than IRS
At press briefing with British Prime Minister David Cameron, Obama slams Benghazi investigation as partisan.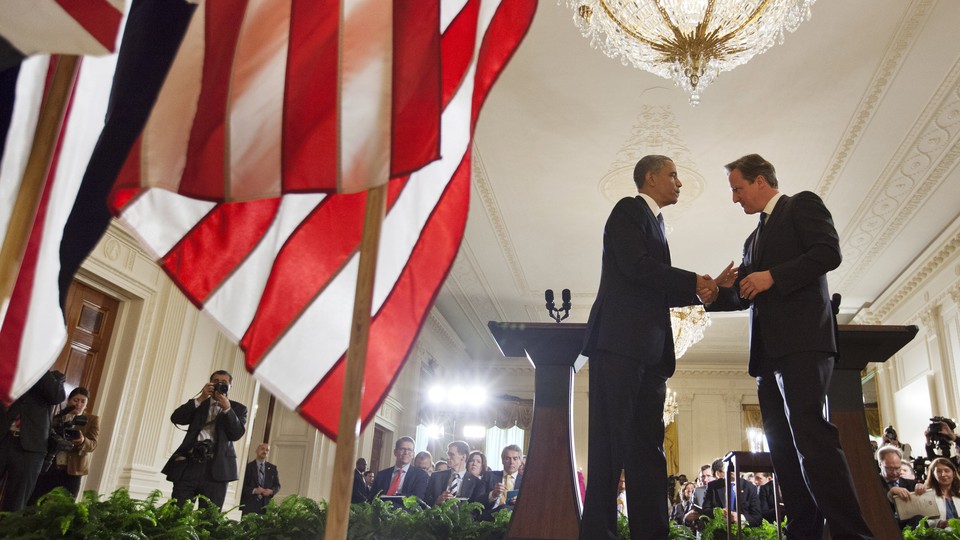 President Obama is outraged. And that outrage was on ample display Monday morning when he was pressed on the two hot political controversies of the day -- reports that the Internal Revenue Service targeted conservative groups for special attention and continuing questions about the killings of four Americans last year in Benghazi. The famously cool and stoical president seemed much more agitated about the Benghazi investigations than about the IRS actions.
Fielding questions at a joint session with British Prime Minister David Cameron, the president could not have been surprised that the one question permitted to an American reporter was a multi-query barrage on the IRS, Benghazi and Syria. He also knew going in that Friday's news about the IRS had led to demands from both sides of the political aisle that he show some anger at the tax agency and offer an apology.
He wasn't about to offer that apology, especially since the investigation is incomplete and none of his appointees may have been involved. But the words he spoke did suggest his displeasure with what was done. Twice, he called it "outrageous." He stressed, "I've got no patience with it. I will not tolerate it. And we'll make sure that we find out exactly what happened on this." But the president's delivery did not always match the strength of the words. NBC's Chuck Todd described the presentation as "clinical," perhaps not surprising since the president cast the story as "pretty straightforward."
But there was nothing either clinical or straightforward about the president's response to the ongoing Republican investigations of what happened in Benghazi last Sept. 11 or, more importantly, what happened inside the White House and the State Department in the days immediately following that attack when officials were battling with the Central Intelligence Agency over what to say. Here, without doubt, was an angry president, clearly outraged at what he sees as Republican partisan perfidy.
He blasted the controversy over the talking points as "a sideshow." He dismissed the emails that showed more extensive administration editing, saying, "There's no "˜there' there." And he objected to the investigation itself, saying, "The whole thing defies logic." Those who hoped he would come out, acknowledge that some mistakes had been made in White House explanations and try to move beyond an argument over emails were disappointed. At this press conference, Obama signaled he is ready for a fight. If anything, he doubled down, guaranteeing an intensification of the showdown between the two ends of Pennsylvania Avenue.
And it didn't take long for the Republicans to swing back at some of his press conference assertions, which a spokesman for Speaker John Boehner, R-Ohio, contended were "badly in need of some fact checking." In particular, Republicans objected to his claim that Republicans had reviewed the emails for months and "concluded that in fact there was nothing afoul in terms of the process that we had used." In response, Boehner spokesman Brendan Buck pointed to an interim reported released April 23 by committees investigating Benghazi that concluded the administration "altered accurate talking points drafted by the Intelligence Community in order to protect the State Department."
Obama left no doubt that he sees politics behind the Republican anger. "The fact that this keeps on getting churned out, frankly, has a lot to do with political motivations," he said. "We've had folks who have challenged Hillary Clinton's integrity, Susan Rice's integrity, Mike Mullen and Tom Pickering's integrity," he said. "It's a given that mine gets challenged by these same folks. They've used it for fundraising."
He didn't mention that such fundraising by Republicans was potentially hindered by the IRS' past actions against conservative groups.