Obama's Domestic Drone Standard Is Now Tighter Than Rand Paul's
There should be no armed drones over the U.S. under any president, Obama says.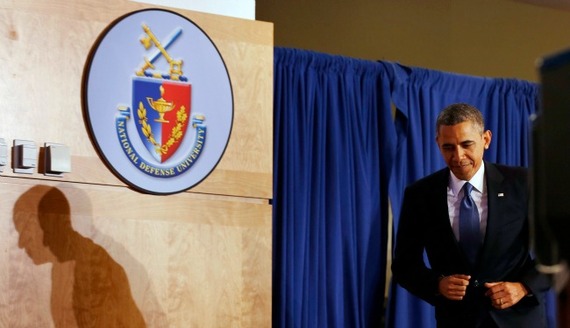 Reuters
President Obama's speech at the National Defense University Thursday offered a nuanced defense of the U.S. drone program against Islamic militants in hard-to-reach areas of the world as the best of a bad set of military options for fighting those who want to kill American civilians. The drone program costs fewer American military and foreign civilian lives than would use of more conventional weapons or strategies, the president said, but still should only be used when the "detention and prosecution of terrorists" is "foreclosed" as an approach.
The president also laid out what the standard should be for domestic use of armed but unmanned aerial vehicles: They should not be used.
"For the record, I do not believe it would be constitutional for the government to target and kill any U.S. citizen -- with a drone, or a shotgun -- without due process," Obama said. "Nor should any president deploy armed drones over U.S. soil."
Let me repeat the second part of that quote, since this has been such a controversial and much-discussed topic: "Nor should any president deploy armed drones over U.S. soil."
That's the standard. No armed drones over U.S. soil.
Obama's justification for the use of drones overseas involved an array of circumstances, but significant among the factors he listed were the geographic and geopolitical challenges in using conventional force in "remote tribal regions," "caves and walled compounds," and "empty deserts and rugged mountains" where "the state has only the most tenuous reach" and the presence of conventional or special forces could trigger "a firefight with surrounding tribal communities that pose no threat to us" or "a major international crisis."
None of that describes the United States.
Obama's articulated standard for the domestic use of armed drones -- no president should use them -- is tougher than the one the president's Republican critics in the U.S. Senate had been demanding.
Sen. Ted Cruz of Texas has suggested an imminent threat standard for the domestic use of armed drones, saying in March, "It is unequivocal that if the U.S. government were to use a drone to take the life of a U.S. citizen on U.S. soil and that individual did not pose an imminent threat that would be a deprivation of life without due process."
Sen. Rand Paul of Kentucky, who in March held a nearly 13-hour filibuster of John Brennan's nomination to be CIA director over the domestic drone-deployment question, endorsed a similar imminent threat standard in remarks in April.
"I've never argued against any technology being used when you have an imminent threat, an active crime going on. If someone comes out of a liquor store with a weapon and fifty dollars in cash, I don't care if a drone kills him or a policeman kills him," Paul told Fox Business's Neil Cavuto.
"If there's a killer on the loose in a neighborhood, I'm not against drones being used," he added.
A number of Paul critics called those remarks a flip-flop from what he'd said during his filibuster: "[N]o American should be killed by a drone on American soil without first being charged with a crime, without first being found to be guilty by a court."
Paul's office objected that picking that one quote out of his hours of remarks during the filibuster overlooked his earlier articulation of the imminent threat standard. "Armed drones should not be used in normal crime situations," Paul said in a statement. "They only may only be considered in extraordinary, lethal situations where there is an ongoing, imminent threat. I described that scenario previously during my Senate filibuster."
And, in fact, Paul did make that point clear, saying in March that he made an exception in his objection to using armed drones domestically for "someone with a bazooka, a grenade launcher on their shoulder. Anyone committing lethal force can be repelled with lethal force. No one argues that point.... No one is questioning whether the U.S. can repel an attack. No one is questioning whether your local police can repel an attack."
But President Obama just did: If no armed drones are to be used over U.S. soil, they certainly are not going to be used by a local police force against someone with a bazooka who could, presumably, be taken out by a sniper, a S.W.A.T. team, or some other domestic law enforcement approach using conventional weapons.
Today's presidential statement should but likely will not lay to rest the lingering controversy started by Paul in response to a hypothetical scenario laid out by Attorney General Eric Holder in a March response to a February query from Paul.
"The U.S. government has not carried out drone strikes in the United States and has no intention of doing so," Holder wrote to Paul on March 4. "As a policy matter, moreover, we reject the use of military force where well-established law-enforcement authorities in this country provide the best means for incapacitating a terrorist threat."
If there were some "extraordinary circumstance" on the level of the attack on Pearl Harbor or Sept. 11, Holder wrote, drones might be considered as part of a broader authorization for the use of military force domestically. But, he said, such a scenario was "entirely hypothetical." Holder further clarified the point in second letter to Paul on March 7, following Paul's filibuster. "It has come to my attention that you have now asked an additional question: 'Does the President have the authority to use a weaponized drone to kill an American not engaged in combat on American soil?' " Holder wrote. "The answer to that question is no."
Before Paul's filibuster, Holder rejected the use of drones, a form of military force, when domestic law enforcement could do the job. Obama made that standard even clearer today.
* * *
Obama's full remarks, as prepared for delivery, from the drones section of his speech:
[D]espite our strong preference for the detention and prosecution of terrorists, sometimes this approach is foreclosed. Al Qaeda and its affiliates try to gain a foothold in some of the most distant and unforgiving places on Earth. They take refuge in remote tribal regions. They hide in caves and walled compounds. They train in empty deserts and rugged mountains.
In some of these places - such as parts of Somalia and Yemen - the state has only the most tenuous reach into the territory. In other cases, the state lacks the capacity or will to take action. It is also not possible for America to simply deploy a team of Special Forces to capture every terrorist. And even when such an approach may be possible, there are places where it would pose profound risks to our troops and local civilians - where a terrorist compound cannot be breached without triggering a firefight with surrounding tribal communities that pose no threat to us, or when putting U.S. boots on the ground may trigger a major international crisis.
To put it another way, our operation in Pakistan against Osama bin Laden cannot be the norm. The risks in that case were immense; the likelihood of capture, although our preference, was remote given the certainty of resistance; the fact that we did not find ourselves confronted with civilian casualties, or embroiled in an extended firefight, was a testament to the meticulous planning and professionalism of our Special Forces - but also depended on some luck. And even then, the cost to our relationship with Pakistan - and the backlash among the Pakistani public over encroachment on their territory - was so severe that we are just now beginning to rebuild this important partnership.
It is in this context that the United States has taken lethal, targeted action against al Qaeda and its associated forces, including with remotely piloted aircraft commonly referred to as drones. As was true in previous armed conflicts, this new technology raises profound questions - about who is targeted, and why; about civilian casualties, and the risk of creating new enemies; about the legality of such strikes under U.S. and international law; about accountability and morality.
Let me address these questions. To begin with, our actions are effective. Don't take my word for it. In the intelligence gathered at bin Laden's compound, we found that he wrote, "we could lose the reserves to the enemy's air strikes. We cannot fight air strikes with explosives." Other communications from al Qaeda operatives confirm this as well. Dozens of highly skilled al Qaeda commanders, trainers, bomb makers, and operatives have been taken off the battlefield. Plots have been disrupted that would have targeted international aviation, U.S. transit systems, European cities and our troops in Afghanistan. Simply put, these strikes have saved lives.
Moreover, America's actions are legal. We were attacked on 9/11. Within a week, Congress overwhelmingly authorized the use of force. Under domestic law, and international law, the United States is at war with al Qaeda, the Taliban, and their associated forces. We are at war with an organization that right now would kill as many Americans as they could if we did not stop them first. So this is a just war - a war waged proportionally, in last resort, and in self-defense.
And yet as our fight enters a new phase, America's legitimate claim of self-defense cannot be the end of the discussion. To say a military tactic is legal, or even effective, is not to say it is wise or moral in every instance. For the same human progress that gives us the technology to strike half a world away also demands the discipline to constrain that power - or risk abusing it. That's why, over the last four years, my Administration has worked vigorously to establish a framework that governs our use of force against terrorists - insisting upon clear guidelines, oversight and accountability that is now codified in Presidential Policy Guidance that I signed yesterday.
In the Afghan war theater, we must support our troops until the transition is complete at the end of 2014. That means we will continue to take strikes against high value al Qaeda targets, but also against forces that are massing to support attacks on coalition forces. However, by the end of 2014, we will no longer have the same need for force protection, and the progress we have made against core al Qaeda will reduce the need for unmanned strikes.
Beyond the Afghan theater, we only target al Qaeda and its associated forces. Even then, the use of drones is heavily constrained. America does not take strikes when we have the ability to capture individual terrorists - our preference is always to detain, interrogate, and prosecute them. America cannot take strikes wherever we choose - our actions are bound by consultations with partners, and respect for state sovereignty. America does not take strikes to punish individuals - we act against terrorists who pose a continuing and imminent threat to the American people, and when there are no other governments capable of effectively addressing the threat. And before any strike is taken, there must be near-certainty that no civilians will be killed or injured - the highest standard we can set.
This last point is critical, because much of the criticism about drone strikes - at home and abroad - understandably centers on reports of civilian casualties. There is a wide gap between U.S. assessments of such casualties, and non-governmental reports. Nevertheless, it is a hard fact that U.S. strikes have resulted in civilian casualties, a risk that exists in all wars. For the families of those civilians, no words or legal construct can justify their loss. For me, and those in my chain of command, these deaths will haunt us as long as we live, just as we are haunted by the civilian casualties that have occurred through conventional fighting in Afghanistan and Iraq.
But as Commander-in-Chief, I must weigh these heartbreaking tragedies against the alternatives. To do nothing in the face of terrorist networks would invite far more civilian casualties - not just in our cities at home and facilities abroad, but also in the very places -like Sana'a and Kabul and Mogadishu - where terrorists seek a foothold. Let us remember that the terrorists we are after target civilians, and the death toll from their acts of terrorism against Muslims dwarfs any estimate of civilian casualties from drone strikes.
Where foreign governments cannot or will not effectively stop terrorism in their territory, the primary alternative to targeted, lethal action is the use of conventional military options. As I've said, even small Special Operations carry enormous risks. Conventional airpower or missiles are far less precise than drones, and likely to cause more civilian casualties and local outrage. And invasions of these territories lead us to be viewed as occupying armies; unleash a torrent of unintended consequences; are difficult to contain; and ultimately empower those who thrive on violent conflict. So it is false to assert that putting boots on the ground is less likely to result in civilian deaths, or to create enemies in the Muslim world. The result would be more U.S. deaths, more Blackhawks down, more confrontations with local populations, and an inevitable mission creep in support of such raids that could easily escalate into new wars.
So yes, the conflict with al Qaeda, like all armed conflict, invites tragedy. But by narrowly targeting our action against those who want to kill us, and not the people they hide among, we are choosing the course of action least likely to result in the loss of innocent life. Indeed, our efforts must also be measured against the history of putting American troops in distant lands among hostile populations. In Vietnam, hundreds of thousands of civilians died in a war where the boundaries of battle were blurred. In Iraq and Afghanistan, despite the courage and discipline of our troops, thousands of civilians have been killed. So neither conventional military action, nor waiting for attacks to occur, offers moral safe-harbor. Neither does a sole reliance on law enforcement in territories that have no functioning police or security services - and indeed, have no functioning law.
This is not to say that the risks are not real. Any U.S. military action in foreign lands risks creating more enemies, and impacts public opinion overseas. Our laws constrain the power of the President, even during wartime, and I have taken an oath to defend the Constitution of the United States. The very precision of drones strikes, and the necessary secrecy involved in such actions can end up shielding our government from the public scrutiny that a troop deployment invites. It can also lead a President and his team to view drone strikes as a cure-all for terrorism.
For this reason, I've insisted on strong oversight of all lethal action. After I took office, my Administration began briefing all strikes outside of Iraq and Afghanistan to the appropriate committees of Congress. Let me repeat that - not only did Congress authorize the use of force, it is briefed on every strike that America takes. That includes the one instance when we targeted an American citizen: Anwar Awlaki, the chief of external operations for AQAP.
This week, I authorized the declassification of this action, and the deaths of three other Americans in drone strikes, to facilitate transparency and debate on this issue, and to dismiss some of the more outlandish claims. For the record, I do not believe it would be constitutional for the government to target and kill any U.S. citizen - with a drone, or a shotgun - without due process. Nor should any President deploy armed drones over U.S. soil.
But when a U.S. citizen goes abroad to wage war against America - and is actively plotting to kill U.S. citizens; and when neither the United States, nor our partners are in a position to capture him before he carries out a plot - his citizenship should no more serve as a shield than a sniper shooting down on an innocent crowd should be protected from a swat team.
That's who Anwar Awlaki was - he was continuously trying to kill people. He helped oversee the 2010 plot to detonate explosive devices on two U.S. bound cargo planes. He was involved in planning to blow up an airliner in 2009. When Farouk Abdulmutallab - the Christmas Day bomber - went to Yemen in 2009, Awlaki hosted him, approved his suicide operation, and helped him tape a martyrdom video to be shown after the attack. His last instructions were to blow up the airplane when it was over American soil. I would have detained and prosecuted Awlaki if we captured him before he carried out a plot. But we couldn't. And as President, I would have been derelict in my duty had I not authorized the strike that took out Awlaki.
Of course, the targeting of any Americans raises constitutional issues that are not present in other strikes - which is why my Administration submitted information about Awlaki to the Department of Justice months before Awlaki was killed, and briefed the Congress before this strike as well. But the high threshold that we have set for taking lethal action applies to all potential terrorist targets, regardless of whether or not they are American citizens. This threshold respects the inherent dignity of every human life. Alongside the decision to put our men and women in uniform in harm's way, the decision to use force against individuals or groups - even against a sworn enemy of the United States - is the hardest thing I do as President. But these decisions must be made, given my responsibility to protect the American people.
Going forward, I have asked my Administration to review proposals to extend oversight of lethal actions outside of warzones that go beyond our reporting to Congress. Each option has virtues in theory, but poses difficulties in practice. For example, the establishment of a special court to evaluate and authorize lethal action has the benefit of bringing a third branch of government into the process, but raises serious constitutional issues about presidential and judicial authority. Another idea that's been suggested - the establishment of an independent oversight board in the executive branch - avoids those problems, but may introduce a layer of bureaucracy into national-security decision-making, without inspiring additional public confidence in the process. Despite these challenges, I look forward to actively engaging Congress to explore these - and other - options for increased oversight.
I believe, however, that the use of force must be seen as part of a larger discussion about a comprehensive counter-terrorism strategy. Because for all the focus on the use of force, force alone cannot make us safe. We cannot use force everywhere that a radical ideology takes root; and in the absence of a strategy that reduces the well-spring of extremism, a perpetual war - through drones or Special Forces or troop deployments - will prove self-defeating, and alter our country in troubling ways.