Obama Launches Manufacturing Push and Urges Voters to Lean on Congress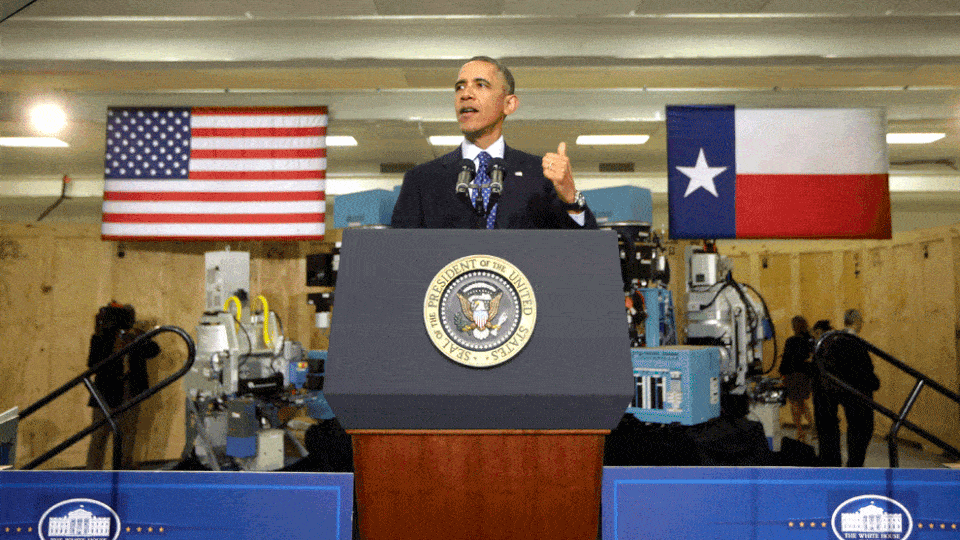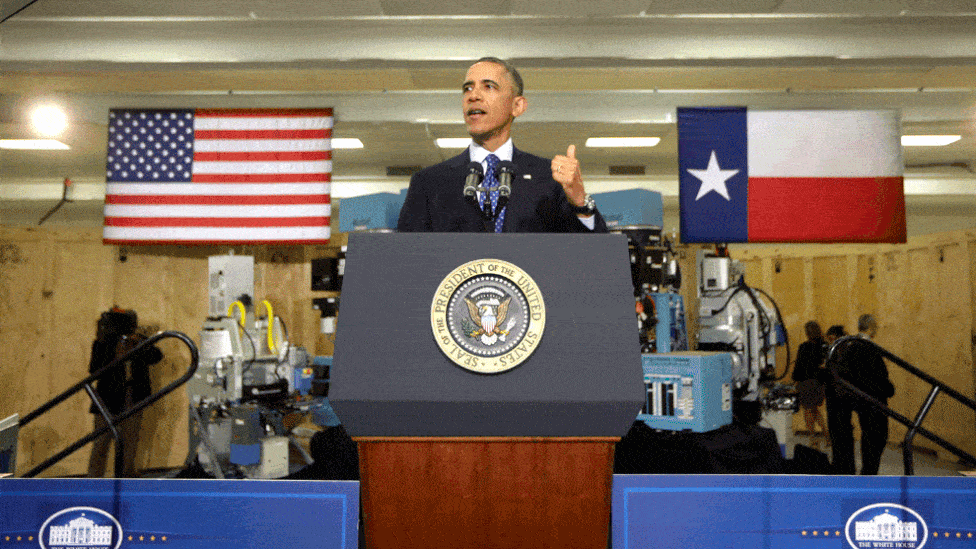 Fleeing what he called the "doom and gloom" of Washington, President Obama Thursday called on Congress to get going on his legislative program, warning that he will start asking voters to put pressure on their representatives.
"You know, I'm an optimistic guy," Obama said at a school in Austin, Texas. "So I'm just going to keep on talking to members of Congress because I believe that America does best when we work together." But when the cheers died down, he appealed for public support. "Every once in a while," he said, "I'm going to need your help to lean on your elected representatives and say, hey, let's do something about this. Even if you don't like it politically, if it's a good idea let's go ahead and support it."
He added, "Sometimes, I'm going to need constituents to pressure their members of Congress to do the right thing."
It is a warning that almost every president issues at some point. But the results have not always been what they wanted. So Obama indicated that he is not going to wait for this Congress to embrace his agenda. "Where I can," he said, "I'm just going to go ahead and take action on my own, including some executive actions that I'm taking today that I'm convinced will spur innovation and help businesses create more jobs."
Those actions include diverting already-budgeted money from other agencies to fund three more of the "manufacturing innovation institutes" he called for in his State of the Union address. He has asked Congress to appropriate $1 billion to set up 15 of these institutes around the country. With the effort stalled on Capitol Hill, the administration earlier set up a test institute in Youngstown, Ohio. Now, at a cost of $200 million, Obama wants cities to compete for three more. Gene Sperling, director of the president's National Economic Council, told reporters that departments were asked to "cut back on lower-priority spending so that we would have more room to at least do a few pilots." He said $100 million will come from the Department of Defense, $70 million from the Department of Energy, and the final $30 million will come from other agencies, including the Department of Commerce and the National Science Foundation.
Obama's second executive action of the day was an order requiring that newly released government data be made "freely available in open machine-readable formats" where possible. Administration officials cited the economic benefits after government data on weather and global positioning were made available. They suggested consumers would benefit, for example, if more information on housing and communities were easily accessible.
Austin was the first stop in what the president suggested will be regular trips outside Washington to highlight what local communities are doing. "There are some terrific things going on in this area," he said, suggesting he needs to escape Washington. "If you, you know, listen to all the doom and gloom in Washington and politics, and you're watching cable TV, sometimes you might get kind of thinking nothing's going right," he said. "But the truth is there's a lot of reasons for us to feel optimistic about where we're headed as a country."
He did not mention one possible reason to head to Texas. But he demonstrated it by having his motorcade pull into a local institution: Stubb's BBQ. He was too early to hear the two featured bands--JP Harris and the Tough Choices or Mike and the Moonpies. But he did get lunch.