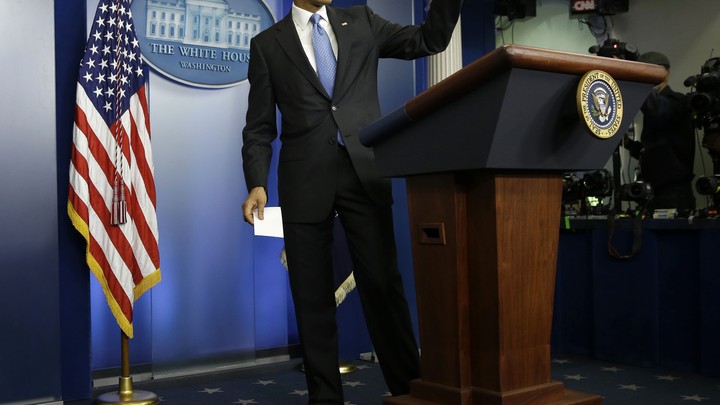 When President Obama arrives in Mexico City on Thursday, he will be welcomed warmly. In part that will be because he remains highly popular south of the border as a different kind of American president. But it will also be because the Mexican leaders are closely following the immigration debate on Capitol Hill and know Obama today is working to block some of the congressional forces they see as hostile to their interests.
Mexicans closely watched the 2012 presidential campaign. They heard Republican nominee Mitt Romney hail Arizona's immigration laws — reviled in Mexico — as "a model" for the country, just as he demanded a longer border fence, promised to veto a Dream Act, and spoke of "self-deportation." They laughed when Obama, in a speech in El Paso, Texas, mocked the get-tough critics, saying, "Maybe they'll need a moat. Maybe they'll want alligators in the moat."
Carl Meacham, who is director of the Americas Program at the Center for Strategic and International Studies and was Sen. Richard Lugar's longtime senior adviser on Latin America on the Senate Foreign Relations Committee, said Mexicans know that "if Governor Romney had won, the debate today would have been a labor-focused discussion and a security-focused discussion."
But Meacham also said Mexican officials are being very cautious as they watch Obama deal with Congress. "The Mexicans have been brought to the altar on immigration issues many times before," he told National Journal Daily. "Don't forget that the day before 9/11, there was a meeting at the White House under President Bush where you had Republicans and Democrats meeting in unity and being supportive of immigration reform. They have been down this road many times before."
Andrew Selee, a senior adviser to the Mexico Institute of the Wilson Center, said that Mexican President Enrique Peña Nieto will not be overly public in his interest in the U.S. immigration legislation, to avoid looking as if he is interfering in American politics. "The Mexican government does keep in contact with people in the political system, particularly members of Congress, to let them know what the Mexican government's view is," Selee said. But Peña Nieto does not want to be "overly vocal because that opens the opportunity for U.S. politicians to be overly vocal about Mexican decisions internally."
By showing Mexican support for reform, the president also sends a signal to Latino voters in the United States — and to Republicans eager to attract those voters. "He's putting a lot of pressure on the GOP to get its act together on this issue," Selee said. "The GOP's a little split on this. And this is just tightening the screws a little bit more to make them make a decision."
Meacham told reporters that the leaders Obama will meet in Mexico City and then in Costa Rica on this trip are keenly aware of the problems the president is having with Congress, and worry about the impact on their region — including concern that the sequester will affect badly needed aid packages. "The countries that are affected the most here, Guatemala and Honduras, they need all the help they can get," he said. "At the end of the day, we're shooting ourselves in the foot if we sort of discontinue these policies. A lot of the problems that we have are related to our own dysfunction in the Congress."
People in Latin America "don't understand" the dysfunction between the White House and the Congress and may seek some explanation from Obama, Meacham said. "People feel that the United States is the strongest country in the world.... We're supposed to be the most competent democracy in the world. And we have two sides that can't find common cause, that can't find consensus on a series of issues.... So people are sort of confused when they look at the United States."
After his meetings with Peña Nieto on Thursday, the president will travel to Costa Rica on Friday and return to Washington on Saturday. In San Jose, he will meet with the leaders of the Central American countries of Costa Rica, Nicaragua, Belize, Panama, Guatemala, El Salvador, Honduras, and the Dominican Republic. The president will hold press conferences in both countries, give several interviews, deliver a speech in Mexico City, and meet with hemispheric business leaders.
We want to hear what you think about this article. Submit a letter to the editor or write to letters@theatlantic.com.