Michele Bachmann: She Coulda Been a Contender
If only the Minnesota representative and Tea Party hero had waited longer, said less, and accomplished more.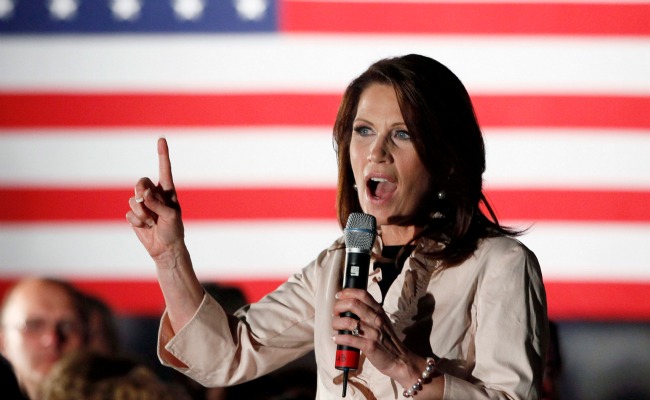 Reuters
Going in, Michele Bachmann's first bid for Congress in 2006 looked like a toss-up. When the dust cleared, she had won a three-way race with more than half the vote and set a state record for spending on a U.S. House race. Both likeable and well-versed in free-market economic solutions -- she campaigned largely on tax cuts -- and dedication to traditional values, she looked like local conservatives' answer to Democratic Senator Amy Klobuchar, and they couldn't have been more proud.
Far-right conservatives across the nation felt the same sense of excitement in 2010, when she co-founded the House Tea Party Caucus. A bold advocate for red-state beliefs who hailed from a blue state and boasted a J.D. and an LL.M. in tax law, she promptly took the movement's helm as a natural leader.
Bachmann's charisma and ability to highlight conservatism in a way that made persuasive sense helped make the Tea Party the biggest story in politics. She headlined the March 2010 rally against Obamacare on Capitol Hill that drew thousands -- some reported tens of thousands -- in support. Republican opposition to Obamacare was nearly universal, but Bachmann so often harped on the bill she warned would "kill people" that she became the de facto spokeswoman for its opponents. And she was better at summing up the right's case than most of her compatriots. In a recent ad she described it succinctly: "Obamacare promised us lower cost and a better health care system. But the truth is just the opposite: unaffordable, skyrocketing insurance costs. And a system so complicated, even Democrats are calling it a train wreck."
Her rise wasn't without occasional bumps. After Republicans won control of the House in the 2010 midterm elections, GOP leaders thwarted her attempt to gain a leadership position as House Republican Conference chair, though Speaker John Boehner did select her to the House Permanent Select Committee on Intelligence. And despite her convincing victory in the August 2011 Ames Straw Poll, she finished a distance sixth in the Iowa caucuses the following January. After ending her presidential run, she narrowly ran reelection to the House, running almost 10 points behind Mitt Romney in her district. Since then her political star has fizzled.
In retrospect, during the rise of the Tea Party in the media and the Iowa straw poll, she was almost unstoppable. She had the chops, the communication skills, the ambition, the fundraising prowess, and the likeability to be a transformative leader for the Republican Party: someone with as much charm as but more experience than Sarah Palin, and with the same wonkiness as -- but broader national appeal than -- Paul Ryan. If only she'd been able to carry Tea Party momentum -- an important but relatively small piece of the American people -- on to a larger voting bloc over a longer period of time. But her attempt to do so, through the presidential run, proved to be her downfall. She announced her retirement amid investigations into whether her campaign failed to comply with Federal Election Commission rules.
If only Bachmann had waited longer, said less, and accomplished more. Unfortunately, her biggest asset -- herself -- turned out to be her biggest nemesis. When James Carville is sad to see Bachmann retire and her departure relieves the "headache" of GOP leaders -- both for nearly identical reasons, well, that's not a good thing. Bachmann was a leader on several important conservative stands, most prominently Obamacare, but in her hurry to become something she didn't yet have experience for, she failed to beef up the resume that would have helped her accomplish that goal.
As I wrote here during her presidential bid, "Bachmann's presidential intentions also contradict the message of change she's been championing since her election [...] Now she can finally transform her passion for issues like taxes and spending into legislation that can pass. For her to look toward the presidency now is to lay aside the opportunities provided by the new Congress just as she finally has power to create change within its halls." It's still unclear why a woman with two law degrees, experience as a tax lawyer, a compelling personal story, and probably more determination than half of the conservatives in the U.S. House combined ended up resorting to gaffes like insinuating the president was anti-American and implying that Governor Rick Perry's support for HPV vaccinations had caused mental retardation.
Between her impatience, inexperience, and inconceivable gaffes, Bachmann -- and fellow conservatives who loved her -- missed out on the opportunity to see what she could become, to grab hold of the hope she might have offered for conservative ideals. It's not only her loss, but a loss for conservatives as well.