John Yoo Objects to 'Ideological' Desire to Avoid Killing Innocents
Moral decay in an age of terrorism.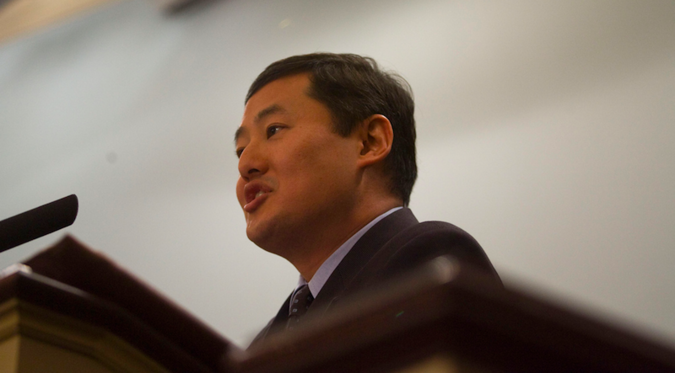 Commenting on Thursday's big counterterrorism speech, John Yoo
decides
that President Obama isn't being hawkish enough in the War on Terror. "Now, the U.S. will only use drone strikes against terrorists who 'pose a continuing, imminent threat to U.S. persons,' where there is a 'near certainty' that the target is present, and there is a 'near certainty' that civilians 'will not be injured or killed,'" he complains. "The president risks rendering impossible the only element of his counterterrorism strategy that has bred success." He goes on to point out that "there is almost never a 'near certainty' that a target is the person we think he is and that he is located where we think," an argument normally used by drone war critics, and suggests, perhaps presciently, that "Obama either is imposing a far too strict level of proof on our military and intelligence officers or the standards will be rarely followed." Yoo further worries that "if the U.S. publicly announces that it will not attack terrorists if civilian casualties will result, terrorists will always meet and travel in entourages of innocent family members and others -- a tactic adopted by potential targets of Israeli targeted killings in the West Bank." That brings us to the part that just kills me.
Said Yoo:
Neither of these standards -- near certainty of the identity of the target or of zero civilian casualties -- applies to wartime operations. President Obama is placing impossible conditions on the use of force for what can only be assumed to be ideological reasons.

Yes, of course. What possible reason could a president have for taking great care to avoid ordering the death of innocent people, other than ideology? I can't think of any. How shameful that policy-making is so ideological these days. You can't even shoot Hellfire missiles at foreigners whose identities you're not quite sure about anymore, just because they might be innocent. And to think I mocked the folks who accused Obama of having a Kenyan, anti-colonial worldview. Next you'll tell me that he issued a blanket rule against crushing child testicles.
Reuters