Is This the End of Eric Holder's Tenure at the Justice Department?
Benghazi, the IRS, and now the AP phone-records bombshell: If Obama wants a symbol of accountability in a time of scandal, the attorney general is the only one left to fire.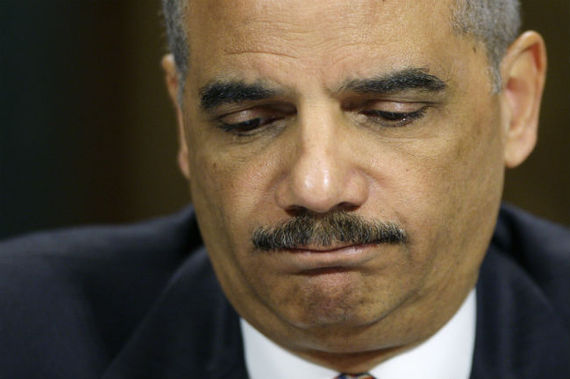 Jonathan Ernst/Reuters
The bombshell disclosure that the Justice Department secretly obtained two months of telephone records of Associated Press reporters and editors could be dramatic enough to move even the phlegmatic Obama administration to action. Three concurrent scandals or controversies are just too many. Could that mean we will be bidding farewell soon to Attorney General Eric Holder?
Think about it. Secretary of State Hillary Clinton, CIA director David Petraeus and Defense Secretary Leon Panetta all were in place on Sept. 11, 2012, when four Americans were killed in a terrorist attack in Benghazi. But now all of them are out of office and out of reach to be forced out for symbolic accountability purposes. And any of those departures would have been symbolic, since none of them have been held personally responsible for any failures.
There's a similar situation at the Internal Revenue Service, enmeshed in a developing scandal for subjecting groups with "tea party" and "patriot" in their names to extra scrutiny starting in 2010. The IRS commissioner at the time was Douglas Shulman, a Bush appointee who departed last November, right after the election. The acting commissioner is a 25-year veteran named Steven Miller. It wouldn't make much of a splash to force him to step aside for another acting commissioner. (Update: That's not to say there aren't questions about his role. The Washington Post reported Monday night that Miller, like Shulman, learned of the targeting problem in May 2012 but did not share the information with Congress).
Which brings us to Holder. The attorney general has been in the middle of controversies over whether to shut down Guantanamo Bay prison and whether to try suspected terrorists in U.S. courts. He has defended the U.S. right to wage drone strikes, to stage the raid that killed Osama bin Laden, and to use lethal force against a leader of al-Qaida who was also U.S. citizen.
He also was a lightning rod for conservative complaints about Fast and Furious, a federal sting that allowed U.S. weapons to fall into the hands of suspected gun smugglers on the theory that they could then be tracked to Mexican drug cartels. Instead, hundreds of the guns went missing, and many of them have been linked to crimes. One of them was the December 2010 killing of Brian Terry, a border patrol agent. Holder ended up being held in contempt of Congress, although he was not directly involved in the operation, run by the Bureau of Alcohol, Tobacco and Firearms.
Now we have the phone-records case, which the AP labeled a "massive and unprecedented intrusion" into its constitutional rights to gather and report the news . The news service suggested the move may have been part of a criminal investigation into who leaked the AP information about a CIA operation in Yemen that blocked an al-Qaida plan to explode a bomb on a plane headed for America. The story was published last year on May 7.
It is unclear how Holder fits into the latest firestorm, but he's a battered survivor of many controversies and this could be the one that finally convinces him or Obama that it's time to go.