IRS, AP subpoena, Benghazi--and the Turkish Prime Minister Makes Obama's Life Worse
The president's Rose Garden press conference.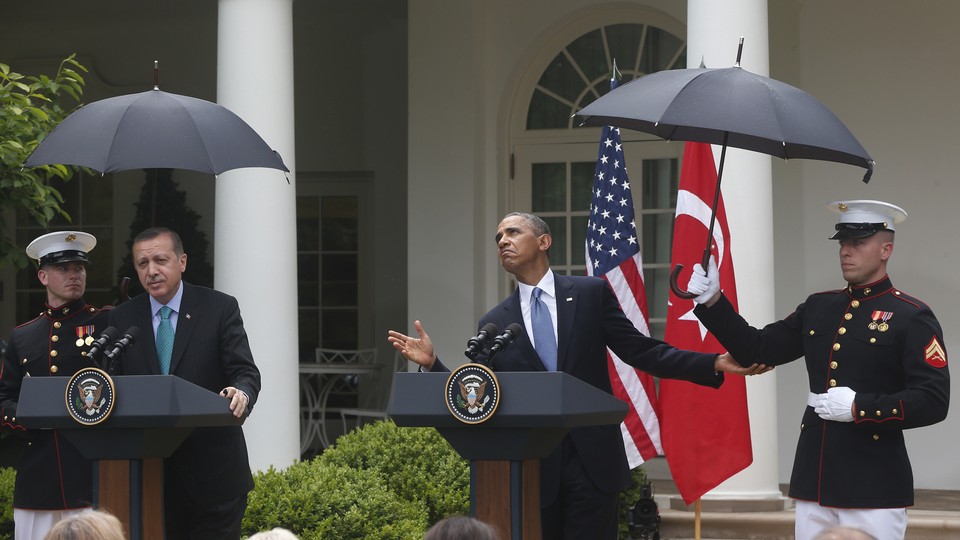 President Obama had a hard enough time with the IRS mess, Benghazi, and monitoring Associated Press journalists. But as he faced reporters on Thursday, Obama heard Turkish Prime Minister Recep Tayyip Erdogan discuss plans to travel to Gaza and the West Bank next month after specifically being asked not to by the U.S. government.
Just last month, Secretary of State John Kerry asked the Turkish prime minister to delay or cancel his trip because of its implications to the Middle East peace process.
Still, the prime minister confirmed his intentions to make the trip, saying it will "contribute to the peace in Gaza." The U.S. fears that the trip will empower Hamas and could disrupt any progress that Turkey and Israel have made in recent months.
"I place a lot of significance on this visit in terms of peace in the Middle East," Erdogan said. "This visit in no way means favoring of one or the other. I'm hoping that that visit will contribute to unity in Palestine first of all. This is something that I focus on very much."
However, much the president spent much of the press conference battling questions surrounding the other big news of the week — the IRS targeting conservative groups, the administration's response to the attack in Benghazi, and the Justice Department seizing phone records from the Associated Press. He also battled the rain.
With so many scandals in the news recently, it was only fitting for one reporter to draw a comparison to Watergate and Richard Nixon. The president deflected the question.
"I'll let you guys engage in those comparisons," Obama said. "You can go ahead and read the history I think and draw your own conclusions. My concern is making sure that if there's a problem, in the government, that we fix it."
Obama vowed punish any IRS official who was involved in the unfair targeting of groups with "tea party" or "patriot" in its name, while also expressing "complete confidence" in Attorney General Eric Holder, who has been the target of widespread criticism from Republican lawmakers.
"My main concern is fixing a problem," Obama said. "It is just simply unacceptable for there to even be a hint of partisanship or ideology when it comes to the application of our tax laws."
The president also said he makes "no apologies" for the controversy surrounding the Justice Department monitoring journalists to investigate a possible national security leak.
"The American people would expect me as commander-in-chief not to be concerned about information that might compromise their missions or might get them killed."
He said, however, that a free and open press is vital to a democracy and pushed Congress to pass a law that would allow reports to protect their sources in many of these stories. Additionally, the president called on Congress to fully fund his administration's budget request to secure embassy security, in response to questions on Benghazi.