If Democrats Can't Beat a Confessed Adulterer, What Chance Do They Have?
Mark Sanford's win in South Carolina shows how difficult it will be for liberals to reclaim control of the House.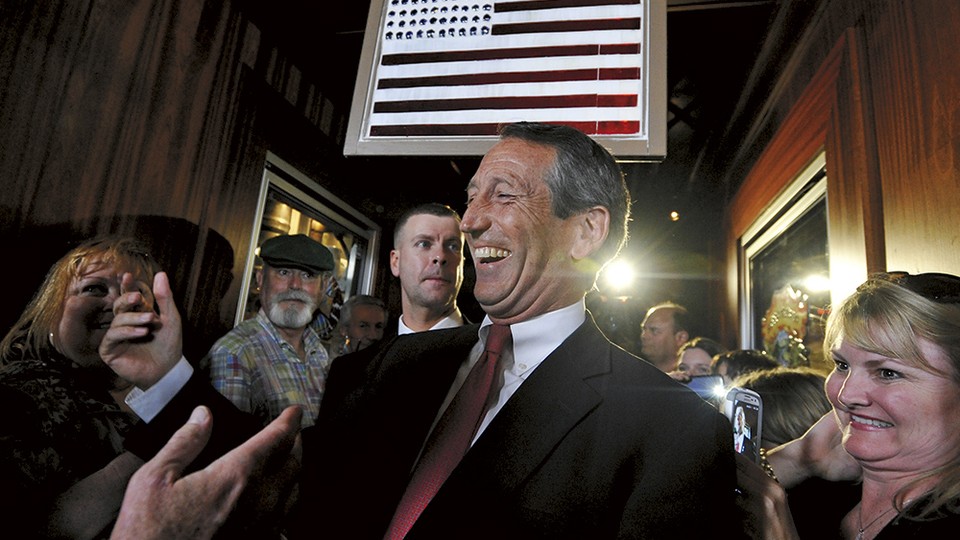 Democrats were poised for an unlikely upset in South Carolina. The Republican candidate in the special House election, former Gov. Mark Sanford, had been abandoned by the National Republican Congressional Committee. His past indiscretions ("Hiking the Appalachian Trail") were already well-known, and GOP officials were worried that more damaging details about the strained relationship with his ex-wife would emerge before the election. Democrats, meanwhile, were spending more than $1 million backing their nominee, Elizabeth Colbert Busch, a local businesswoman who looked tailored to take advantage of Sanford's shortcomings.
But when the votes were counted on Tuesday, Colbert Busch and her well-funded backers were shocked. Not only had she lost, she had lost big, receiving only 45 percent of the Low Country's vote. The disgraced ex-governor had romped to a nearly double-digit victory.
Special House election are notoriously poor predictors of the coming election cycle, and the most recent battle says almost nothing about the politics of guns, the budget, immigration, or other political issues. But it does underscore a troubling reality for Democrats as they prepare for 2014: Even when represented by personally flawed Republicans, red House districts remain almost impenetrable for their party's candidates.
The reason, Republicans say and some Democrats acknowledge, is straightforward. Whatever other circumstances might cloud a race, Republicans can still argue that Democratic candidates will be nothing more than stooges for House Minority Leader Nancy Pelosi. Sanford made the point frequently in his own campaign, particularly during the race's final weeks. Most memorably, he held a mock debate with a cardboard cut-out of the Democratic leader. Even the tawdry details of Sanford's past failed to make the race about him.
Trashing Pelosi is an old trick for the GOP. During the wave election of 2010, House Republicans frequently used the then-House speaker as a cudgel against Democratic incumbents and challengers, arguing that a vote for their local Democrat amounted to a vote for the "San Francisco liberal." Afterward, some Democrats urged the caucus to remove Pelosi as leader to deny Republicans a politically potent symbol. The caucus declined, thanks at least in part to her prodigious capacity for fundraising.
One national Republican strategist who works on House races said that the intensity of dislike for Pelosi has dissipated since the last midterm race. But she remains a valuable target, in part because attacks against President Obama — notably less present during Sanford's campaign — risk driving up turnout among Democratic-leaning African-American voters.
"What we saw, especially in this race, and polling we're seeing in every single congressional race, is she is still an especially polarizing figure for the electorate," the Republican said. "Democrats have helped us by [keeping] this Nancy Pelosi/Darth Vader image alive by keeping her in leadership. So it's not out of the realm of possibility that if she's still the minority leader, she would be the next speaker if they get the gavel back."
Pelosi isn't as inviting a target in more-moderate districts. But because of where most congressional contests will take place next year, she doesn't have to be. Only five House Republicans represent districts that lean Democratic, according to The Cook Political Report's Partisan Voter Index. Which means that if the party plans to retake the majority, or even make significant gains, it needs to target conservatives in red-leaning districts.
Democrats remain confident such a plan of attack is plausible, even after Tuesday's defeat. The Palmetto State's 1st Congressional District is far more heavily Republican than most, they argue. (GOP presidential nominee Mitt Romney won it by 18 points in 2012.) In fact, 119 House Republicans represent districts that are more Democratic than Sanford's.
And, as often happens after a loss, Democrats say that Colbert Busch was far from the perfect candidate. Even some Republicans, instead of blaming an unpopular national party, say a Democratic candidate with a more conservative agenda and stronger ability to engage in retail politics would have performed far better than Colbert Busch did. "She was essentially hiding the entire time," said Guy Harrison, a former NRCC executive director. "You can't beat something with nothing."
Republicans have touted the fact that the Democratic Congressional Campaign Committee, the House Majority PAC, and other groups outspent their Republican counterparts by 5-to-1 in the race, money they gleefully suggest was wasted. (DCCC officials counter that the money was raised with the express purpose of running ads against Sanford, so the group didn't lose any resources that could have been used elsewhere.) But up against an undeniably difficult congressional map, Democrats might not have many better chances. "From our perspective, this was an opportunity that presented itself, and we took it," said Andy Stone, spokesman for Majority PAC. "If we're talking about picking up seats, we can't shy away from red districts."
The Democratic PAC plans to stay aggressive in red districts, Stone added. The problem is, when his party's candidates run in such districts, they often hit a wall.