Ending the Culture of Impunity on Military Rape
Some legislators want to upend the system of military justice, which led to 238 convictions last year out of an estimated 26,000 sexual assaults within the Armed Forces.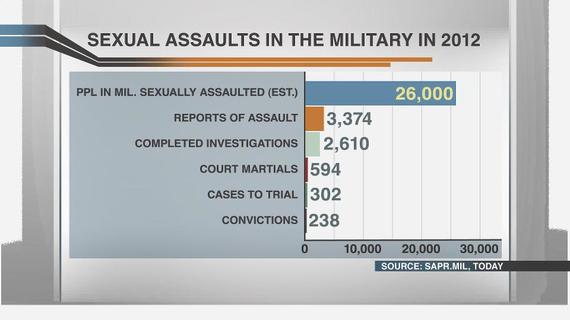 MSNBC
Imagine if American troops stationed in Iraq and Afghanistan were formally charged with raping 3,374 local women a year in places like Fallujah, Baghdad, and Kabul.
The international outcry would make the one that followed Abu Ghraib look like the mewling of a kitten. Scandal and dishonor would follow the perpetrators to the end of their days and be written tens of pages deep into Google, as well as the history books. The secretary of defense and the president would take abrupt and decisive action to restore order in the ranks and reassert a demand for moral conduct and respect for the rights of women. The courts martial would flow.
Instead, because Americans troops stationed around the world are charged with sexually assaulting fellow Americans who are also members of the Armed Forces, rather than civilians, their crimes have for too long been swept under the rug of national security and chain of command.
Of 3,374 reported cases of sexual assault in 2012, only 238 convictions were handed down, according to
the annual Department of Defense report to Congress
released Tuesday. Meanwhile, the Pentagon's anonymous surveys of members of the military led it to estimate that more than 26,000 women and men were sexually assaulted in the U.S. Armed Forces last year. That number represents a sharp jump from the previous year's estimate of 19,000 assaults. (In the wake of the growing attention to the problem of military sexual assault, thanks in part to the release of the documentary
Invisible War
last year, some of that increase may be due to greater willingness of assault survivors to speak up about what they've experienced -- something the Pentagon says it wants them to do.)
The basic problem with the military justice system in cases of sexual assault -- as outlined in horrific detail by the military women and experts featured in
Invisible War
and by members of Congress during hearings -- is that it combines the dynamics of the workplace with the problem of crime investigation. A woman who is assaulted and wants redress has to report the crime to her commanding officer -- her boss -- and press charges against one of her colleagues in the military, often someone who also works for her boss, all the while continuing to live near her attacker in a thick soup of overlapping interpersonal and professional relationships between her and his friends. The commanding officer, in turn, is held responsible for crimes committed in his unit, and penalized if a flood of reports and convictions come in, as they are seen as a negative reflection on his leadership. And it's entirely up to him whether or not to push forward with taking a complaint to trail; he also has power to overturn convictions without explanation. Adding insult to injury, women seeking to bring charges may fall afoul of military codes punishing adultery and can face court martial themselves. In short, the system is a mess, resulting in what critics call a culture of impunity
in which serial rapists are allowed to flourish
.
I say serial rapists advisedly, because there's a great deal of research showing that far from being a mistake perpetrated by basically decent guys who fall afoul of the consent line one time, most rapists are serial predators who commit a large number of offenses before being convicted for one of them.
Studies of civilians convicted of rape
show that the average convicted rapist is responsible for seven to 11 sexual assaults, and that
undetected rapists
who prey on people they know also tend to be serial predators and approach their victims with a great deal of premeditation. The more we have learned about the nature of sexual predation, the more it becomes clear that it is pattern behavior by a small minority of men that if not caught and prosecuted too often is repeated. And women in the military are like women in college -- in the age range at which sexual predation against them is highest, housed in close proximity to men too young or clever to have been previously convicted, and forced by their environment to seek redress within a system of justice that bears little resemblance to the regular legal system. No wonder 62 percent of military women report experiencing social, professional, or administrative retaliation after reporting a sexual assault.
More than a year after
Invisible War
began the conversation, and days after the Pentagon report was released, there is new high-level attention on how to address the problem.
"For those who are
in
uniform who have experienced sexual assault,
I
want
them
to
hear
directly
from
their
 c
ommander
-i
n
-chief that
I
've got
their
backs.
I
will support
them
," President Obama said Tuesday. "And we're not going
to
tolerate this stuff and there will be accountability." On Thursday, senior White House aides Valerie Jarrett and Tina Tchen held a meeting with a bipartisan group of 16 members of Congress to begin what will be "an ongoing dialog, for sure," according to a White House official.
"At the meeting, the White House reiterated the president and Defense Secretary Chuck Hagel's statements from earlier this week that sexual assault is a crime and will not be tolerated in the U.S. military," according to the official read-out. "Overall, the White House has made the health of the force a top priority, and will be working with the Department of Defense on results and accountability on efforts to eliminate sexual assault in the military. The group discussed various legislative proposals as well as actions that the Administration could take to hold offenders accountable, improve the reporting process, support victims, and work towards the prevention of sexual assault."
There are three main legislative proposals on the table -- or about to be on the table -- about how to address the problem.
* Democratic New York Sen.
Kirsten Gillibrand
, who was at the White House meeting today, plans to formally introduce legislation next week. Her bill, which she's working in with Democratic Sen. Barbara Boxer of California, will take the most aggressive approach to reforming the system of adjudicating sexual assaults within the military. It's also likely to be the most controversial of the bunch, in that it proposes taking commanding officers out of the picture when it comes to the decision about whether to take serious assault cases to trial -- something Hagel
has said he opposes
-- replacing their judgment with that of experienced trial prosecutors. The bill would also codify a change Hagel already has proposed, amending the Uniform Code of Military Justice, according to a Gillibrand aide, "so that the convening authority may not (a) set aside a guilty finding or (b) change a finding of guilty to a lesser included offense."
* New Hampshire Sen. Kelly Ayotte and Sen. Patty Murray of Washington
on Tuesday introduced
the Combating Military Sexual Assault (MSA) Act of 2013. This proposal would strengthen assault-prevention efforts, create Special Victims' Counsels to help survivors navigate the legal process, and automatically trigger referral of sexual-assault cases to the court-martial level or "next superior competent authority when there is a conflict of interest in the immediate chain of command." Rep. Tim Ryan, Democrat of Ohio, plans to introduce a companion bill in the House.
* Also in the House, Republican Mike Turner of Ohio and Democrat Niki Tsongas of Massachusetts, the chairs of the Military Sexual Assault Prevention Caucus,
have introduced
"the Better Enforcement for Sexual Assault Free Environments Act of 2013 (BE SAFE) Act." The act "requires that a person found guilty of an offense of rape, sexual assault, forcible sodomy, or an attempt to commit any of those offenses receive a punishment that includes, at a minimum, a dismissal or dishonorable discharge" and
reforms
the Uniform Code of Military Justice so that it's no longer possible to lessen sentences or set aside convictions of those convicted of serious sex crimes.