Does Michigan's Emergency-Manager Law Disenfranchise Black Citizens?
A state law provides for takeover of cities with troubled finances. It just happens that the worst-hit places are also the poorest and blackest.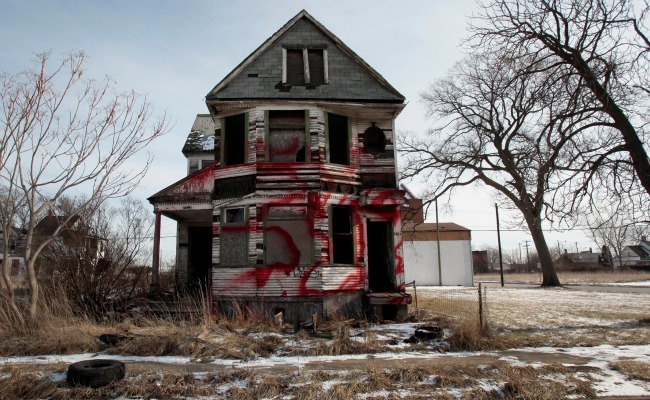 Rebecca Cook/Reuters
In Michigan, emergency skews black.
State-appointed emergency managers currently run Detroit along with five other Michigan cities and three school districts. While the cities under emergency management together contain just nine percent of Michigan's population, they contain, notably, about half of the state's African-American residents.
Michigan's Public Act 436 allows the governor to appoint emergency managers with near-absolute power in cash-strapped cities, towns, and school districts. Emergency managers can supersede local ordinances, sell city assets, and break union contracts -- leaving local elected officials without real authority.
"It totally decimates democracy," Detroit resident Catherine Phillips says of state takeover. "We have the right by federal law to allow us to go and choose by way of voting who we want to represent us in municipalities and school districts. By implementation of this dictator law, they have taken that right away."
Phillips is a plaintiff in a lawsuit filed in March against the state. She and a group of politicians, unions, activists, and residents from affected districts argue that PA 436 violates their constitutional right to equal protection.
The suit highlights the paradox of American municipal governance. Local government is deeply ingrained in the ethos of American democracy, from colonial-era New England town hall meetings to New York City's experiment with people-powered budgeting. But it is not an inalienable right. The U.S. Constitution guarantees all states a "republican government," but gives states power to grant -- or not grant -- home rule to municipalities.
Governor Rick Snyder, a Republican, contends that the state has an obligation to make sure local governments are on solid fiscal footing. Despite the demographic disproportions in the affected cities, it's unlikely that discrimination has motivated the governor's EM appointments. The areas under emergency management are some of Michigan's largest clusters of concentrated poverty, ravaged by decades of deindustrialization.
Discrimination aside, the Michigan appointments -- whether constitutional or not -- set a troubling precedent by curtailing local representation in the state's most chronically impoverished cities.
PA 436 passed late last year shortly after a statewide referendum overturned a previous version -- PA 4, signed into law by Snyder in 2011. Before PA 4 and PA 436, emergency managers existed in Michigan but with narrower authority; the governor and his supporters argued the existing law didn't give emergency managers the tools needed to do their job effectively.
Under PA 436, Michigan can conduct a financial review of any locality that meets one of more than a dozen criteria, such as a poor long-term debt rating, a missed payment to a pension fund, or evidence of "probable financial stress" in the estimation of the state treasurer. Based on the review, the governor decides whether there is a financial emergency. A locality can try to evade emergency management through several mechanisms, but the state gets the final word.
The plaintiffs in the lawsuit against PA 436 are from Detroit, Pontiac, Benton Harbor, Flint, and the Detroit Public Schools, but if the law is found unconstitutional, it will affect all Michigan districts under emergency management. The suit makes 11 claims against PA 436. Among them, it says the law violates the due process right to collectively bargain and elect officials with legislative power; that it violates the Voting Rights Act; and that it violates citizens' right to petition government.
Most importantly, they argue that the law violates the constitutional right to equal protection. Since they can't vote for officials who have real power, citizens living under emergency management have their votes diluted.
"The provisions of PA 436 and the powers granted thereby, are not necessary, narrowly tailored, rationally, or otherwise lawfully related to achieving the asserted government interests of achieving local government financial stability," the plaintiffs' complaint reads.
State officials said that they are unable to comment on the specifics of pending litigation, but maintain that the law is constitutional.
"Local governments are subdivisions of the state, and the governor -- an elected official -- has a clear constitutional role and responsibility in addressing these financial emergencies and protecting the health, safety and welfare of residents," Snyder spokeswoman Sara Wurfel said in a statement.
Robert Sedler, distinguished professor of law at Wayne State University, says the most compelling of plaintiffs' charges is that PA 436 violates their right to self-governance.
"It raises a question of equal protection," Sedler says. "Has the state improperly discriminated between voters in places -- like say Southfield where I live -- where they have complete control over their local government ... and cities like Detroit?"
To win the case, though, plaintiffs will have to do more than prove that PA 436 disproportionately impacts certain groups. The government doesn't have to treat all of its citizens exactly the same; the question is whether the government's interest (financial stability, in this case) is important enough to justify treating citizens differently, and whether the law is an appropriate way of protecting that interest.
"It is a question of whether the state has a sufficiently important interest to override self-governance," Sedler says.
A federal court will decide. Defendants turn in their pleading to U.S. district court on May 14. But even if the law is upheld, it doesn't mean all is well in Michigan.
There's a long precedent for state intervention in cities with busted budgets. The state takeover of near-bankrupt New York in the 1970s might be the best-known example. Right now, Harrisburg, Pennsylvania; Atlantic City, New Jersey; and Nassau County, New York, are also under state control.
Michigan stands out not just for the number of cities with emergency managers, but also for the scope of takeover. State control is traditionally limited to finances, but in Michigan emergency managers have the authority to handle all city affairs, and they have exercised it. In Benton Harbor, former EM Joe Harris issued an order stating that without his approval, city officials weren't allowed to do anything more than call a meeting and approve minutes.
Whether in Harrisburg or Benton Harbor, the logic of state intervention is that local officials are culpable for a city's budget crisis -- or at least incapable of solving it. If your captain is sailing your ship toward the rocks, you better get a new captain.
"Making difficult political decisions can be very trying for elected officials," says Terry Stanton, spokesman for the Michigan Department of Treasury. In most cases, emergency managers have taken the reins from local officials who had "the inability and in some cases the unwillingness ... to address the problem they face," he says.
The change can be productive for cities in crisis, says Mark Funkhouser, director of the Governing Institute, citing New York in the 1970s and Philadelphia and Washington, D.C., in the 1990s.
"Those are all cases where I think some sort of state intervention -- or in the case of D.C., federal intervention -- some sort of control board or oversight agency actually contributed to a turnaround for the city," he said.
In each case, local sovereignty was infringed -- but Funkhouser argues it was inescapable. "If you screw up your finances bad enough, you are going to lose your sovereignty for awhile," he says. "If you stop paying the rent, you're going be out on the street, and you're not going be able to say 'Well I want to live here, I want to live there, I want to do this, I want to buy a pizza.'"
But much like Funkhouser's delinquent renters, cities can fall victim to events beyond their control.
"To understand Detroit requires going back to the immediate post-World War II years," says Thomas Sugrue, professor of history and sociology at the University of Pennsylvania and author of The Origins of the Urban Crisis: Race and Inequality in Postwar Detroit. That's when industry began to leave the city for lower-wage areas, and metro Detroit saw "rapid and almost galactic suburbanization."
Detroit lost hundreds of thousands of jobs, and discrimination determined who was able to follow them out. "The vast majority of the people who moved out of Detroit were white," Sugrue says. "So what you see left behind is a population that is poorer, more likely to be underemployed or working class, and more subject to the vagaries of the economy."
While the process was especially stark in Detroit, deindustrialization hammered most Northern and Midwestern manufacturing cities. On top of that, Michigan cities have lost income from local taxes and state revenue sharing during the recession -- making it nearly impossible to stanch the decline for now.
It all suggests that financial health depends upon more than the captain who is steering the ship.
Terry Stanton, the treasury spokesman, seems to agree. "You've got, in many cases, local units that have seen a loss of residents, a loss of tax base, a drop in property values. Those are the big drivers," he says. Despite these structural issues, Stanton argues that state intervention is justified.
"Local units are components of the state, and the state has a responsibility to ensure that they are financially stable," he says.
Legally speaking he may not be wrong, but that's precisely the problem. Plaintiffs point out that all but one of the Michigan cities under state control have poverty rates at least double the state average. If population loss and a depleted tax base can prompt emergency management, does that mean local government is a luxury poor people can't afford?
If so, it would be a big loss for places like Detroit, Flint, Pontiac, and Benton Harbor.
"The overall health of a community depends on people's sense of having a stake in it," said David Bullock, pastor of two Detroit area churches and founder of the civic group Change Agent Consortium. "Emergency management just works against long-term stability and health for communities, because the people on the ground feel like they don't have any voice or value."
So should there never be any state intervention anywhere? That's a timeless and thorny philosophical dilemma: should autonomy be respected even if it leads to self-harm?
Opinions will always vary but regardless of the answer, it seems unfair for the autonomy question to be so sharply correlated with income. Coming in the wake of deindustrialization, recession, and persistent poverty, state intervention has disproportionately impacted the people who -- because of race and class -- have been given the least opportunity to succeed in America.
States have intervened when crises are especially acute, but in many ways the crisis is chronic. For example, although a state control board (and federal loans worth $10 billion in today's dollars) brought New York back from the brink in the 1970s, the city still has a 21 percent poverty rate -- same as it had in 1980.
Some of the Michigan cities under state control are even repeat offenders. Ecorse went into state receivership in the 1980s, Flint had an emergency manager from 2002 to 2004, and the state is currently reviewing the finances of Hamtramck, under state control from 2000 to 2007.
It would be one thing if emergency managers were effective at fixing the disinvestment at the root of cities' struggles. But since they aren't, state takeover is more a symptom of hardship than solution to it, balancing budgets but increasing the disenfranchisement of the people who -- again because of race and class -- have experienced the most of it.
"I'm old enough to remember the struggle for voting rights for African Americans," said Phillips, 55, the Detroit resident. "And still within my lifetime, I'm fighting the same battle again."