Colorado's Forgotten Senate Race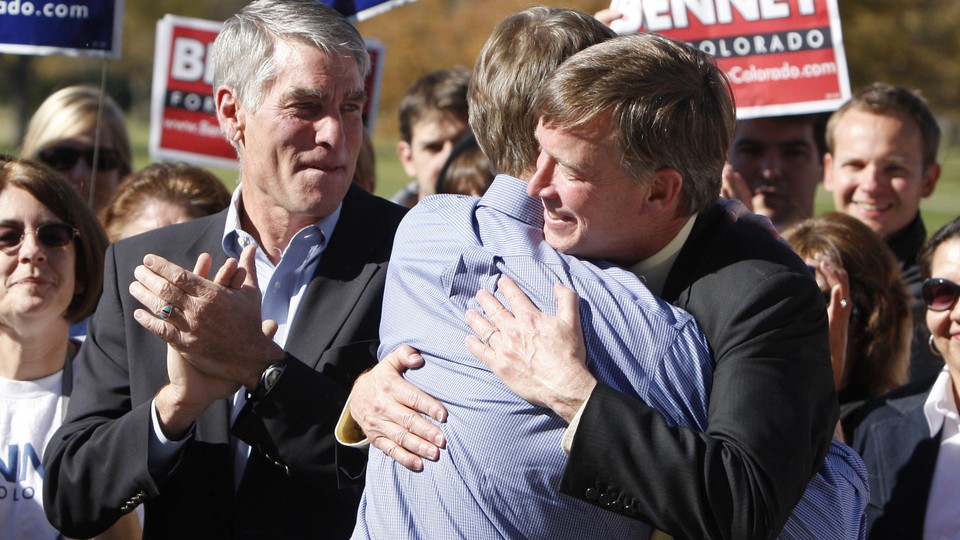 It has all the trademark ingredients of a battleground: consecutive close presidential votes, voter registration split almost equally, and a freshman senator facing his first reelection in a midterm year. But Colorado, home of Democratic Sen. Mark Udall, is turning into the forgotten Senate race of 2014.
While the state's gubernatorial race has buzzed to life in the last few weeks after an eventful legislative session and we've been treated to a steady hum of recruiting news in most other competitive Senate races throughout the country, Colorado's nascent race has been quieter even than even some states that don't have elections this year. On Wednesday, a story from KDVR in Denver illustrated why: After a rising GOP star, Rep. Cory Gardner, opted not to run, the local Fox affiliate ran through the long list of noes Republicans have gotten as they search for candidates to oppose Udall. From typical choices like state Treasurer Walker Stapleton and Gardner to more unconventional ones like former NORAD commander Gene Renuart or the state solicitor general, no one has bitten on the race yet.
"I have never seen a situation like this where an incumbent looks so vulnerable with no activity on the Republican side," said Dick Wadhams, a Republican consultant and former state party chair.
Democrats disagree about Udall's vulnerability, noting repeated recent successes for the party in Colorado, among other things. Still, the GOP's lack of even one announced candidate so far is odd, though there is still plenty of time to correct it. Colorado Republican Party chairman Ryan Call said the party has plenty of time left to find candidates. "I would say that by mid-July or mid-August, some clarity in the field would give everyone not just comfort, but would give the candidate time to build a statewide network," Call said. "That still leaves plenty of time to build a statewide challenge to Sen. Udall."
Wadhams said that others in the party may have been giving Gardner deference to mull his options and the campaign may start developing more quickly soon. But the GOP has fewer options for the Senate race than it did earlier in the year. "Now we're down to 'everybody else,'" Wadhams said. "I think [Tuesday's] announcement will probably invite several people to enter."
Former Rep. Bob Beauprez, who has said he's interested and may be the highest-profile potential candidate remaining, now comes up first in discussions of potential candidates. He badly lost the 2006 governor's race but does have statewide connections and a D.C. network to build upon. "He would be a very, very strong candidate," Call said. Several state senators are also in the mix, and Call said the party is looking to the business community for potential candidates, too.
That no one has jumped in yet is surprising given how little regard Republicans seem to have for Udall's record in the Senate. Several mocked the accomplishments Udall's team plans to tout, which include encouraging bipartisan seating arrangements at State of the Union addresses, according to the Denver Post.
"There's no issue too small for him to heroically try to take on. He's been pretty marginal as a senator," Wadhams said, before mentioning one major firewall Udall has built against a challenge. "I guess he's got a boatload of money, though."
Udall raised nearly $1.6 million in the first three months of 2013 and had more than $2.5 million already in his campaign account by the end of March.
There is another issue now looming over Republicans' recruiting efforts against Udall. One Colorado Republican strategist said that many in the party "are scared to death" that firebrand former Rep. Tom Tancredo, who announced last week that he is running for governor, will win the GOP nomination in that race after building statewide recognition as the Constitution Party candidate in 2010. That would not only cede the governorship to Democrats again, the strategist said, but it would also drive swing voters and moderates away from Republican candidates up and down the ballot in 2014, including in the Senate race.
"If he really is the Republican [governor] nominee, there's no doubt that at that point the Democrats could use him to define the Republican Party for all of the things he's done in his career that have been so divisive and negative," said the strategist.
It would certainly be eventful. So far, the Colorado Senate race has been anything but.