Americans Aren't Really Paying Attention to the Gosnell Case
Gallup pollsters report that the Kermit Gosnell case is "one of the least followed news stories Gallup has measured."
Despite conservative outcry over the extent of coverage of the trial of Kermit Gosnell (the physician charged in the death of one adult and four infants at his Philadelphia abortion clinic) and a subsequent spike in coverage of the dangerous and dirty conditions at his now-shuttered facility, Americans are paying little attention to the case, Gallup pollsters report.
There also has been no measurable shift in public opinion on abortion in the wake of his trial. The trial has become a cause célèbre among anti-abortion activists, who see it as a way to shift the abortion conversation toward a national reconsideration of the legality of late second-trimester abortions and clinic safety standards.
"Although the latest Gallup survey was conducted after much of the testimony in this trial had already been reported in the news, the stability in Americans' views about the legality of abortion suggests the trial has not swayed public opinion," the pollsters wrote in an analysis released Friday. "Part of the reason could be that relatively few Americans are paying attention to the case."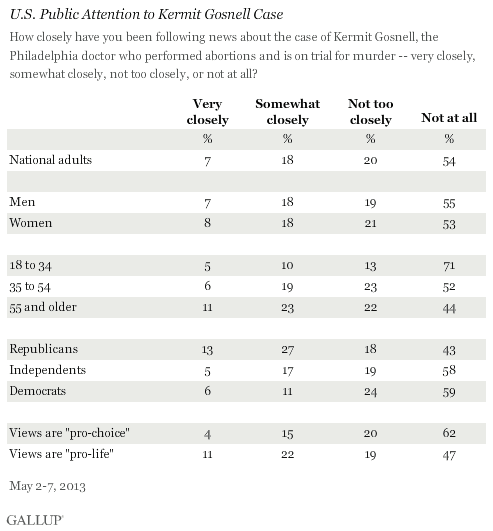 According to Gallup, "One-quarter of Americans say they have followed news of the case either very closely (seven percent) or somewhat closely (18 percent), but that is well below the 61-percent average level of attention Americans have paid to the more than 200 news stories Gallup has measured since 1991....This makes the Gosnell case one of the least followed news stories Gallup has measured."
Unsurprisingly, those most opposed to abortion are following the case most closely. Surprisingly, fewer than half (46 percent) of this older, more anti-abortion, more Republican minority—the Gosnell-story watchers—said the case had not received enough attention. Another 47 percent said it had received either too much attention (20 percent) or the right amount of coverage (27 percent). Overall, only 21 percent thought the case was receiving too little coverage—and the majority of those surveyed were not following the case, now on its ninth day of jury deliberations.