A Liberal Dilemma: NYC's Mayoral Race, Seen From Brownstone Brooklyn
A slew of Democratic contenders offering Bloomberg Lite shows why an Anthony Weiner comeback isn't such a crazy idea.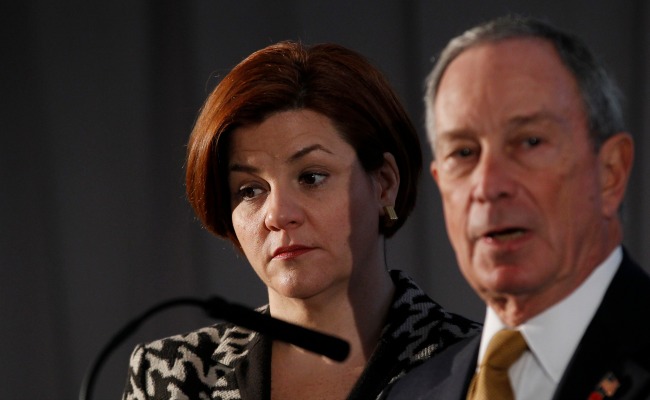 BROOKLYN -- The New York City mayoral race is still missing Park Slope's most famous son: former congressman and salacious tweeter Anthony Weiner. Weiner's spectacular meltdown and resignation from Congress in 2011 left the allegiance of liberal Brooklynites up for grabs. And so on Monday all five of the Democratic candidates for mayor, as well as two of the three Republicans, came out to Congregation Beth Elohim, a large Reform synagogue in the neighborhood, to make their case to the potential voters.
The forum featured each candidate appearing alone and being grilled by moderator and Slope resident Andrea Bernstein of WNYC for about 20 minutes. The elegant domed sanctuary can hold up to 1,200 souls, and was about two-thirds filled with an audience that was exactly what one would expect in a neighborhood famed for its obsession with organic food, canvas tote bags, and gender-neutral baby attire: diverse, but mostly white, and staunchly progressive. They were mostly of the old Slope demographic, both literally and figuratively -- a lot of gray hair and eyeglasses, and no one other than the politicos was wearing a necktie.
Susan Metz, 70, is typical of the area's first wave of gentrifiers. She has lived in neighboring Prospect Heights for 32 years, where she taught high-school English, and she is upset by the influx of richer, newer arrivals displacing her neighbors and causing, "a loss of diversity that I mourn." Asked if she belongs to Garfield Temple (as Beth Elohim is known to most Slopies) or any other congregation, she said, "I'm a member of the Food Co-op."
Metz is leaning toward Sal Albanese, a former city councilman who garnered just 2 percent in the recent Marist poll showing Weiner second in the Democratic field, behind City Council Speaker Christine Quinn, and slightly ahead of Comptroller John Liu, Public Advocate Bill De Blasio and former Comptroller Bill Thompson. Albanese grew up in Park Slope, but he hails from an even earlier wave of immigrants than the hippies who renovated brownstones: He came from Italy as a child. On the City Council, Albanese represented Bay Ridge, a largely Italian and relatively conservative enclave deeper into Brooklyn. Ironically, though, he is arguably the most liberal candidate in the race. Metz said she appreciates that Albanese "has been the most outspoken on community gardens, public schools and participatory democracy."
Short and bullet-headed, Albanese seems the most in touch with the concerns of the outer-borough working class. His signature issue is a plan to implement tolls on cars crossing bridges and tunnels in "areas well-served by mass transit," in order to fund public transportation and "keep the subway fare affordable." This would mean, of course, tolling the nearby East River crossings such as the Brooklyn and Manhattan bridges, but if anyone in the audience was offended, they kept it to themselves.
Anyone supporting Albanese has been following the race unusually closely. Most Park Slope voters are more likely split between Quinn and De Blasio, her main challenger from the left. Political observers have speculated that because Quinn would be both New York's first female mayor and first openly gay mayor, she is inoculated from criticisms that she is too conservative and too close to the business community and to Mayor Bloomberg. Park Slope, long home to a large lesbian community, is a good testing ground for that theory. (The national Lesbian Herstory Archives are in the neighborhood.) Metz, however, says the only Democratic candidate she would definitely not support is Quinn, who she dismisses as "a handmaiden for an authoritarian mayor who bought a third term."
Asked by Bernstein how she responds to those complaints, and reports that she is mean, Quinn said, "I don't think I'm mean, but I am tough." She later offered a slew of progressive accomplishments on the City Council. Some, such as tenant-protection laws and preventing teacher layoffs, might mollify some liberal skeptics. Others -- cracking down on "crisis pregnancy centers" that mask their anti-abortion agenda, and what she called "green accomplishments" -- could be construed as consistent with the claim that, like Bloomberg, Quinn uses social liberalism to win cover for economic conservatism.
But social liberalism matters to Park Slope. Diana Berger, 44, lives in the Slope and belongs to Beth Elohim, although she describes her religious affiliation as "culinary-Jewish, atheist." Clad in a light blue fleece and reading a Harry Potter novel before the event started, she said she is leaning toward Quinn for identity-politics reasons, even though Quinn disappointed her by slow-rolling the City Council's popular bill to require employers to provide paid sick leave. "I hate to admit it, [because] She's a woman, just like I'll support Hillary [Clinton]," said Berger. "But she seems progressive."
Bernstein started off by asking every candidate whether the Brooklyn Nets were right to fire head coach P.J. Carlesimo on Sunday. The candidates were almost dumbstruck, either completely unaware of who Carlesimo is or petrified of giving an off-the-cuff answer. Albanese asked Bernstein to repeat the question, then bashfully admitted, "I really don't know." Non-profit executive and Republican candidate George McDonald laughed and then stared blankly until Bernstein gave up and moved on.
But Quinn, showing some of the political adeptness that has helped vault her to the frontrunner position, joked that because her wife is an alum of Seton Hall, where Carlesimo coached for many years, she is obligated to say only good things about him. This went over extremely well with Berger who enthused after the event that Quinn was "fantastic."
"Fifty years ago, she could never have said, 'my wife,' and she came right out with it," said Berger. "That matters to me because I'm married to a woman too. Abortion also matters to me." Judging by the lack of applause, the audience seemed more pacified than enthused by Quinn. She was exceedingly careful to take vague positions on most issues. Should New York have traffic lanes dedicated solely to buses? It should be examined, she offered. "It won't make sense on every street in every neighborhood," she said, adding and that adjacent residents and businesses should be consulted. No one could possibly object -- but no one is likely to be inspired, either.
Anyone who was disappointed that the evening didn't feature Jimmy McMillan of the Rent is Too Damn High Party would have been pleased that there were two joke candidates in attendance: McDonald and John Catsimatidis. If McMillan were a white Republican in a gray business suit, he would be an amalgam of the two of them. McDonald -- the only candidate to receive no applause upon being introduced, only befuddled murmurs of "Who is he?" -- seemed unprepared to answer many of the questions. Asked what he would have done about the controversial bike lane on Prospect Park West, one block from the synagogue, if he were mayor, he gave the rather unmayoral answer: "Well, I'm not mayor."
McDonald was not always so laconic, though. He claimed that New York City public employees are the only employees who do not contribute at all to their health insurance, bringing shouts of "Not true!" from the audience. He cracked the audience up by noting that the Second Avenue subway line has been planned for so long that it was referenced as coming soon on a recent episode of Mad Men. He also offered some dramatic tales from his youth, saying that he remembered when New York was in a state of "anarchy," due to crime that was so bad that he wouldn't let his daughters walk to their corner on 84th Street and 2nd Avenue on Manhattan's Upper East Side at 9 p.m. because of the people "smoking crack on our stoop and coming in through the windows." He closed on an anecdote that 25 years ago a mafia "button man" came up to him in a "saloon" on Columbus Avenue and said, "The problem with you, McDonald, is you're too honest."
Catsimatidis looks every bit the supermarket magnate he is: heavyset and balding, with his hair in a fluffy combover. Not merely unprepared, he often appeared totally confused. When asked about Hurricane Sandy he apparently misheard and said, "Candy?" Asked what Brooklyn's greatest transportation need is, he dismissed the whole concept: "What transportation needs? You've got a great subway system."
Bernstein asked every candidate whether the nearby Barclays Center was a good project. Most offered criticism that the promised affordable housing development has not come to fruition. Catsimatidis offered only praise, saying, "I saw Barbara Streisand at the Barclays Center. She did a great job."
Catsimatidis was totally uninterested in pandering to the pro-bike crowd, taking issue with Bloomberg's alternative transportation agenda: "If people want to drive cars, God bless 'em," he declared. "That's what America is all about!" Expanding on his view that driving private cars on public roads without fear of congestion pricing is every Americans' natural right, Catsimatidis explained that he grew up "on the poor side of town, and I dreamed of owning a car. What kind of a car did I dream of owning? A [Pontiac] GTO. Why a GTO? That's what I wanted .... We should not restrict people from having dreams."
The most perplexing segment of the evening came shortly thereafter, when Catsimatidis attacked Quinn for wanting garbage depots to be more evenly spread throughout the city rather than concentrated in poor neighborhoods. Catsimatidis argued that such facilities should be located in less densely populated areas, noting, "If you smell germs, you could get sick," and musing, "What is the definition of smell?"
Catsimatidis is unlikely to have won any votes Monday night, but De Blasio may have. De Blasio seems to embody the white-collar progressive ethos of the area. Dawn Young, 27, an African-American accountant who lives in Windsor Terrace, to Park Slope's southwest, and originally hails from St. Louis, will be voting in her first New York City election this fall. She said she came mainly to hear from De Blasio because, "His politics are more in line with mine."
New York City's Democratic primaries-- all that are likely to matter this year -- are as much about race and geography as ideology. In that way, Quinn is very much cut from the same cloth as many recent mayors: Like Ed Koch, Rudy Giuliani, and Mike Bloomberg, she grew up mostly outside the city and has lived in Manhattan since her arrival. Her main competitors would break with that tradition. Thompson, who is Caribbean-American, grew up in Bedford-Stuyvesant, later lived in Park Slope, and served as Brooklyn deputy borough president. De Blasio lives in Park Slope, which he represented on the City Council. He even has a dose of gender equality street cred to compete with Quinn: his wife, who is African-American, was a lesbian and gay-rights activist in her youth.
De Blasio also presented the most forceful and wonky left-leaning critique of the Bloomberg/Quinn years, emphasizing his commitment to creating more affordable housing to combat growing inequality and displacement caused by gentrification, and blaming Quinn and Bloomberg for holding up the paid sick-leave bill. And he was the only candidate to invoke his opposition to stop-and-frisk, tying it to a larger disdain for community stakeholders that he says has infected Bloomberg's approach to everything from policing to bike lanes to school reform. De Blasio easily won the most frequent and enthusiastic applause.
Even so, it seemed that the four major contenders -- Quinn, De Blasio, Thompson and Liu -- all offered variations on the same platform. One might call it Bloomberg-lite. They are for bike lanes generally, but think communities should be better consulted and maybe some of the current lanes are misplaced. They are for test-based accountability in schools, but not as much as Bloomberg has introduced. They are for most of the mayor's public-health agenda, but some of them worry that the paternalism may be getting a little out of hand. They want crime to stay low, but to repair community-police relations. It is, perhaps, the natural reaction to the long reign of a strong-willed, high-handed, but largely successful mayor's tenure. It left one wondering whether Weiner, who made his name in New York politics with fiery condemnations of Bloomberg and other Republicans, might have an opening to run after all.