Why This Democratic Senator Won't Support Same-Sex Marriage
There are now only four Democratic senators who have not expressed support for gay marriage. Sen. Mark Pryor is likely to stay that way.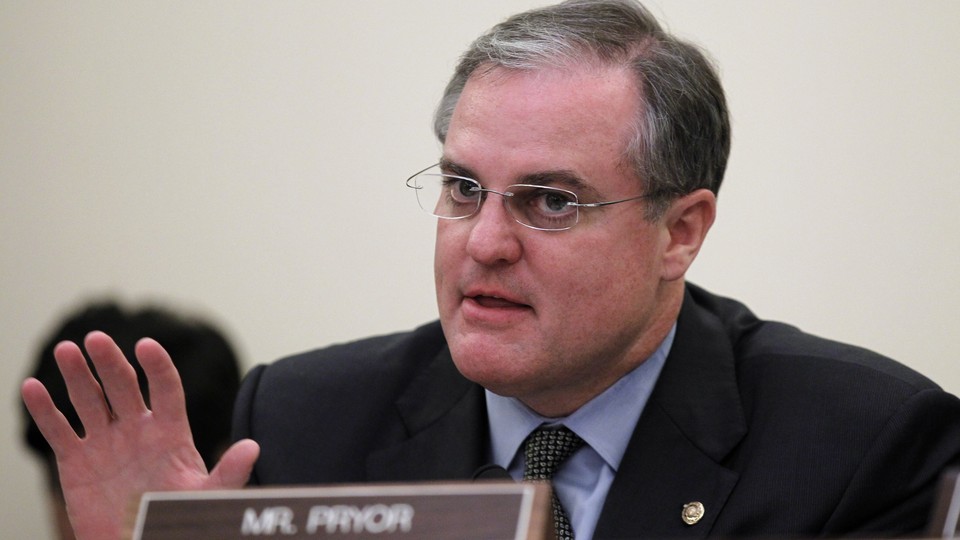 The timing of Claire McCaskill's decision wasn't coincidental. Neither were Heidi Heitkamp's and Joe Donnelly's. When the Democratic senators said they were backing same-sex marriage (McCaskill last month, Donnelly and Heitkamp just Friday), it was clear their "evolution" would carry less political import than it would have during last year's reelection campaign. Six years is a long time for voters to hold a grudge.
But the decision is harder for Democratic senators who must face voters next year. And, already, a split has emerged among a quintet of the most vulnerable members — all in Republican states — about how to approach the sensitive cultural issue. Sens. Max Baucus of Montana, Mark Begich of Alaska, and Kay Hagan of North Carolina have backed same-sex marriage; Mary Landrieu of Louisiana and Mark Pryor of Arkansas have not.
The holdouts might look like an anachronism against the seemingly inevitable tide in favor of gay marriage. But that view would be misguided: Gay-marriage politics have changed faster than anticipated, but not fast enough that the entire Democratic Caucus can yet afford to jump on board without fear of consequences. That might change in coming political cycles, but for now it hasn't, and even those senators who have come out in favor risk consequences of their own.
There's no better example of the incentive some Democrats still have to oppose gay marriage than in Arkansas, where Pryor is up for reelection. No Senate Democrat running in 2014 represents a redder state than he does — President Obama lost there by more than 20 points — and Pryor is a top GOP midterm target. Multiple Republicans, rising star Rep. Tom Cotton the most prominent among them, have publicly contemplated a campaign against him.
While Democrats such as Landrieu have publicly ruminated about their position (the Louisianan has said she personally doesn't want to get in the way of two people who love each other, even as she concedes that most of her constituents feel differently), Pryor's dissents have been concise and firm. A spokesman told local media in Arkansas that the senator has a "moral belief that marriage is between a man and a woman."
The issue is twofold for Pryor. First, gay marriage simply isn't popular in conservative Arkansas. While the legislatures of many liberal states move to legalize it, lawmakers in the Razorback State approved a resolution earlier this year reaffirming their support of a statewide ban. (In 2004, 75 percent of the state's voters supported banning same-sex marriage.) Reliable public polling on the issue in Arkansas is scarce, but there's little doubt gay marriage remains unpopular. Keith Emis, a GOP consultant who does work for Cotton, estimated that only about one in three voters in next year's general election would back it. "You can't be for gay marriage and be a statewide elected official in Arkansas," he said.
More important, however, is the effect the issue has on Pryor's image. Gay marriage alone might not be enough to move voters against him, but bolstering the perception that he marches in line with the national Democratic Party could. His entire strategy hinges on convincing voters he's an Arkansas Democrat, not a Washington Democrat. Any issue — such as gay marriage or, in another current debate, guns — on which he can separate himself from his party is important.
What's more, Arkansas Democrats say that even though Pryor is likely to face some backlash from members of his party, most would acknowledge he's making the right move. "There'll be some supporters, maybe some donors on the national issues, who probably have already voiced their unhappiness both to Mark and his staff," said Robert McLarty, a Democratic consultant in the state who does not work for Pryor. "I do think you just pull those people to the side and say, "˜OK, you understand where we are politically in the state?' "
Pryor's decision, of course, raises a question: Are his colleagues Baucus, Begich, and Hagan making a mistake by supporting gay marriage? They might be: In Hagan's case, North Carolina voters overwhelmingly backed a ban only last year (soon thereafter, Obama publicly backed same-sex marriage). But North Carolina, and, to a lesser degree, Alaska and Montana, are far less conservative than Arkansas.
Although gay marriage is a tricky issue for some Democrats, it's positively vexing for Republicans. The Republican National Committee's autopsy report on the 2012 elections, released last month, explicitly stated that the party needs to be more tolerant of gay people. If the party focuses on opposing same-sex marriage, it risks alienating broad swaths of the country, not to mention many of its own donors, who prefer to focus on fiscal issues. "Republicans had given no indication that they are going to run attack ads on this," said Matt Canter, spokesman for the Democratic Senatorial Campaign Committee. "They didn't last cycle, when they certainly had the opportunity. When voters care about the economy and jobs, Republicans are worried about being the party of discrimination."
Mark Pryor hasn't wanted to take that chance. When you're a red-state Democrat, safe may be better than sorry.
This story has been updated from its print version to reflect new events.