Why Obama Isn't Sweating on Social Security
Yes, liberals are angry about his compromises — but he knows they'll get over it.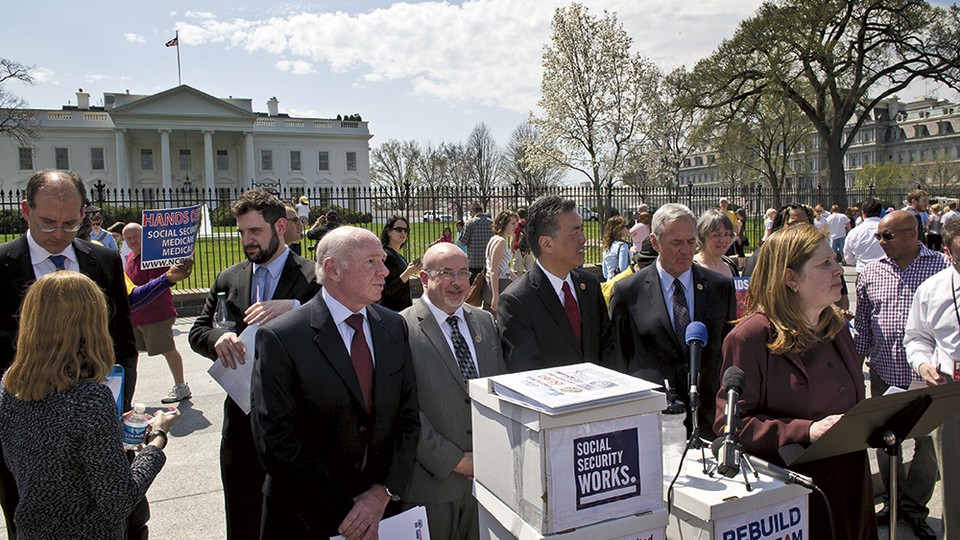 The anger at President Obama is real. So is the determination to voice it. But the threat to Social Security that provoked the liberal fury on display this week just may prove to be decidedly less than real. The betting here is that no Democrat will face any clean up-or-down vote on the measure in the coming months.
Even one of the most outspoken critics conceded that point while standing in front of the White House as one of the leaders of the progressive protest against Obama's proposal to alter the inflation formula used to compute increases in Social Security benefits. Only moments earlier, Rep. Rick Nolan, D-Minn., had begged the president to back off that part of his budget with an emotional, "Mr. President, please hear us all." But in an interview, he told National Journal that Obama doesn't expect much to come from this offer to the Republicans. "We had a meeting with the president a couple of weeks ago, and he said it's not going to happen unless the Republicans agree to substantial new revenues from the higher-income earners and corporations in the country," Nolan said. "He said that is not likely to happen. So the cuts in Social Security and Medicare are not likely to happen."
Nor was the White House pushing a different message. Aides were selling the budget, but with no enthusiasm for the Social Security plank. "It's not the president's preferred policy," insisted Jeff Zients, acting director of the Office of Management and Budget. The president added the provision as a show of good faith to Republicans who have demanded it, Zients said, underscoring that Obama's support is there only if it is "part of a balanced, comprehensive package" in which Republicans give the White House the new revenues it wants — and the president gets the large-scale bargain he seeks.
None of that lessens the genuine anger from the many liberal organizations that have mobilized in opposition to what they see as a boneheaded threat to Social Security from a Democrat they worked hard to elect. "Darn right, the White House has to deal with this anger," says Nolan, who believes the president "doesn't fully realize how important this is to so many seniors in this country." Firebrand Rep. Alan Grayson, D-Fla., even warned reporters on Wednesday that the budget "could end up dragging down the entire party." And Manny Herrmann of MoveOn.org threatened, "Any Democrat who votes to cut Social Security, Medicare, or Medicaid benefits is asking for a primary challenge."
Democrats with cooler heads expect no primary challenges and no cuts to Social Security benefits, at least as part of budget deliberations. "I have a hard time believing that 18 months from now that Democrats are going to be having a civil war on this," says Stuart Rothenberg, a respected analyst of congressional races. William Galston, who was President Clinton's chief domestic policy adviser, agrees, suggesting that Obama has outmaneuvered the Republicans who have been demanding the altered Social Security formula.
"I doubt very much, unless the issue is handled very clumsily, that anybody will ever actually have to cast a vote on this," Galston says. "People can fulminate against it, take a free shot at it. But how can this be the basis for primary challenges unless incumbents are forced to go on the record? And what's going to force them to go on the record? If the Republicans take up the idea "¦ no doubt they will package it as part of a witch's brew from the Democratic standpoint. So they don't have to drink even a sip."
That leaves the president reaping praise from the bipartisan deficit-cutting team of Alan Simpson and Erskine Bowles, who appreciate that he is promoting something anathema to his base. And it leaves Republicans trying to explain why they shouldn't have to counter Obama's offer. "The White House is already winning that message war," Galston says, pointing to surveys showing that the public views Obama as the one willing to negotiate and compromise. "Republicans are clearly on the defensive on that issue. So this isn't the opening gun in a salvo to paint Republicans as rigid, ideological, and uncompromising. It's just a continuation of what has been a pretty successful effort in the court of public opinion."
The White House also sees the inclusion of serious reforms to Social Security — and to Medicare, which the budget moves a little closer to means-testing — as critical to the president's credibility with Republicans. They have demanded that Obama demonstrate his seriousness about reform and his willingness to challenge his base. This budget quells those demands and shifts the onus to the GOP leaders.
The only downside of the move, Rothenberg notes, is that it takes a reliable political issue from the Democratic quiver. "It's hard to beat up on Republicans for cutting Social Security when the president has offered a compromise position that seems to do that." It is hard, then, to argue with Rep. Nolan when he complains, "This sure muddies the waters. Republicans have always been against Social Security. That is nothing new. But this is new for Democrats."
But if Democrats are ever forced to vote on Obama's proposal, it means that Republicans have to vote on it, too. And if the parties somehow strike a bargain, Democratic candidates may be able to reap the political gains. If no deal gets done, it's because the GOP has poisoned the package to the point where Democrats would oppose any entitlement cut. Obama is gambling that voters would reward his party for trying to do the responsible thing, even if talks ultimately go nowhere. That would represent a triumph of a healthy process over demagoguery. But if no deal is ever struck, the Left may remain less than sympathetic to the president's best intentions.