White House Calls Republican Plan to Filibuster Gun-Control Measures 'Shameful'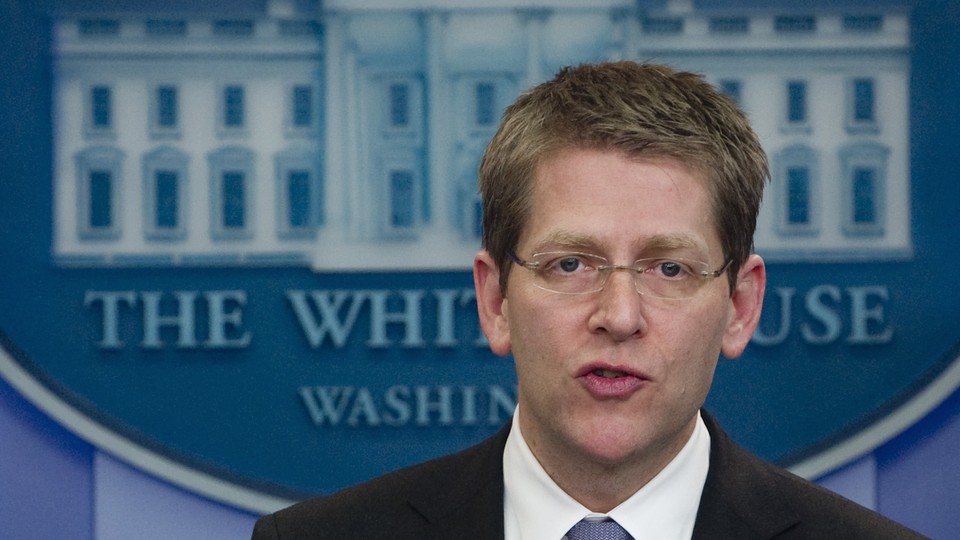 The White House hit hard Wednesday against the plans of conservative Republican senators to filibuster gun-control measures expected to come up for votes in coming weeks, with President Obama warning against "obscure procedural stunts" and Press Secretary Jay Carney calling a filibuster "shameful."
"If you want to vote no, vote no. Don't block a vote," Carney said, saying lawmakers have a responsibility to the youthful victims of gun violence. Using parliamentary tactics against the legislation is "not doing service to the memory of these kids," he said.
Carney made his comments on Air Force One, en route to Denver, where Obama intensified his push for gun legislation at an event at the Denver Police Academy, surrounded by supportive police officers. In his remarks, the president stressed both that his measures are backed by law enforcement and that the time has come for Congress to act.
"From the beginning of this effort," he said, "we've wanted law enforcement front and center in shaping the discussion and the reforms that emerge from it. Because law enforcement lives with this every day. Law enforcement are the first to see the terrible consequences of ... gun violence — lives lost, families broken, communities that are changed forever. You know what works and what doesn't, and we wanted that experience and that advice."
Looking back at the December killing of 20 children and six adults in Newtown, Conn., Obama said the country has waited 100 days for action. "But," he added, "consider this: Over those 100 days or so, more than 100 times as many Americans have fallen victim to gun violence. More than 2,000 of our fellow citizens, struck down.... " He warned that "every day we wait to do something about it, even more of our fellow citizens are stolen from our lives by a bullet from a gun."
Obama said he took his message to Denver because recent gun legislation in Colorado has made the state "a model for what's possible." He insisted that the state has proven that Second Amendment protections do not block reasonable restrictions on guns. "There doesn't have to be a conflict between protecting our citizens and protecting our Second Amendment rights," he said, striking a conciliatory tone toward critics of his proposals.
But Carney, his chief spokesman, was tougher in his comments, directing particular criticism at those who seek political gain in the guns debate. The president, he said, "doesn't look at this through a political lens. He is not asking for a vote for political reasons. He's asking for a vote because the victims of Newtown and of Aurora and Virginia Tech and the countless lesser known victims of gun violence across America deserve at least a vote."
The victims, he added, "didn't care — and their parents don't care — about the political implications of voting yes or no on these bills," he said. "They want things done that give other children more protection from this kind of violence, and that includes every measure that the president supports." Carney called it "imperative the elected officials of the American people allow all of these measures to come to a vote."
But five Republican senators — James Inhofe of Oklahoma, Rand Paul of Kentucky, Ted Cruz of Texas, Mike Lee of Utah, and Marco Rubio of Florida — have announced their intent to filibuster the guns package because they see it as a threat to the Second Amendment. The bill that Senate Majority Leader Harry Reid plans to bring to the floor would expand background checks on gun buyers, address school safety, and toughen gun-trafficking laws.