When Presidents Gather, Let the Healing Begin
Obama joins the 4 living ex-presidents today at the dedication of the George W. Bush Presidential Library and Museum.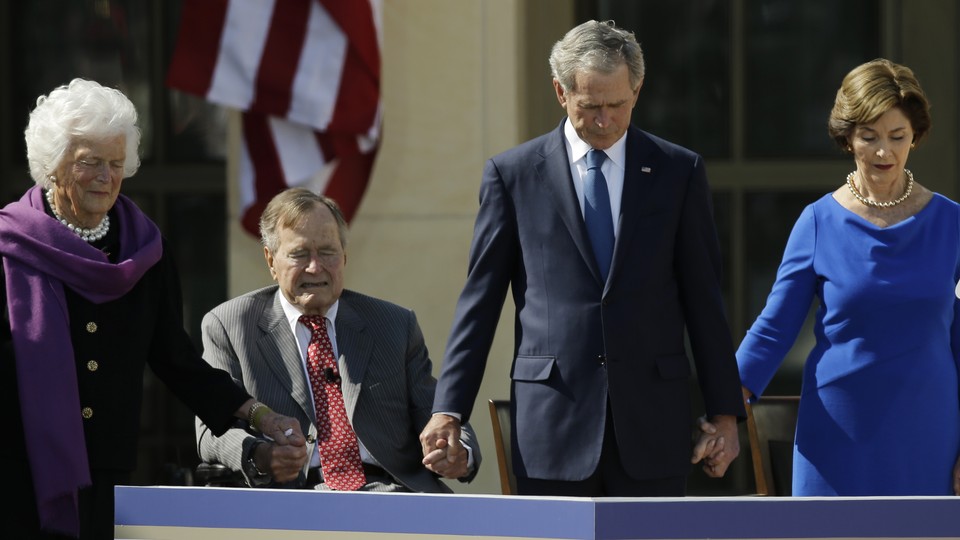 There will be a bit of history in Texas today when President Obama joins the four living ex-presidents at the dedication of the George W. Bush Presidential Library and Museum. After all, it isn't often that so many presidents are together. The picture of Bush flanked by Presidents Barack Obama, Bill Clinton, George H.W. Bush, and Jimmy Carter will likely be a hot item on eBay by the end of the week.
But history suggests that the key moments may not be reflected in that photograph. In this most exclusive club, where former rivals interact and decades-old slights can loom large, small courtesies often have big consequences and lead to surprising friendships.
There is, by any normal standard, no reason for these men to like each other. All have clashed in the past. Obama defeated Clinton's wife; Clinton defeated the elder Bush; Bush was on the ticket that defeated Carter; and the younger Bush defeated Clinton's vice president.
But, amazingly, friendships have emerged among old rivals, forged by intimate knowledge of the unique challenges of the presidency and fostered by private moments at the very few occasions they come together.
Usually, it is funerals and presidential-library dedications that draw the ex-presidents. When Egyptian leader Anwar Sadat was assassinated in 1981, President Ronald Reagan dispatched former presidents Richard Nixon, Gerald Ford, and Carter to the funeral. When they met at the White House beforehand, it was the first time in a century that four presidents had been together. Then, in 1991, when five presidents — Bush, Reagan, Carter, Ford, and Nixon — gathered for the dedication of the Reagan Presidential Library, it was the first time since 1862 that five presidents had been alive at one time and the first time that many had assembled.
At such gatherings, they almost always bring their old grievances. With time, though, the grudges do fade. It's been a long time since President Andrew Jackson stated that he had only two regrets upon leaving the White House, both involving candidates he defeated: He regretted not shooting Henry Clay and hanging John Calhoun.
Neither Bush 41 nor Clinton ever expressed a desire to shoot or hang the other. But no one anticipated the current bond between the two 1992 rivals. Bush's son, the 43rd president, calls them "the odd couple," jokingly referring to Clinton as his "brother." The relationship developed across several public events, cemented in 2005 when Clinton and the senior Bush flew to Thailand to lead relief efforts for a tsunami. Clinton was courteous and considerate to the older ex-president, insisting that Bush take the bed on the plane and waiting for the slower man so they could exit the plane together. "I thought I knew him," Bush wrote. "But until this trip, I did not really know him." In an interview during the trip, Bush speculated, "Maybe I'm the father he never had."
Bush and Clinton are not alone in having official events and long flights overtake old grudges. Few politicians were less friendly than Ford and Carter after their 1976 battle. But on the flight back from Egypt and the Sadat funeral, they surprisingly bonded as they swapped tales of how difficult it was to raise money to build their libraries. By the end of the flight, they were friends and committed to joint appearances. At Ford's funeral in 2007, Carter gave the eulogy, mentioning 25 different projects they led together.
Perhaps no president in the last 70 years left office with more grudges than Harry Truman. Truman even wrote an article for Look magazine entitled "The Day Ike Snubbed Me" to go public with his dislike for Dwight Eisenhower. In great detail, he wrote about Ike's coldness and rudeness on Inauguration Day. But thanks to funerals and forced gatherings, Truman shed most of his grievances before his death.
Of course, former presidents can be useful, too, as Clinton well knows. He made great use of them to back NAFTA, guide Russian policy, show unity on Bosnia, and — in Nixon's case — deal with China. Clinton started his political career as a fierce critic of Nixon. Yet on the day after Nixon's death in 1994, Clinton talked emotionally about the help Nixon had given him and lamented that he would not be there to give him advice on a key upcoming vote on China trade policy.
Of course, personal fondness between ex-presidents does not eliminate political differences, as Herbert Hoover discovered to his chagrin. After growing close to Truman, Hoover was stunned to hear Truman attack him in a speech. The next time he was at the White House, he vented, telling Truman, "I want to say that your recent reference to me was one of the lowest things that has been said in public life."
Truman grinned and responded, "Yes, wasn't it? And you know, when I came to that part of my speech, I almost couldn't bring myself to read it." With that, the friendship was back on.