Well, So Much for Serious Gun Control
The Senate couldn't break a filibuster on expanded background checks, spelling the de facto end to the post-Newtown legislative push.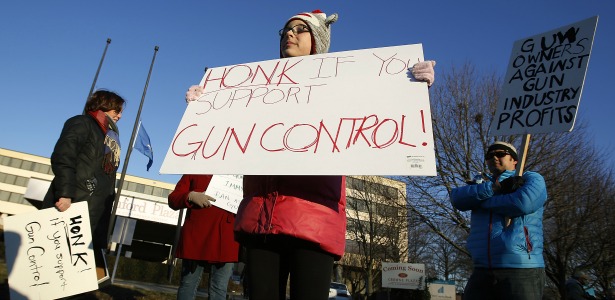 Reuters
The Senate has just wrapped up a vote on the Toomey-Manchin plan for background checks, and the plan has failed, predictably. As Town Hall's Kevin Glass put it, "Bipartisan background checks legislation fails in bipartisan filibuster against bipartisanship." When it came down to it, Pennsylvania Senator Pat Toomey couldn't get enough of his fellow Republicans to vote for the plan (Susan Collins, John McCain, and Mark Kirk joined him), nor could West Virginia Senator Joe Manchin get all of his fellow Democrats to vote for it -- Max Baucus, Mark Begich, and Mark Pryor all voted no on the filibuster vote, depriving the plan of the 60 votes it needed to move forward. (Mary Landrieu was a surprise yes.) The final vote: 54-46.
Now, this isn't the end of the road -- the Senate will take up the plan again soon. But it's grounds for a healthy dose of skepticism that any sort of substantive reform on background checks will happen. A bipartisan plan was in place; the families of Newtown victims were in town, watching the vote; this package was already watered down far beyond the "universal background checks" advocates had hoped for. Perhaps they'll be able to whip the votes to make it happen in the coming days, but six votes is a lot to make up, and the farther we get from Newtown the less momentum there is. Plus a delay gives the much better organized anti-control side more time to consolidate public and official support.
So for practical purposes, this is the day that gun-control reform died. Ponder how far we've come since the massacre on December 14, 2012: No assault-weapons ban, no universal background checks, not even the expanded background checks with loopholes. Meanwhile, many states have expanded access to guns since then. Sure, Wayne LaPierre's press conference after the shooting looked nuts, but with the music stopped, he's got a seat -- and his opponents are all left standing.